Is this why we call 'em small fry?
Parents trying to keep their children healthy aren't getting much help from the nation's restaurant chains, according to an analysis released Tuesday that shows kids' menus rife with high-calorie, high-fat foods and … you guessed it: ubiquitous sides of fries.
The Center for Science in the Public Interest, a nonprofit nutrition watchdog group, reviewed childrens' meals from 20 large sit-down chains and found a bevy of indulgent options.  Most kids' entrées provided major doses of calories, saturated or trans fats -- so-called "bad" fats -– and salt.
"The restaurant industry thinks kids' food means cheeseburgers, pizzas, fried chicken fingers and French fries," said Jayne Hurley, the center's senior nutritionist. "I guess it's not surprising that kids are swallowing nearly twice as many calories as they do when they eat at home."
That rising tide of calories has prompted a surge in obesity among kids, which in turn contributes to an estimated $117 billion in health care and related annual costs tied to Americans' extra fat.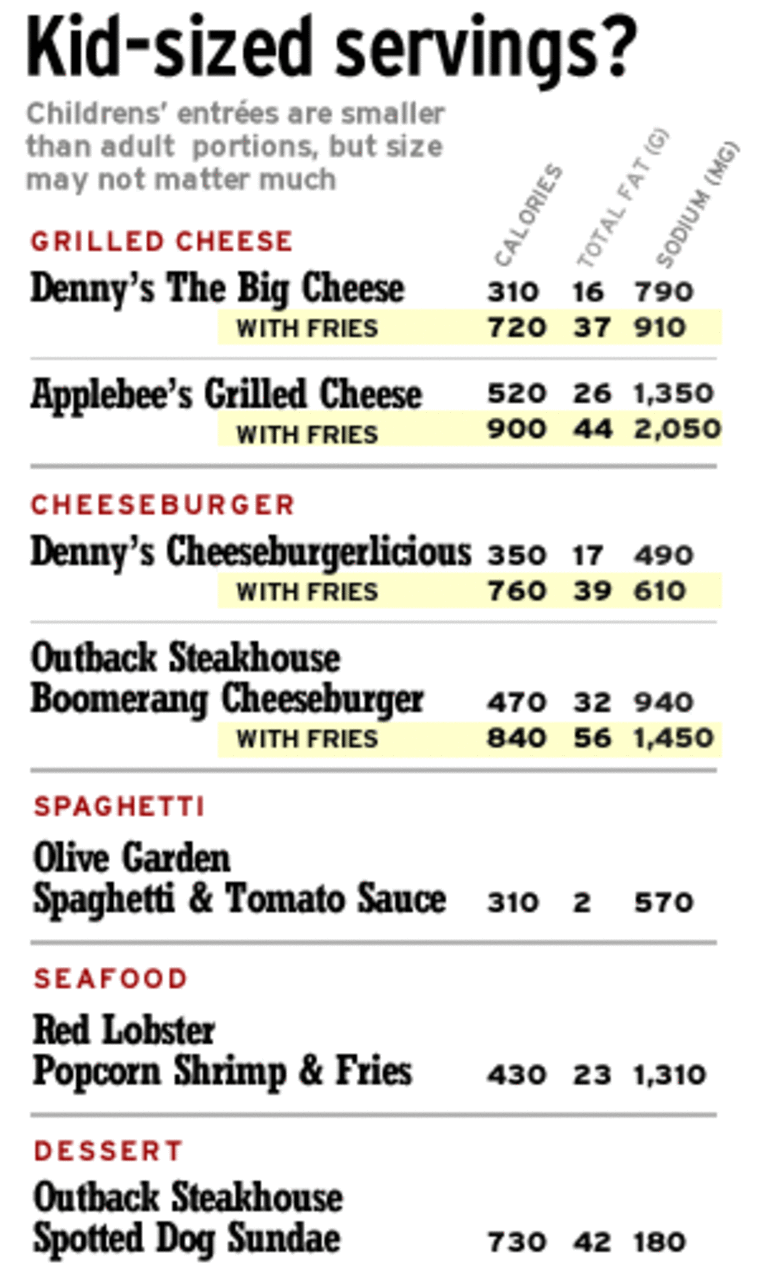 It has also caught the attention of lawmakers like Sen. Tom Harkin, D-Iowa, who unveiled a bill Tuesday that would require nutrition information on restaurant menus. Harkin's effort, similar to one introduced last year in the House, would force chain restaurants to detail basic calorie, fat and salt counts for standard menu items, similar to 1990 guidelines that put nutrition labels on packaged foods.
"Childhood obesity is not only a growing public health problem, it's also a very expensive one," Harkin said in a statement. The proposed legislation, he said, "provides consumers with an important tool with which to make better choices about the food that they and their children consume."
While individual portions were often unhealthy, Hurley found, overall meals packed the real punch. Almost all offered fries as a default side order. Most came with free soda refills, though some restaurants also provided more milk or orange juice at no cost. As such, many meal combos were at least as fattening as kids' meals at the big fast-food chains, according to the center's analysis, which was performed by independent labs.
Plenty to chew on
When it came to burgers, Outback Steakhouse -- known for its hearty portions –- didn't skimp.  Its Boomerang Cheese Burger weighed in at 470 calories and 18 grams of saturated or trans fats -– more than a day's worth of bad fats, a helping Hurley compared to a 12-oz. filet mignon with three pats of butter on top. The side of fries included with a meal raised the tally to 840 calories and 31 grams of bad fats. Denny's Cheeseburgerlicious fared better, with 350 calories and 8 grams of bad fats, though fries raised that to 760 calories and 17 grams of trans or saturated fats.
Grilled cheese was another big calorie culprit. Applebee's version put 520 calories and 14 grams of bad fats on the plate; fries lifted that to 900 calories and 21 grams of bad fats.
Two entrées usually came without fries: Macaroni and cheese, and pizza. But mac-and-cheese samples tested at more than 400 calories, and Cracker Barrel's had 1,100 mg of sodium, nearly half a day's worth. Small pizzas like Olive Garden's 7-ounce offering also topped 400 calories, though the tomato sauce counted as a vegetable serving.
To top it all off? Ice cream sundaes were the big dessert offering, even offered free at Friendly's and Macaroni Grill. (Macaroni Grill also offers fresh fruit.) The CSPI singled out Outback's Spotted Dog Sundae, which packed in 730 calories –- three Hershey's bars worth -– and 10 grams of bad fat above the 17 recommended each day.
While kids' portions usually are smaller than adult sizes, so is the federal government's recommended daily food intake for children. The center's staff based its conclusions on a 1,500 calorie daily limit, which is the USDA's recommendation for a "low-active" child.
Better options
Not every menu choice was unhealthy, of course.  The nutritionists praised items such as Cracker Barrel's grilled chicken tenderloins: A 3-ounce children's order has 110 calories and just 1 gram of saturated or trans fat, which can be ordered either with vegetables or fries. Olive Garden's spaghetti was also a better choice.
And Red Lobster won praise for its new kids' menu, introduced last December.  While the new menu retains some high-fat fried items -– popcorn shrimp and fries, for example –- it also offers fresh mahi-mahi and crab legs, as well as steamed and fresh vegetables
The changes were a result of customer requests for more fish and more healthy options that children could order, said Wendy Spirduso, Red Lobster's director of communications. The choices of relatively mild fish allow kids, especially tweens, to order grown-up entrées that still work for a child's palate.
"They're more adventurous than we were as kids, when it was all meatloaf and mashed potatoes," said Spirduso. "It becomes … a 'I'm a big kid now' kind of meal."
The lack of healthy items on many kids' menus was especially upsetting, Hurley said, because unlike fast-food operations, sit-down chains have full kitchens and usually offer healthy entrées on their regular menus. "They've certainly jumped on the bandwagon with their Atkins and Weight Watchers options for adults," she said. "If they do it for adults, they should be able to do it for kids."
The findings come amid warnings of a growing obesity epidemic among kids in the United States. According to 2000 research by the National Center for Health Statistics, 15 percent of kids aged 6 to 19 are overweight, up sharply from 1980, when 7 percent of young kids and 5 percent of adolescents were overweight. Another study, the National Health and Nutrition Examination Survey, showed even starker results, with 25 percent of U.S. teens overweight.
A dining-out nation
At the same time, Americans have become ever more attached to dining out, eating 38 percent of all our food at restaurants, according to data from the NPD Group. In 1996, the USDA reported that children ate a quarter of their meals away from home -– meals, it noted, that were lower in key nutrients and higher in fat than those eaten at their houses. And only 13 percent of children were meeting federal recommendations for intake of saturated fats.
No single factor is to blame, but nutrition experts point fingers at the paucity of healthy choices in locations like restaurants and school cafeterias, where children eat many meals.
And while menus -- often brightly colored and tailored to capture childrens' attention -- highlight taste and ingredients, many nutritionists see value in plans like Harkin's that would provide nutrition details at the moment diners are choosing their meals. Restaurants have protested, saying they already provide information sheets at their retail locations or on their Web sites, and arguing it would be distracting and difficult to pack a menu full of nutrition data.
Beyond that, parents often are hesitant to force children to eat foods they aren't accustomed to, and parents' own food habits can set bad examples. "I think that parents need to take a better role," said Dr. Louis Aronne, an obesity specialist at Cornell University and director of the Comprehensive Weight Control Program at New York-Presbyterian Hospital. "It's sort of become a joke in our society that kids lead the decisions about food."
Even when children begin with a good attitude about healthy foods like vegetables, Aronne noted, the deluge of TV ads for fattening foods eat away at kids' good behaviors until they accept burgers as a standard meal and fries as a daily vegetable. "No one is selling string beans on TV," he said.