/ Source: NBC, msnbc.com and news services
Smiling faintly as he walked out of court, former IMF chief Dominique Strauss-Kahn was released from house arrest Friday after prosecutors acknowledged serious questions about the credibility of the hotel maid who accused him of sexual assault.
The charges against him stand — for now, at least. But weeks after saying it had a strong case that was only getting stronger, the district attorney's office was on the defensive. So was the housekeeper's lawyer, who continued to insist that Strauss-Kahn had violently abused the woman.
An attorney for Strauss-Kahn, meanwhile, called the turn of events "a great relief." The case underscores "how easy it is for people to be charged with serious crimes and for there to be a rush to judgment," William W. Taylor said.
Strauss-Kahn, 62, had been confined for weeks to a luxury New York City townhouse on $6 million bail after his arrest on attempted rape charges that forced his resignation as head of the International Monetary Fund and appeared to destroy any hope he had of running for president of France next year.
But then, on Friday, defense lawyers went into court to ask that his bail conditions be eased, with prosecutors' assent.
"The strength of the case has been affected by the substantial credibility issues regarding" the accuser, Assistant District Attorney Joan Illuzzi-Orbon told the judge, who then canceled Strauss-Kahn's bail and most of the other restrictions.
Just hours after his release from house arrest, Strauss-Kahn left the townhouse and dined out at Scalinatella, a pricey Italian restaurant on Manhattan's Upper East Side.
It was his first taste of freedom since he was taken from a Paris-bound jetliner on May 14 and arrested on charges of sexually assaulting the maid.
'Truth and facts'
According to prosecutors, the woman admitted she lied to a grand jury about what she did immediately after the alleged attack. She actually went on cleaning rooms instead of reporting the episode right away, prosecutors told the defense in a letter.
She also told prosecutors a tearful, vivid but untrue story of having been gang-raped in her native Guinea, later admitting it was among various false accounts of oppression that she had been told to memorize to enhance her 2004 application for political asylum, prosecutors said.
A source familiar with the case told NBC News that investigators uncovered past incidents where the accuser was untruthful. On her asylum application, "she lied extensively, including information about a claim of having been raped," the source said.
When asked by prosecutors about the past rape claim, she recounted the story "in a believable way," the source told NBC News. When questioned again, she admitted to those prosecutors that "she lied to them ... and on the application about the whole rape claim."
And she claimed someone else's child as her own dependent and lied about her income on tax forms, prosecutors said.
Her lawyer, Kenneth Thompson said the illiterate woman received bad advice that she needed to "hype" her petition for U.S. asylum.
A victim of female genital mutilation, she did not want the same fate to befall her daughter but did not know that would be enough to qualify for asylum, Thompson said. Instead she told a story of political prosecution.
District Attorney Cyrus R. Vance Jr. portrayed the turnabout as a case of prosecutors doing the right thing.
"Our commitment to the truth and the facts will govern how we proceed" in the Strauss-Kahn case, he told reporters.
Neither he nor Strauss-Kahn's lawyers took questions.
Authorities have not said specifically what they now think of the truthfulness of the woman's allegations against Strauss-Kahn. Investigators found traces of his semen on her uniform, and that is powerful evidence there was a sexual encounter of some kind, though the defense has said anything that happened was not forced.
Still, the apparent lies about her background and her behavior could seriously damage her credibility as a witness if the case goes to trial.
Edward A. McDonald, a defense lawyer and former federal prosecutor and assistant district attorney in New York City, said dropping the case could be next. Prosecutors are "sending a real clear sign that they've gotten to the point where they think there is little hope of rescuing the case," he said.
Another hearing is set for July 18. Strauss-Kahn did not get his passport back and will not yet be allowed to leave the country, but he will be free to travel within the U.S., his lawyers said.
Strauss-Kahn himself remained mum Friday, but he strode confidently up the granite steps to the courthouse with his wife, French journalist Anne Sinclair, at his side, after they arrived in a Lexus SUV. After the short hearing, he slowly walked out the building with his arm on her shoulder, smiling at the crowd outside.
Moments later, the accuser's attorney, Kenneth Thompson, fired back.
"It is clear that this woman made some mistakes, but that doesn't mean she's not a rape victim," the lawyer said.
Claims of violent attack
The 32-year-old hotel maid accused Strauss-Kahn of chasing her through his luxury suite in May, trying to pull down her pantyhose and forcing her to perform oral sex. Thompson said Strauss-Kahn bruised the woman's genitals, tore a ligament in her shoulder and ripped her stockings.
"From day one, she has described a violent sexual assault that Dominique Strauss-Kahn committed against her," Thompson said. "She has described that sexual assault many times, to prosecutors and to me, and she has never once changed a single thing about that encounter."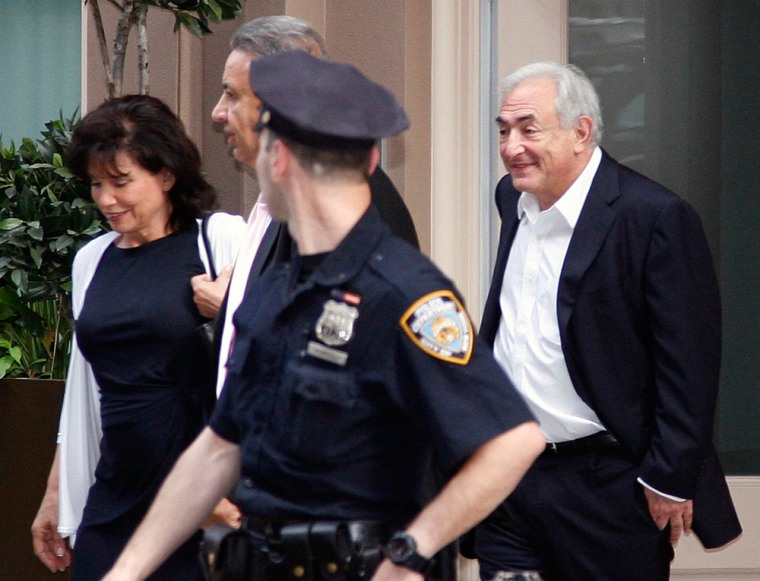 He accused the district attorney of shying away from the high-profile case and blasted as lies media reports that the woman was involved with a drug dealer.
The New York Times, citing unidentified law enforcement officials, reported that the woman was recorded on the phone with a boyfriend incarcerated in an immigration jail in Arizona soon after she made the allegations against Strauss-Kahn.
The conversation was in a dialect of Fulani, a language from the woman's native Guinea, a law-enforcement official told the Times.
"She says words to the effect of, 'Don't worry, this guy has a lot of money. I know what I'm doing,' " the official said, according to the newspaper.
Strauss-Kahn was held without bail for nearly a week after his May arrest. His lawyers ultimately persuaded a judge to release him by agreeing to an ankle monitor, surveillance cameras and armed guards. The security measures were estimated to cost him as much as $200,000 a month, on top of the $50,000-a-month rent on the townhouse in the city's TriBeCa section.
Prosecutors at the time wanted him kept him in jail, arguing that because of the seriousness of the charges, he might flee the country. In releasing Strauss-Kahn on Friday, State Supreme Court Justice Michael Obus said: "In light of recent developments, the risk that you would not be here appears to have receded quite a bit."
If the case collapses, it could once again shake up the race for the French presidency. Before the scandal, Strauss-Kahn, a prominent Socialist, had been seen as a leading potential challenger to conservative President Nicolas Sarkozy. French politician Michele Sabban said the Socialists should suspend the presidential primary calendar because of the new developments.
The new doubts about Strauss-Kahn's accuser could also feed suspicions in France that he was the victim of a politically motivated setup.
Indeed, Maxime Laumailler, an economics student from Rennes, France, who was standing outside the New York courthouse, called the case "a plot" against Strauss-Kahn.
"We are so surprised that the Americans are pre-judging him like this," said Laumailler's girlfriend, Charlotte LeBihan.
After Friday's hearing, Strauss-Kahn returned to the brick townhouse. A deliveryman arrived a few hours later with an arrangement of red, white and blue balloons, along with one shaped like the Statue of Liberty.
The card read, "Enjoy your freedom on Independence Day," said deliveryman Sean Hershkowitz. He said he didn't know who sent the greeting.