Mel Gibson's "The Passion of the Christ" is being called a lot of things -- brilliant, anti-Semitic, sacrilegious.  And some Christian leaders are now criticizing the production for trying to turn a profit out of the story of Christ's death.  They point to the merchandising-- a hardcover book, a sountrack C.D., lapel pins, witness cards, nail necklaces and inscribed nail pendants. 
All of these products are being sold, but are they necessary to help spread the word of the movie?
Some products on sale:
"The Passion of the Christ" T-shirt.  It says, "His Passion is for you." Retail price: $14.99
"The Passion of the Christ" book. This official companion to the film, and includes still photographs from the movie. Some of the photos may be graphic. Coffee table edition, retail price: $24.99
Music CD. John Debney (who also composed the soundtracks for "Bruce Almighty" and "Elf")  composed the score to accompany Mel Gibson's visuals. Retail price: $17.99
Witness cards. Set of collectible cards with quotes from the bible, as well as other information.
Nail pendant. The pendant is shaped like a nail, and comes with a leather strap. Inscribed on the side is Isaiah 53:4 "He was pierced to save our lives." It's the product that has by far received the most publicity and criticism.  Retail price: $12.99
But are these products in bad taste?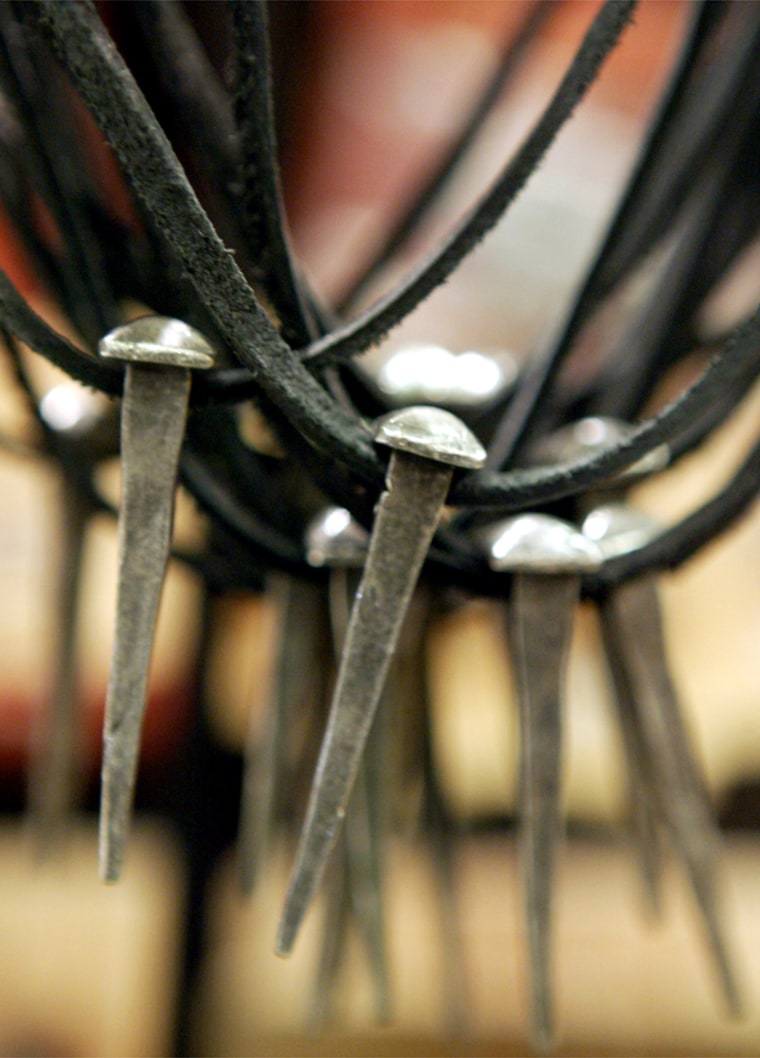 MSNBC's Deborah Norville posed this question to three of her guests on Monday's show.
"I expect those nail pendants will show up in the New York City club scene, along with all the other Goth-studded necklaces and iron rings and all of that," says Rev. Forrest Church, of the All Souls Unitarian Church. "I find it distasteful, personally."
Dave Browne, CEO of Family Christian Stores disagrees. He says the nail pendant appeals to him, as well as to a lot of other people for nobler reasons. "The nail emotionalizes the pain and suffering that Christ went through for you and I.   I'm excited that people are going to be able to emotionalize and personalize the crucifixion in a way they haven't before."
These products-- the nail pendant and the coffee table book in particular-- have been called too graphic. But New York Post columnist Linda Stasi reminded the panel that religious paintings throughout history have all been graphic, even gory.
"If you think about it, the crucifix is a brutal symbol," she says. "We've gotten so used to it that it's a benign symbol.  But it's not benign.  It's like if we wore little electric chairs around our necks now.  Or little hypodermic needles, because that's how we kill people now.  It's just that it's a 2,000-year-old symbol, and we don't think of it as something brutal." 
She adds, however, that the marketing of the movie may be going too far.  She said she wouldn't be a bit surprised if in the next few days, the "Happy Meal" with the Jesus action figure popped up. "They missed a great merchandising opportunity to not make a fragrance out of it.  'Mel Gibson's Passion, the fragrance that's just divine.'"
"This is probably one set of money changer's tables that Jesus would try to turn over," says  Rev Church. "We shouldn't confuse this [movie] with a religious sacrament.  And it's understandable that they would treat this the same way that other Hollywood productions are commercialized and treated.  I don't think we should get too offended by it,  but neither should we think that this is a different kind of movie."
Rev. Church cautions against anything that highlights violence in the context of religion, even if it is Christ on the cross. "Anything that brings out the violent nature of religion, even if it is salvation, is something that I think is going to be a divisive, rather than a healing, force."
Browne defends these products saying that they are sold in the Family Christian Stores as well as by most Christian retailers. "It's not going to be the sort of thing that you look at and say, 'Wow, we made a fortune.'  It's all about helping people find, grow and share their faith in Christ. The phenomenon behind 'The Passion' is one of those things that comes along every once in a while to give you just a great opportunity to reach out and say, 'Here's a reminder or an example of what Christ did for you.'   The motive at heart is simply to get the message of the love of Christ out there."
"And if you can make a buck on it, that's America," quips Stasi.  "God bless America."
airs weeknights, at 9 p.m. ET on MSNBC.