/ Source: The Associated Press
The outgoing U.S. commander in Afghanistan marked his last Fourth of July in uniform by speaking to American troops during a re-enlistment ceremony in the south of the country.
Gen. David Petraeus, who was recently confirmed as the next director of the CIA, told the 235 troops re-enlisting in Kandahar province that they have achieved progress on the battlefield but that "much work remains" to be done in Afghanistan.
"You raised your right hand and said 'Send me,' and today you raised your right hand again and said 'Send me again, if needed,'" he told the soldiers on America's 235th birthday.
"I cannot say how impressive your action is," he said. "It is the most meaningful display of patriotism possible."
Petraeus will be replaced by U.S. Marine Lt. Gen. John Allen even as 33,000 U.S. troops begin to withdraw from Afghanistan, the start of President Barack Obama's promised withdrawal of all combat troops by 2014.
Later Monday, Petraeus is to speak at another re-enlistment ceremony at Bagram Air Field, just north of Kabul.
Drawdown an 'unnecessary risk'
Meanwhile, NATO said a service member was killed Monday in a bomb attack in eastern Afghanistan.
The death brings the number of NATO fatalities in Afghanistan this year to 271, three of them this month.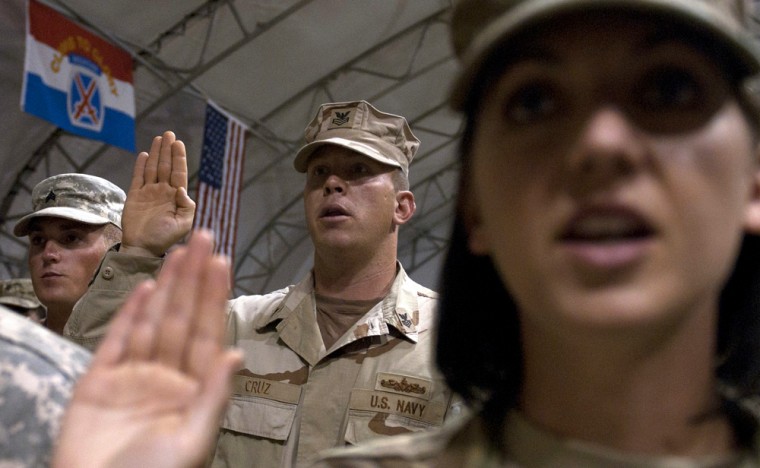 Also on Monday a member of the NATO-led international force fighting in Afghanistan went missing in the country's restive south and a search was under way, the NATO command said. U.K. officials said he was British.
One soldier from the foreign contingent in Afghanistan is currently believed in captivity.
Bowe Bergdahl, a 25-year-old Army sergeant from Hailey, Idaho, was taken prisoner June 30, 2009, in Afghanistan. He is believed held in Pakistan.
On Sunday, three U.S. Senators visiting Afghanistan criticized the pace of withdrawal and expressed concerns that it may leave NATO with too few troops to deal a decisive blow to the insurgency.
"I believe that the planned drawdown is an unnecessary risk," John McCain, a Republican from Arizona, said Sunday. McCain arrived in Afghanistan with Sens. Joe Lieberman and Lindsay Graham. McCain lost to Obama in the 2008 presidential race.