/ Source: Special to msnbc.com
The area around Central Florida's eastern shores calls itself "The Space Coast," but with the shuttle program ending, a more apt moniker might be "Space Ghost."
With the 135th and final shuttle mission poised for launch on Friday, parking lots at NASA's Kennedy Space Center already have room to spare. Some managers are answering their own phones. The shuttle workforce, once 18,000 strong, is down to 5,500 contractors and 1,200 government employees. After Atlantis returns to Earth, another 3,200 contractors will need to find new jobs or, if they have the means, retire.
By late August, only a skeleton crew of about 1,000 will remain on the program payroll to prepare the three orbiters — Discovery, Endeavour and Atlantis — for display in museums.
The shuttle shutdown will deal the heaviest blow to communities like Titusville, located just west of the spaceport. It won't be the first time. In the mid-1970s, the United States pulled the plug on NASA's Apollo moon program, idling about 15,000 workers. That economic tsunami, however, was eased by the knowledge that a new NASA spaceship, the space shuttle, was already in the works.
Today, with few details, fewer contracts and flat budgets for successor spacecraft, Titusville, Merritt Island and Florida's other space towns are losing their gravitational centers. The planned follow-on program, a revamped moon exploration initiative called Constellation, was axed, starved of funds despite an initial investment of nearly $10 billion.
"When the Constellation program came to a close it was a blow to the Kennedy Space Center team that was working on that," said Bob Cabana, a veteran astronaut who now oversees Kennedy Space Center.
At a recent breakfast meeting in nearby Orlando, Cabana said the space program may appear to be in disarray, but a bright future is taking shape. He points to ongoing renovations of one of the space shuttle's launch pads. No one knows when it will next be used for flight, or what type of rocket it will host, but there will be no more copper wires and outdated control systems to contend with. It's all fiber optics and digital electronics now, part of NASA's planned transformation of its Florida spaceport into a multi-use facility, with a focus on research and technology development as well as operations.
"If you're just an ops center, you're fat and happy when the program's bumping along, but when it cycles down you take it in the shorts," said Dale Ketcham, director of the University of Central Florida's Spaceport Research and Technology Institute.
The bust-up is not all bad. Last year, after more than two decades working as an engineer with NASA's prime shuttle contractor, United Space Alliance, Timothy Crannell and his wife Kathleen, formerly a USA attorney, started an engineering and technical services firm.
"Financially, we're doing fine," said Kathleen Crannell, president of Orion Aerospace. "You have to go out and you have to make it happen for yourself. No one's going to give you that paycheck, but the opportunities are there."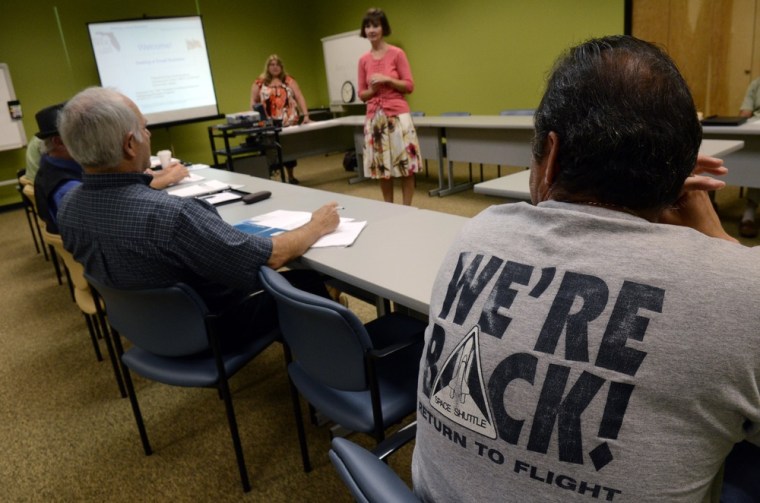 Access to the NASA talent pool has been a draw for other companies, and a key selling point for Space Florida, the state-backed economic development board that's looking to expand and diversify the state's aerospace industry. Among its success stories: Brazil-based aircraft manufacturer Embraer, which this year opened its first U.S. assembly facility in Melbourne, Fla., bringing with it about 200 jobs. Half of the new hires are supported by a U.S. Department of Labor grant to retrain laid-off space shuttle workers and place them in new positions. The program pays half a worker's salary for 90 days, up to $9,600 per person.
Other companies expanding in Florida include California-based SpaceX, owned by Internet entrepreneur Elon Musk. The firm holds NASA contracts to fly cargo to the International Space Station and to develop an escape system so its Dragon capsule can double as a transport craft for crew.
SpaceX's payroll will never match NASA's, which is exactly the point. A recent analysis by the University of Colorado's Center for Science and Technology Policy Research tallies up the shuttle program's lifetime cost at about $200 billion, or roughly $1.5 billion per flight.
"What we want is a sustainable system, one that doesn't cost an arm and a leg, that doesn't inhale the agency's entire budget just to run the transportation system," Ketcham said.
Irene Klotz is a Florida-based freelance writer who has covered the space program for 24 years.