/ Source: The Associated Press
The pimps and prostitutes of Yeongdeungpo start the day as if preparing for a siege, stocking their brothels with flammable liquid and gas containers. Large, red-lettered signs warn police that they're willing to die to protect their livelihoods.
"We can turn on the gas and light the flames," said a 47-year-old pimp who would only give her surname Sohn. "We know that we don't have much chance of winning ... but we're ready to die fighting."
Nearly seven years after tough laws began driving thousands of South Korean prostitutes out of business, the sex workers of the Yeongdeungpo red-light district in Seoul are fighting back, spurred by what they say is an unprecedented campaign of police harassment.
Since April they've staged large, sometimes violent, protests that provide a glimpse of the tensions in this fast-changing country as ambitious urban redevelopment projects encroach on old neighborhoods once known for their nightlife.
Rallies by sex workers against police crackdowns crop up occasionally in South Korea, but the protests in Yeongdeungpo — which have drawn hundreds of other prostitutes, pimps and supporters — have been unusual in their size, organization and fury.
The district's 40 to 50 prostitutes describe their fight in life-and-death terms. At a recent protest, about 20 topless women covered in body and face paint doused themselves in flammable liquid and had to be restrained from setting themselves on fire.
'Die gloriously'
The demonstrations come as new building projects around the country threaten gritty neighborhoods that are home to aging bars, street food stalls and brothels. If the prostitutes in Yeongdeungpo lose their jobs, they could struggle to find work elsewhere.
"We are the people who eat, sleep and live here. Where can we move?" prostitute Jang Se-hee said in an interview inside a large tent where sex workers were discussing how to resist police.
The 36-year-old Jang, who wore big sunglasses with plum-colored lenses, her hair tied up in a bun, said her earnings have plunged from as much as $9,200 a month to about $3,700 since police began harrying the brothels in April.
On a recent night, about 20 prostitutes stood in skimpy clothing behind pink neon-lit brothel windows, shouting out invitations to a few men walking along the street. Many brothels have suspended business because of the crackdown. Signs in those still open show their occupants' defiance: "We will die here," they read, or "I will pour fuel on my body and die gloriously."
Prostitution was banned in South Korea in 1961, but police rarely enforced the law. Tougher legislation was created, however, after a 2002 fire killed 14 women confined at a drinking salon and forced to entertain and sometimes have sex with customers.
About 259,000 people, 70 percent of them male customers, have been arrested since the new laws took effect in 2004. Nearly 4,000 prostitutes have left their brothels, while 1,800 remain, and seven of the country's 35 major red-light districts have disappeared, according to police records.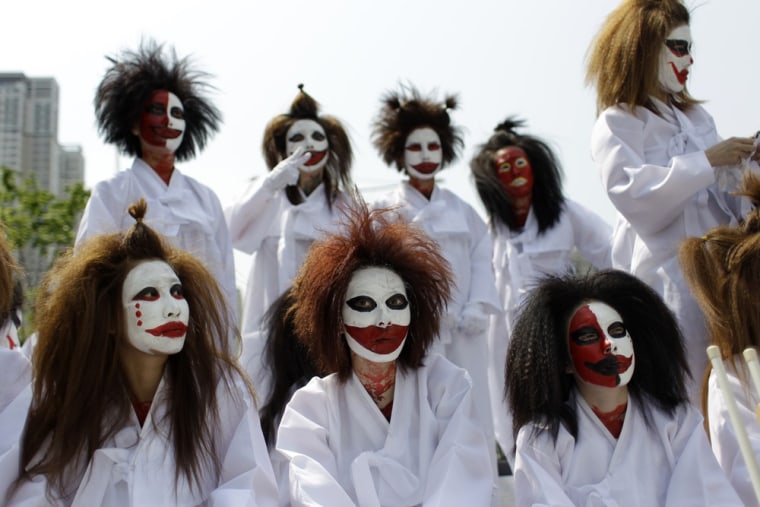 Prostitutes and pimps say police have taken a new and aggressive approach in Yeongdeungpo that has driven away most customers: Stepped-up patrols, police cars parked visibly in the area and plainclothes officers watching with binoculars.
Jang said police stormed the area three times in June alone, arresting three prostitutes and three customers.
"There hasn't been this kind of crackdown before," said Kang Hyun-joon, a former pimp who runs an association of prostitutes and pimps in South Korea.
Sex workers suspect the nearby Times Square department store pushed police to act against the brothels. Police and store officials deny the claim.
The National Police Agency says officers are also clamping down on other districts as part of a routine nationwide crackdown.
One Yeongdeungpo police officer, speaking on condition of anonymity because of department rules, said police decided to shut down the brothels because residents increasingly voiced worry about young students passing through the area since the upscale department store opened in 2009.
Blaze killed six
It is not the first time South Korea's development boom has sparked friction in older neighborhoods.
In 2009, a police raid on a building occupied by squatters near another Seoul red-light district led to a blaze that killed six people.
Protesters hurled Molotov cocktails at charging police commandos, causing the fire. The building was eventually demolished to make room for planned new high-rise buildings.
Brothel workers and other critics say police crackdowns have unfairly targeted traditional red-light zones, while overlooking other sex businesses thriving in the shadows.
Among those are "kiss rooms," where men can pay for sex, and one-room apartments offering sexual services.
Men can also buy sex at barber shops, massage parlors and karaoke bars on almost all major streets and through online social networking sites.
South Korea runs nine support centers offering vocational training and psychological counseling to former prostitutes where they can work for a monthly salary of about $460 to $920, according to government officials.
Many women, however, find it hard to adjust to new lives and to resist the better pay of sex work. Despite the social stigma, they drop out of the centers and return to prostitution.