/ Source: The Associated Press
One of Pakistan's most notorious Taliban radio voices is back on the air after the army raided his stronghold last year and drove him across the border into Afghanistan.
The resurgence of Maulvi Faqir Mohammed — also one of the Pakistani Taliban's top commanders — illustrates the resilience of militants fighting to topple the U.S.-allied Pakistani government and the growing problem of sanctuaries in eastern Afghanistan that allow fighters to elude the army's grasp.
"We will return and enforce the golden system of Islam," Mohammed said in a recent radio broadcast from his new base in Afghanistan. "All of those who have turned their backs on us — like we are gone for good — should seek forgiveness from Allah."
Militants and their supporters in Pakistan have long used illegal FM radio stations to spread their message and incite violence against the government. The tactic is hard to counter because the equipment needed is cheap and easily transportable.
Mohammed was one of the most prominent militant radio personalities before the army invaded his enclave early last year in the Bajur tribal area, about 125 miles (200 kilometers) northwest of the Pakistani capital of Islamabad.
Many of the militants in Bajur, including Mohammed, simply slipped across the border into Kunar province, an area of Afghanistan where the U.S. has largely withdrawn its troops. Kunar has turned into a staging ground for large-scale attacks inside Pakistan, according to the Pakistani army.
The most recent such assault in Bajur occurred Monday when around 60 Pakistani Taliban militants sent by Mohammed stormed a paramilitary checkpoint, killing one soldier and wounding three others, said local officials.
Mohammed claimed responsibility for the attack, as well a similar one by at least 100 militants on several border villages in Bajur in mid-June that killed at least five people.
"Our fighters carried out these two attacks from Afghanistan, and we will launch more such attacks inside Afghanistan and in Pakistan," said Mohammed over the Voice of Sharia radio in his measured, matter-of-fact style.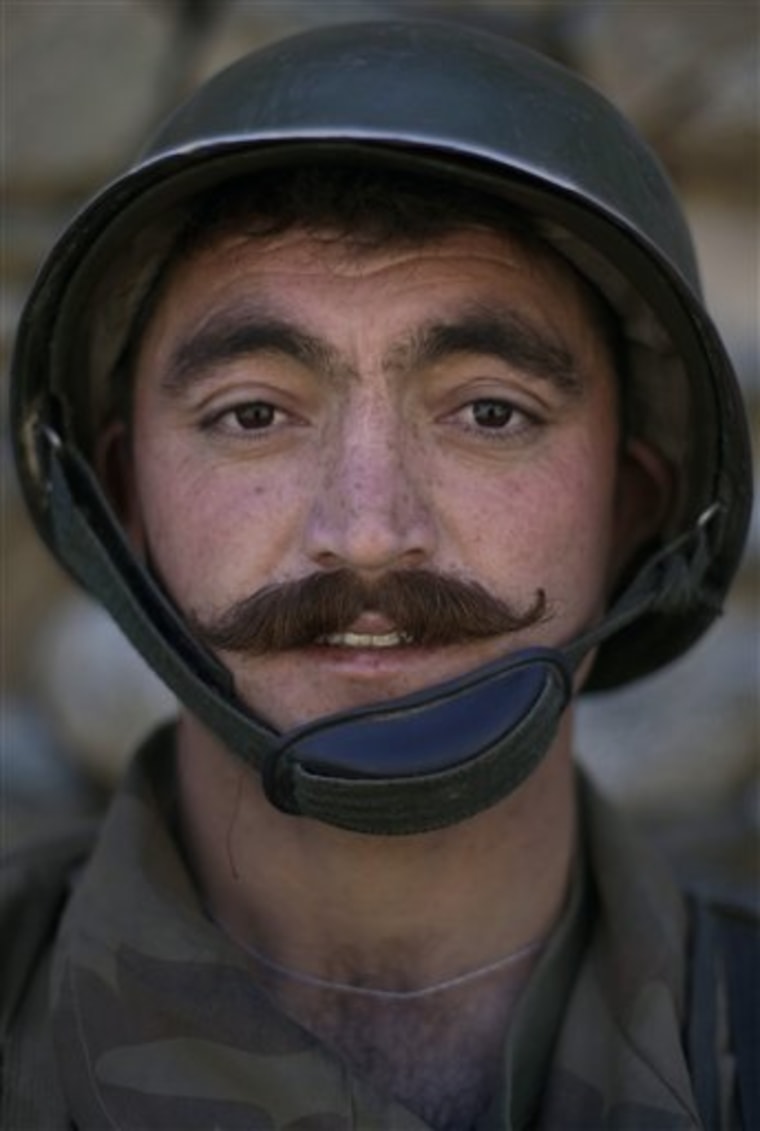 His on-air reply after the June attack: "Don't dare stand in the way of those who are following the path of God."
Radio is the main connection to the outside world for most tribesmen in Bajur and other areas along the Afghan-Pakistan border because they can't afford satellite television dishes, and the infrastructure needed for cable TV is usually nonexistent.
Mohammed and his associates transmit for two and a half hours every day beginning at 8 p.m., although sometimes the broadcast is overpowered by a station run by the paramilitary Frontier Corps, said Gul Ahmed Jan, the owner of a grocery store near Khar, the main town in Bajur.
Encouraging war
Mohammed gives half-hour sermons three times per week in which he encourages locals to participate in jihad, or holy war, and warns them against cooperating with Pakistani authorities.
"This war is between Islam and infidels, and every Muslim is duty-bound to take part," said Mohammed on his show "The Leader Says."
His brother, Gul Mohammed, who claims to have been tortured by Pakistan's security forces, often rails against alleged mistreatment of tribesmen by the Pakistani army and Frontier Corps. The station also plays songs praising suicide bombers, even though some radical Islamists, including the Afghan Taliban, have denounced music of any kind.
"Look, the lucky guy is on the way to heaven," said one song. "Young man, how great you are."
Militants from the Swat Valley in nearby Khyber Pakhtunkhwa province are often invited to participate as guest speakers. Their leader, Mullah Fazlullah, was Pakistan's most active Taliban radio personality before the army invaded Swat in 2009, earning him the nickname "Mullah Radio." He is also believed to be in Kunar, according to the Pakistani army and Bajur residents, but he hasn't resurfaced on the radio.
The Pakistani army has complained that U.S. and Afghan forces have done nothing to address the growing number of militants who have holed up in Kunar after fleeing military operations on the Pakistan side of the border. The U.S. withdrew many of its troops from Kunar in the past year so it could focus on more populated areas that it deems more strategic.
"There is no effort to act against these strongholds or sanctuaries," said Pakistan army spokesman Maj. Gen. Athar Abbas. "Many terrorist leaders are gathered there, and there is no pressure on them to leave."
The army claims that groups of up to 300 militants have staged at least five cross-border attacks in the last month, killing 55 paramilitary soldiers and tribal police.
A senior Western intelligence official, however, expressed doubt about Pakistan's figures and whether all the attacks came from bases in Afghanistan. The official spoke on condition of anonymity in order to discuss intelligence matters.
Under pressure
Pakistan is also under U.S. pressure to focus offensives on their side of the border, particularly in the North Waziristan area that is home to the Haqqani network. The U.S. military views the Haqqani faction as the most dangerous militant group fighting in Afghanistan.
"As these cross-border raids mount, Pakistan will have less and less inclination, resources and resolve to launch operations against the Haqqani network," said Riffat Hussain, a defense professor at Quaid-e-Azam University in Islamabad.
The Afghan government has accused Pakistan of launching over 750 rockets into Kunar since May, killing at least 40 people and increasing tension between the two countries.
The Pakistani army has denied intentionally firing rockets into Afghanistan, but acknowledges that some rounds it fired at militants staging cross-border attacks may have accidentally fallen into the country.
Mohammed, the Taliban commander, doesn't seem fazed by the rocket barrage.
"Just like the Americans were defeated in Afghanistan and are withdrawing, the Pakistani army will soon leave Bajur," said Mohammed over the radio.
___
Abbot reported from Islamabad. Associated Press Writer Habib Khan contributed to this report from Khar.