For the last time in history, a space shuttle and its crew rose heavenward from NASA's spaceport on Friday, defying gloomy weather and the deeper gloom over the end of a 30-year era of spaceflight.
Atlantis lifted off more than two minutes late, due to a last-minute glitch involving a system that verifies the retraction of a gas-venting arm from the shuttle. The launch team hustled to make sure the arm was indeed out of the way for launch, then restarted the count at T-minus-31 seconds.
The countdown was also marked by weather concerns that lingered nearly to the last minute. Mission managers issued a waiver just nine minutes before launch to let the count continue despite the possibility that rain showers might come too close. (They didn't.)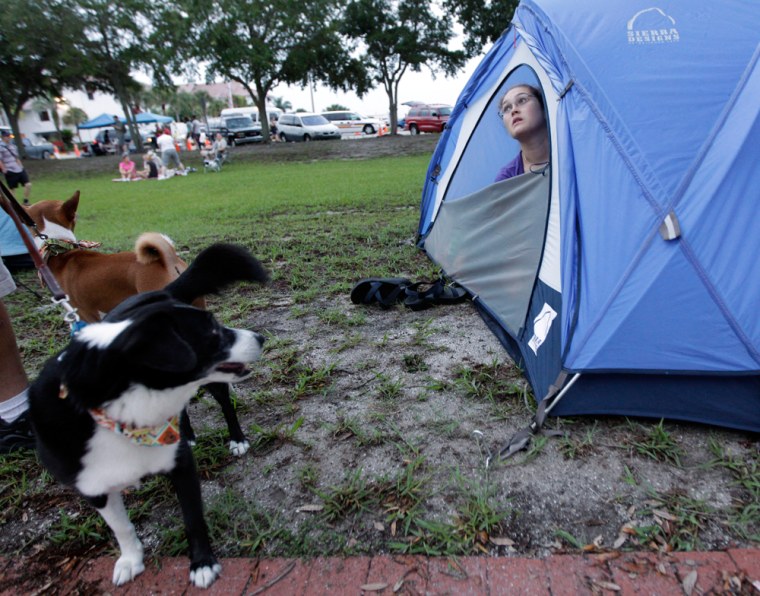 Once all the last-minute worries were resolved, Atlantis streaked flawlessly into the sky on a pillar of flame and thick clouds. A cheer went up from the legions of spectators who watched from Kennedy Space Center.
The tension of the final minutes was balanced by a sense of history. It will be at least three years before U.S. astronauts are once again sent into space on a U.S.-built spaceship. Launch director Mike Leinbach and Atlantis commander Chris Ferguson captured the mood in an exchange just before launch.
"On behalf of the greatest team in the world, good luck to you and your crew on the final flight of a true American icon," Leinbach told Ferguson. "For the final time ... good luck, Godspeed, and have a little fun up there."
Ferguson thanked the launch team and said: "The shuttle is always going to be a reflection of what a great nation can do when it dares to be bold and commits to follow through. We're not ending the journey today, Mike, we're completing a chapter of a journey that will never end. ... Let's light this fire one more time, Mike, and witness this great nation at its best."
The main objective of this final flight is to build up the International Space Station's stockpile of supplies and spare parts to see it through the next year. After Atlantis lands, NASA is due to prepare the orbiter for museum display, as it is already doing with the fleet's other two spaceships, Discovery and Endeavour.
Hundreds of thousands of spectators surrounded the space center for Friday's program-ending liftoff. Traffic tie-ups lasted for hours on roads around the launch site. By the time Atlantis rose from the pad, long lines of cars were parked along viewing areas, in median strips, anywhere that motorists could catch a vew.
Kenneth Cox, 25, an airport employee from Indiana, was part of a group of friends toasting the shuttle with champagne along U.S. 1 in Titusville, Fla. "It's the closing chapter of 30 years," Cox, who went to space camp when he was in the fifth grade, told The Associated Press.
NASA said about 45,000 guests were cleared to watch the liftoff from Kennedy Space Center, in addition to the center's own employees.
The VIP list included 14 members of Congress, Attorney General Eric Holder, singers Gloria Estefan and Jimmy Buffett, and Apple co-founder Steve Wozniak. Also in attendance were more than 150 Twitter users invited to Kennedy Space Center for a "tweetup," plus Elmo from TV's "Sesame Street."
'See you in a couple of days'
Ferguson's crew includes three other veteran astronauts: pilot Doug Hurley and mission specialists Sandy Magnus and Rex Walheim. It's the smallest crew since 1983, and that's because they'd have to be rescued by a series of Russian Soyuz craft if anything went wrong with Atlantis.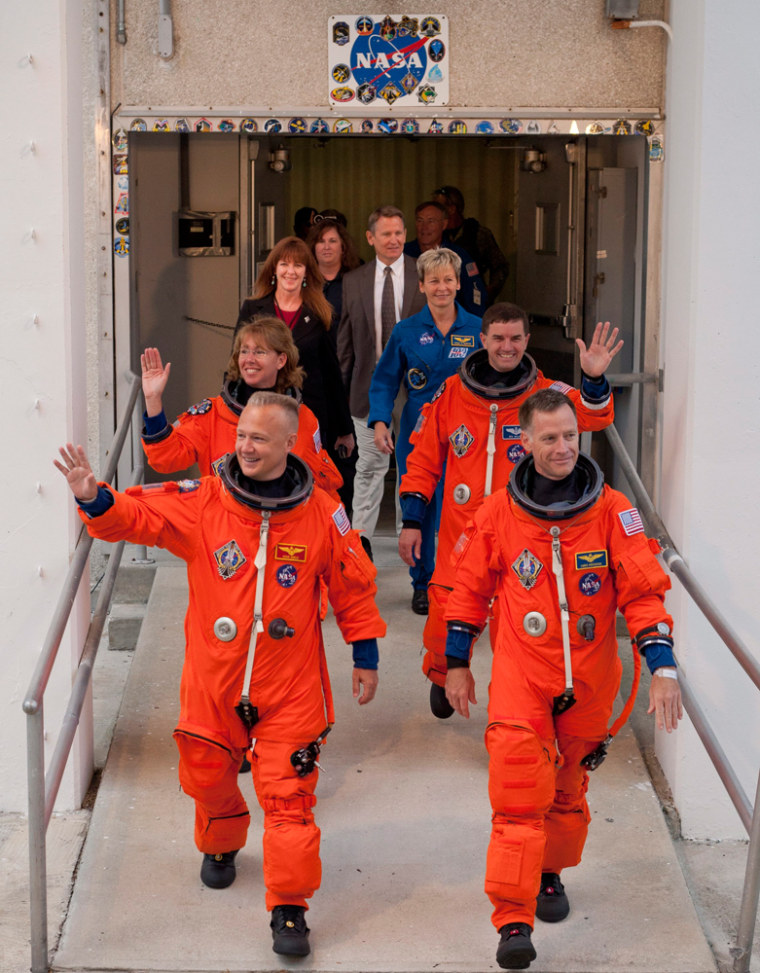 Atlantis is due to dock with the space station on Sunday. NASA astronaut Ron Garan watched the launch from orbit and wished Atlantis' crew Godspeed in a Twitter update. "See you in a couple of days," he wrote.
The foursome's main job is to transfer tons of supplies from the Italian-made Raffaello logistics module, riding in Atlantis' cargo bay, into the space station. The extra supplies will keep the space station's crew provisioned through the end of 2012. The astronauts will also drop off an experimental package aimed at testing the capability of refueling satellites robotically, and bring a faulty coolant pump back from the station.
One spacewalk is to be conducted during the 12-day mission, but Atlantis' crew will play only a supporting role for two spacewalkers from the space station's six-person crew.
If the mission proceeds as currently scheduled, Atlantis would land back at Kennedy Space Center on July 20, the 42th anniversary of the Apollo 11 moon landing. Atlantis would then be readied for display at the space center.
This final mission, known as STS-135, marks the 33rd flight of Atlantis and the 135th flight for the entire shuttle fleet.
During a post-launch briefing, mission managers admitted that they were choked up by the launch. "To me it looked like it was lifting off in slow motion," said Mike Moses, head of the pre-launch mission management team. "It was very moving. It was very beautiful."
Leinbach recalled a moment he shared with Kennedy Space Center's deputy director, Bill Dowdell. 'We put our arms around each other, and looked at it and said, 'We will never see that again,'" Leinbach told journalists.
After the launch, he and his team lingered at the Launch Control Center. "It seemed like we didn't want to leave," Leinbach said. "It was like the end of a party, and you just don't want to go."
New mission for NASA
The retirement of Atlantis and its sister shuttles is in line with a plan drawn up years ago, which called for NASA to stop spending money on shuttle flights so it could concentrate on developing spaceships to go beyond Earth orbit. NASA is aiming to send humans to a near-Earth asteroid by 2025 and to Mars and its moons by the mid-2030s.
Officials at NASA, in Congress and at the White House all emphasized the new direction that they set for the government-led space program:
"Today's launch may mark the final flight of the space shuttle," President Barack Obama said in a statement, "but it propels us into the next era of our never-ending adventure to push the very frontiers of exploration and discovery in space."
"With today's final launch of the space shuttle, we turn the page on a remarkable period of America's history in space while beginning the next chapter in our nation's extraordinary story of exploration ... American leadership in space will continue for at least the next half-century, because we've laid the foundation for success, and for us at NASA, failure is not an option," NASA Administrator Charles Bolden told agency employees in a video statement.
"Today marks the end of one era, and the beginning of the next," U.S. Sen. Bill Nelson, D-Fla., said in a statement. "Now, NASA will start building a new monster rocket that will help get us to Mars."
While NASA focuses on exploration, the job of resupplying the space station and transporting astronauts to and from low Earth orbit would be left at first to spacecraft operated by Russia and NASA's other international partners. Eventually, U.S. commercial spacecraft would help fill the gap. One of NASA's commercial partners, California-based SpaceX, is planning a test cargo run to the space station later this year.
SpaceX and other companies are receiving tens of millions of dollars from NASA to build spaceships capable of carrying astronauts as well as cargo, but those companies say it will take at least three years with adequate funding to put those spacecraft into operation. None of those spaceships will match the shuttle's 25-ton cargo-carrying capacity.
Bittersweet mood
The mood at Kennedy Space Center for the last launch was decidedly bittersweet. Astronauts from past missions circulated around the press area and reminisced about days gone by.
Retired astronaut Bob Crippen, who flew on the first shuttle mission back in 1981, said he was "proud of what the shuttle has done" over the past 30 years. "But I'm disappointed that we're standing it down without the capability to put our astronauts in orbit ourselves," he told msnbc.com.
Crippen, along with other former astronauts and flight directors, put his name to a letter asking NASA to delay Atlantis' launch for more than a year, restart the production lines for shuttle components and keep the program going. On Thursday, however, Crippen acknowledged that "that boat's already sailed ... I don't believe we're going to turn anything around."
The shuttle workforce has already been reduced in anticipation of the program's end, and thousands are due to be laid off soon after the shuttle lands. Crippen said he was sad that so many people — including his daughter, a shuttle crew trainer — were losing their jobs. "But I'm proud that they've kept their focus," he said, "and that they want to get off this mission and make it as much a success as the first one."