/ Source: msnbc.com news services
Pakistan on Friday denounced as "extremely irresponsible" comments by the top-ranking U.S. military officer that elements of the Pakistan government had sanctioned the killing of a Pakistani journalist in May.
The remarks by Admiral Mike Mullen are likely to place new strains on Pakistan.-U.S. ties, already seriously damaged following the killing of Osama bin Laden by U.S. forces in Pakistan in May.
The death of journalist Syed Saleem Shahzad prompted intense speculation about the possible involvement of the Pakistan military's powerful spy agency, Inter Services Intelligence (ISI), but Mullen said on Thursday he could not confirm involvement of the ISI.
Mullen said he did not have a "string of evidence" linking Shahzad's death to a specific government agency.
But he added: "I have not seen anything that would disabuse that report that the government knew about this."
"It was sanctioned by the government, yeah," he told reporters from the Pentagon Press Association.
Mullen said Shahzad's death and the reported abuse of other journalists was not the way for a government to move ahead.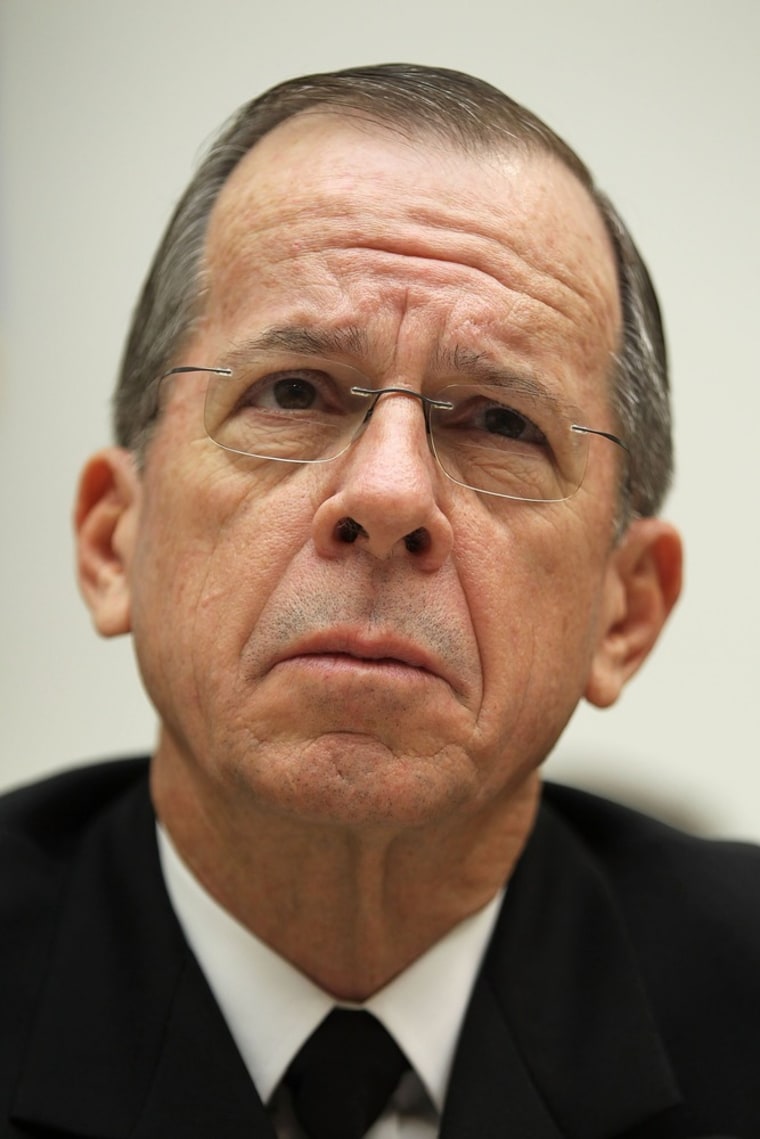 "It's a way to continue to, quite frankly, spiral in the wrong direction," he said.
The remarks were the most explicit remarks to date on the case by a senior U.S. official.
'Will not help'
"If it is true, than the statement is extremely irresponsible," a Pakistani government spokesman said of Mullen's remarks, in a statement quoted by the official APP news agency. "It will not help in investigating the issue."
Shahzad, who worked for the Hong Kong-based Asia Times Online, disappeared from Islamabad on May 29. His body was found in a canal two days later, bearing what police said were signs of torture.
The government said it had set up a judicial commission to investigate Shahzad's death, and that any information "at national or international level" should be shared with the commission.
"If any statement is issued other than this way, it will be considered an attempt to influence the proceeding of the Commission." the spokesman said. "It seems that some elements are trying to use this issue against the elected democratic government and Pakistan."
Shahzad had been investigating and writing about alleged links between the ISI and militant groups.
He had reported that an attack on a major navy base in the southern port of Karachi in May was carried out by al-Qaida militants after talks failed to secure the release of two naval officials accused of having ties to militants.
The attack on the PNS Mehran base was launched after the killing of bin Laden by U.S. Navy SEALs in a secret mission in the northwestern garrison town of Abbottabad on May 2. A small group of militants held out for 16 hours at the base against 100 commandos and rangers.
Bin Laden's killing and revelations that he had lived for years not far away from the military's top academy caused huge embarrassment for Pakistan's military and the ISI.
Deteriorating relations
Mullen has acknowledged the deteriorating relations between the U.S. and Islamabad. On Thursday, he said Pakistan was still reassessing its relationship with the U.S.
Mullen said he was not sure how it will turn out.
U.S. officials have expressed growing frustration with Pakistan's unwillingness to go after militants who are hiding in havens along the border and routinely cross into Afghanistan to attack U.S. and allied forces.
Even as Mullen and other U.S. leaders stress the importance of America's long-term relationship with Pakistan, members of Congress are pressing to cut funding to Islamabad or make aid contingent on more aggressive efforts to go after insurgents.
Militant groups seen as most dangerous in the ongoing Afghan war — the Haqqani network is one example — base their operations in Pakistan.
While acknowledging Pakistan's failure to go after key insurgents, Mullen said Islamabad's military has taken enormous steps, moving into some of the border areas and battling terrorists. Islamabad has failed, however, to stem the increasing flow of ammonium nitrate, a key bomb ingredient, into Afghanistan.
Used as fertilizer, ammonium nitrate is manufactured at a number of locations in Pakistan. U.S. officials would like Islamabad to better regulate it or fashion some type of coloring that would identify where it came from, when it's discovered in bomb-making materials moving across the border.
Efforts to root out militant groups in Pakistan is considered an important element in the effort to wind down the war in Afghanistan so that U.S. troops can leave by the end of 2014 and turn security of the country over to the Afghans.