For nearly four years, a bacterial infection that left a Seattle-area newborn with severe brain damage while his twin brother developed normally has remained a medical mystery, traumatizing his family and stumping local and national disease experts.
Myles Massey, now 3, can't speak or walk, must be fed through a stomach tube, has little use of the left side of his body and suffers from cerebral palsy and mental delays, all attributed to a rare Bacillus cereus infection that developed after his birth on Sept. 1, 2007.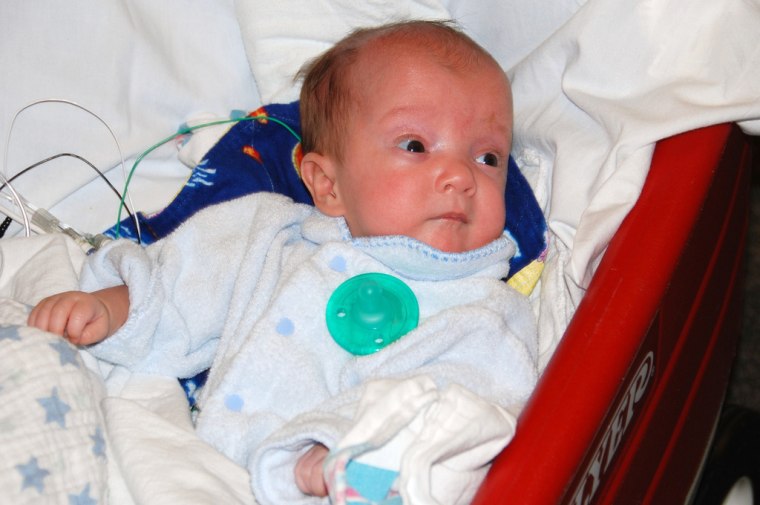 Myles' twin brother, Henry, is an active, talkative preschooler. No source of the bacteria was ever found, despite repeated tests by hospital staff and local and state health officials, and advice from the Centers for Disease Control and Prevention. 
Now, however, an amended lawsuit charges that the bacteria that left Myles permanently impaired came from a source recently blamed for other infections and death: contaminated alcohol prep pads made by the Triad Group of Hartland, Wis.
Triad and its sister company, H&P Industries Inc., have been added to a growing list of defendants in the Masseys' medical malpractice suit that alleges that the tainted wipes led to Myles' devastating systemic injuries.
"It was the only thing they could come up with that was the cause of this poor baby's infection," said Joel D. Cunningham, the Massey family lawyer. "It liquefied portions of his brain."
Aaron Massey, 41, and Tracy Massey, 40, of Kenmore, Wash., declined to speak to msnbc.com on the advice of lawyers.
H&P Industries Inc. officials did not respond to msnbc.com requests for comment on the Masseys' case. The firm has repeatedly said that no cases of infection or death have been confirmed to be caused by any Triad Group products.
Court documents cite no direct evidence that the wipes specifically used on Myles were contaminated. Arguments linking the Triad wipes to Myles' infection will rely on circumstantial evidence, Cunningham said.
Since February, the Triad Group and H&P Industries Inc. have been the subject of an ongoing msnbc.com investigation that found that lax government oversight and repeated violations of good manufacturing practices allegedly led to infections and death tied to tainted wipes and pads.
The Bacillus cereus bacterium found in Myles' bloodstream is the same organism confirmed by federal Food and Drug Administration investigators last year in Triad prep pads. The bacteria led to massive recalls of the alcohol prep pads in January, seizure of more than $6 million in Triad products in April and, in June, a federal court order barring the Wisconsin plant from making and distributing medical supplies.
Since January, federal Food and Drug Administration officials have received reports of eight deaths, 11 potentially life-threatening infections and nearly 250 other problems associated with Triad alcohol and povidone iodine prep products and sterile lubricating jelly, records show. FDA officials are investigating two of the deaths that specifically cite Bacillus cereus.
The Masseys first filed a lawsuit in December 2009, blaming the boy's condition on bad infection control practices at Evergreen Hospital Medical Center in Kirkland, Wash., where Myles and Henry were born early, at 30 weeks gestation.
Myles was the bigger twin, born at 3 pounds, 7 ounces, compared with Henry, born at 2 pounds, 13.5 ounces. But Myles had more problems from the start, suffering respiratory distress and requiring umblical vein and artery catheters. The original lawsuit was based on the notion that the infection must have been caused by problems with the early care the baby received.
"The only thing we knew was that this type of infection ordinarily doesn't occur unless somebody does something wrong," Cunningham said.
Washington state health department officials and the CDC confirmed that the infection was caused by Bacillus cereus. But the case lagged as test after test detected no sign of the bacteria in the baby's environment or related to doctors and nurses.
An 'Aha!' moment
In January, however, the FDA posted notice of the recall of all lots of Triad alcohol prep products, citing contamination with Bacillus cereus. That's when an expert investigating on behalf of Evergreen Hospital notified lawyers that there might be a connection, said Mary McIntyre, the Seattle lawyer representing the hospital.
By February, msnbc.com had reported that parents of a Houston toddler, Harrison Kothari, had filed a lawsuit claiming that contaminated pads caused their son's death from a Bacillus cereus infection.
Evergreen Hospital checked; the alcohol wipes used in their neonatal intensive care unit were manufactured by the Triad Group.
"When this Triad thing broke, it was an 'Aha!' moment," Cunningham said. "The hospital concluded this explains what happened."
The amended lawsuit now cites the Wisconsin firms, and also the large, multi-national companies that repackaged and distributed the alcohol wipes. They include Harvard Drug Group, which does business as Major Pharmaceuticals, and Cardinal Health 110, Inc. It also still includes Evergreen and the health workers who cared for Myles.
The suit charges that Triad wipes, repackaged by Major and distributed by Cardinal Health, were included in a newborn care kit used to treat Myles in the days after his premature birth, and were also used to clean the top of a medication vial used with a sterile syringe to deliver drugs to the baby.
Henry and other babies in the NICU were treated with wipes supplied by Triad. It's not clear why Myles became infected and others didn't, although some premature infants' immune systems are more weakened than others, the lawsuit says. 
The new complaint includes statements from the neonatologist who cared for Myles, Dr. Stephen Chentow, plus two top experts in infectious disease and FDA regulations, Dr. Daniel Benjamin of Duke University and Barry A. Friedman, a microbiologist with expertise in sterilization, all of whom declared that contaminated wipes likely caused Myles' infection.
"It is my opinion based on reasonable medical probability that the cause of Myles Massey's infection was an alcohol pad distributed by the Triad Group which was contaminated with Bacillus cereus," wrote Benjamin, a specialist in pediatric infectious disease and a former FDA scientific adviser and medical officer.
In addition, the suit cites documents that show that government inspectors found problems with potential contamination with the Wisconsin companies dating back more than a decade, including problems identified in 2006, the year before the Massey boys were born, and in 2002 and 2000.
Problems traced back to 2000
An msnbc.com review of the documents shows that FDA inspectors in 2006 found that an H&P Industries Inc. plant in Mukwonago, Wis., "failed to adequately address potential contamination in raw material" used for drug products. In 2002, the firm was cited for failing to "verify the effectiveness of the sanitation process." An investgation in 2000 found similar problems, inspectors reported.
In a June response to a Colorado lawsuit that alleges the Triad wipes caused a life-threatening infection in a woman with multiple sclerosis, H&P Industries Inc. lawyers said that any contamination in their products came from raw materials supplied by Tudor Converted Products Inc. of Summerville, S.C. Angela Diggs, branch manager for the Tudor, denied the claim, saying H&P officials were trying to shift blame for shoddy manufacturing processes. Neither company has supplied evidence, other than allegations, about sterility or contamination testing.
FDA officials allowed H&P Industries to pursue voluntary corrections for years before taking actions this spring to seize products and seek a court order barring production. A top FDA official in June admitted to members of Congress that the agency should have issued a formal warning letter to the firm in August 2010 instead of allowing voluntary compliance.
The company's long history of violations and the long lag in enforcement are shocking to Aaron and Tracy Massey, said their lawyer. Before the twins were born, they were already parents to Jake, now 6. Aaron is a technical accounts manager at Microsoft and Tracy was a social worker who stopped work to care for her three young children.
'They don't want this to happen again.'
Myles was hospitalized most of the first four months of his life, according to court documents. When he finally came home, his parents found that the infection that ravaged the baby's brain also upended their family life, their lawyer said.
"They're like other families that have severely disabled children. You've got to have 24-hour nursing care for that child and the family provides it," Cunningham said.
Although Myles is slowly gaining skills, his delays remain profound. He gets around by scooting on his behind, and is making more sounds, though he still can't talk. He smiles a lot and loves to play with his brothers as much as he can, but his future remains uncertain.
The goal of the Masseys' lawsuit, now set for trial in September 2012, is partly to obtain financial support for Myles, who will require a lifetime of care, Cunningham said. But it's also aimed at changing the manufacturing, inspection and enforcement system for widely used medical products in the United States.
"They don't want to see this happen again," Cunningham said. "It kind of scares them to think that babies could get infections from something like this and there's no way to prevent it unless these companies follow the rules in their quality control."