/ Source: msnbc.com staff and news service reports
An investigation is under way into the roller coaster death of a U.S. Army veteran who had been trying to rebuild his life after losing both legs in Iraq.
Teams of inspectors on Saturday were examining the Ride of Steel coaster at the Darien Lake Theme Park Resort, about 30 miles east of Buffalo.
Sgt. James Thomas Hackemer, 29, was ejected from the 208-foot-tall ride Friday evening, after climbing aboard during an outing with family and friends.
The wounded veteran was missing all of his left leg and most of his right one, as well as part of a hip, and had been living at his parents' home in Gowanda following years of rehabilitation.
It wasn't immediately clear whether attendants at the theme park had given any thought to barring Hackemer from the ride because of his missing limbs.
People without legs are barred from at least one other coaster at the park, the Predator. Rules posted on the resort's website for the Ride of Steel say that guests must be 54 inches or taller, but add that people with "certain body proportions" may not be able to ride. The website also suggests that guests try using a test seat at the coaster's station house.
Theme park officials declined to answer questions about the accident on Saturday, citing the ongoing investigation. Both the state's labor department, which has regulatory authority over amusement park rides, and investigators from the Genesee County Sheriff's Department were on the scene.
"We are all brokenhearted by this tragic accident and will continue our support of both the family and the investigation," the amusement park's general manager, Chris Thorpe, said in a statement.
A Labor Department spokesman confirmed that the agency is investigating, but said it wouldn't be releasing additional information yet on the circumstances of the accident.
Sources told The Buffalo News that the man was "thrown from the coaster" and "fell a great height."
The park's website describes the Ride of Steel as one of the tallest coasters east of the Mississippi River, climbing 208 feet and reaching speeds in excess of 70 mph.
The roller coaster and surrounding area were closed after the man's death, park spokeswoman Cassandra Okon said. Other areas of the park remained open, and patrons arrived again on Saturday morning.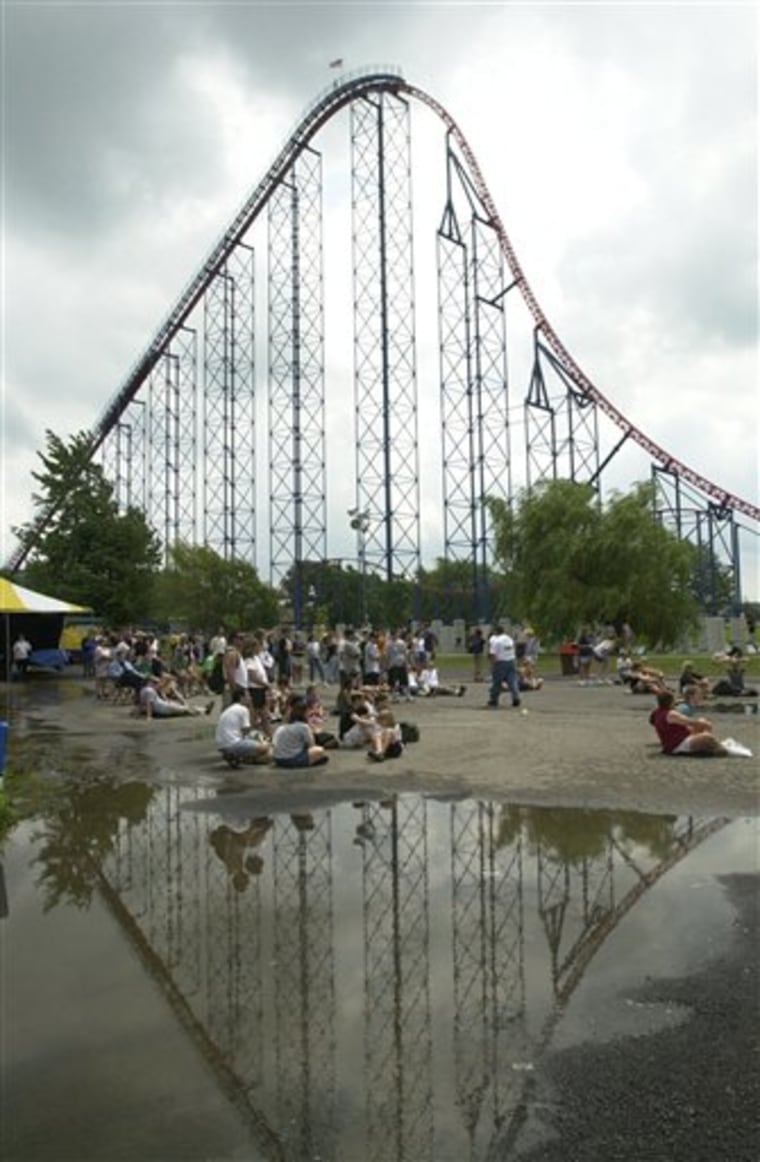 "Our thoughts and prayers are with the friends and the family of the guest," she said.
Hackemer was severely wounded in 2008 by an armor-penetrating warhead called an explosively formed penetrator. In a video interview with The Buffalo News this year, he described the aftermath of the attack, a hazy period in which he lost tremendous amounts of blood, had two strokes and was in a coma for six weeks at a series of hospitals.
The blood loss caused brain damage. Afterward, he had to relearn to eat and speak.
"I had to learn all my basic skills again," he told the newspaper. After finally going home, he said his parents had constructed ramps around the house and were trying to make him comfortable. Hackemer said he would never feel normal again, but after all his hard work felt like he was "pretty close."
His mother, Nancy Hackemer, told the newspaper in an interview after his accident Friday that the family had recently returned from the Walter Reed Army Medical Center, in Washington, D.C., where her son got "a new set of legs."
"It's going to help a little bit that he was happy," she said. "We shouldn't have had him for these last three years and four months."
"He was assisted onto the ride," she said. "He was doing what he wanted to do."
The death was at least the second in the last couple of months at Northeast amusement parks. In early June, an 11-year-old girl on a class trip to Morey's Mariner's Landing Pier in Wildwood, N.J., fell about 150 feet from near the top of a Ferris wheel and was killed. A state report found the ride's restraints to be working properly, and investigators haven't been able to determine how the girl, who was riding alone, got out of the Giant Wheel gondola.
People who have ridden the Ride of Steel coaster where Hackemer died recalled it as thrilling.
"That's the only one that gives you a scare. I mean, it does lift you out of your seat," said Liz Blest, 33, of Buffalo, who was staying at a campground next to the amusement park on a family trip.
Passengers are held in by a bar that sits across their legs.
Theme park patron Michelle Mallory, who had one leg amputated four years ago as a result of a medical problem, said she was apprehensive about riding any of the resort's other coasters, but finally got on one called the Skycoaster.
"I asked for a supervisor to make sure I could ride," said Mallory, 31, of Auburn. She said she was told, "`You've got to have at least one leg."'
The Ride of Steel was also the site of a serious accident shortly after its grand opening in 1999. A 37-year-old man fell out of his seat 10 feet to the ground as the ride was braking on its final approach near the station house, according to The Buffalo News.
The victim suffered multiple rib fractures and internal injuries.  A Cattaraugus County jury, found the park fully liable and awarded a $4 million verdict to him. The case eventually settled for $2.85 million, the newspaper reported.