/ Source: The Associated Press
Rancho Mirage was just a dot in a desert valley east of Los Angeles until Betty Ford put it on the map with a rehab center that treated a stream of Hollywood high-rollers and spiraling stars that spanned generations, from Elizabeth Taylor to Lindsay Lohan.
When she died Friday, she had outlived some of her most famous celebrity successes and saved the lives of many more, a legacy that inspired A-listers and average residents alike to pay tribute to a former First Lady who left her mark — and her name — all over the city she made famous.
Ford died at the Eisenhower Medical Center in Rancho Mirage, the unassuming desert golf community where she settled with former President Gerald Ford after he left office more than three decades ago, family spokeswoman Barbara Lewandrowski said. She was 93. Other details of her death were not immediately available. The family planned a news conference later Saturday.
In Rancho Mirage, residents were saddened by her death even as they praised her devotion to removing the stigma from addiction. The Betty Ford Center treated more than 90,000 people since its beginnings in 1982 and although it was most famous for a string of celebrity patients, it kept its rates relatively affordable and provided a model for effective addiction treatment.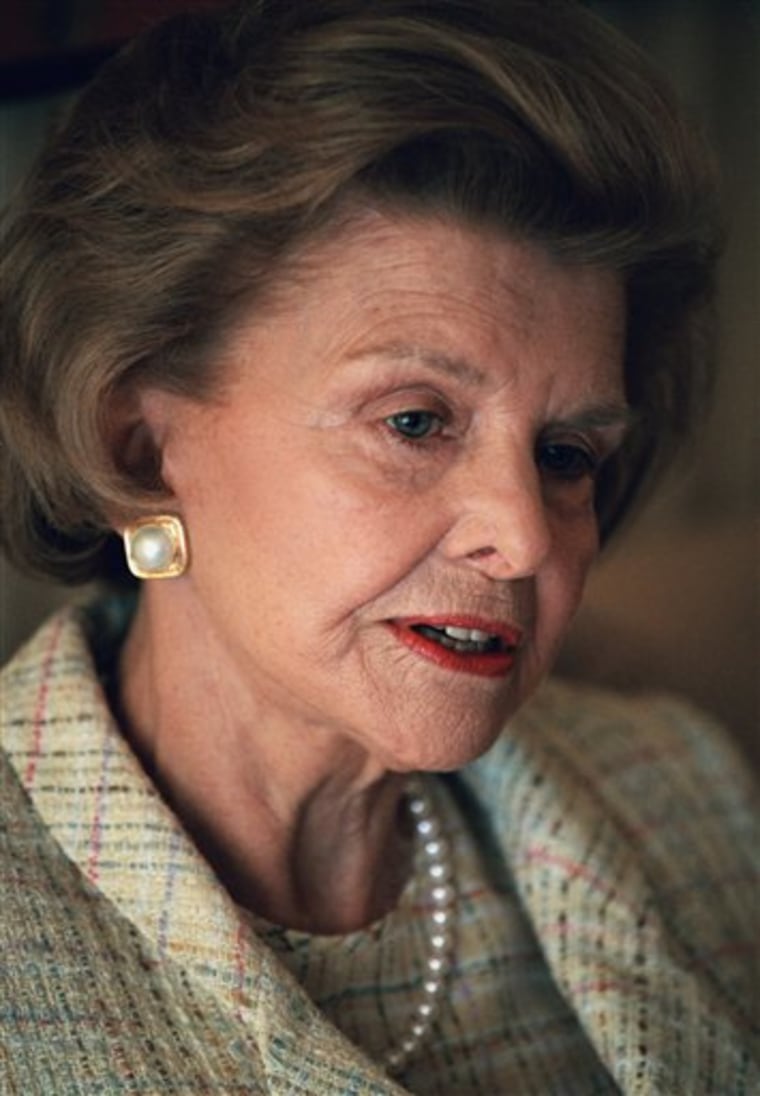 One of Ford's defining characteristics was her candor, and that included confronting her own addiction head-on. She revealed a longtime addiction to painkillers and alcohol 15 months after leaving the White House, and regularly welcomed new groups of patients to rehab with a speech that started, "Hello, my name's Betty Ford, and I'm an alcoholic and drug addict."
Carol Pruter, 67, said she was proud that Betty Ford chose to set up her rehab center in Rancho Mirage and admired the former First Lady's approach to life — and to addiction. Much of the world was focused on the celebrities who came to the center, but Ford made a point of reaching out to average people too, Pruter said.
During treatment, patients live in seclusion at the center, which is surrounded by tall, lush hedges and accessed by a private lane guarded by a security checkpoint. The center distinguished itself from later iterations of rehabs that catered to the wealthy, ones that resembled spas more than an environment to honestly confront one's demons.
"She let people know that people who aren't well-known can get addictions too. It's not something for a certain part of society, it's not something to hide," Pruter said as she stopped by a local coffee shop on Saturday morning. "It's an illness that needs treatment."
Pruter's family attends the same Episcopal church as the Fords and sometimes saw them at services. The couple was always surrounded by Secret Service, but they would nod and smile politely at other worshippers, she said.
"You couldn't get too close but you would acknowledge them and they were always very gracious and they would acknowledge you," she said.
Other residents of the desert town reminisced about the celebrity cache that the Betty Ford Center brought to Rancho Mirage — but without the frenzy that so often accompanies the comings and goings of today's troubled stars.
"It's probably shallow to say, but I think it's really cool she was able to get celebrities here," said Pat Kellogg, who has lived in the area for 22 years.
The rest of the world also knew the rehab center primarily for its ties to Hollywood's elite, so much so that it became the punch line in discussions of celebrity overindulgence.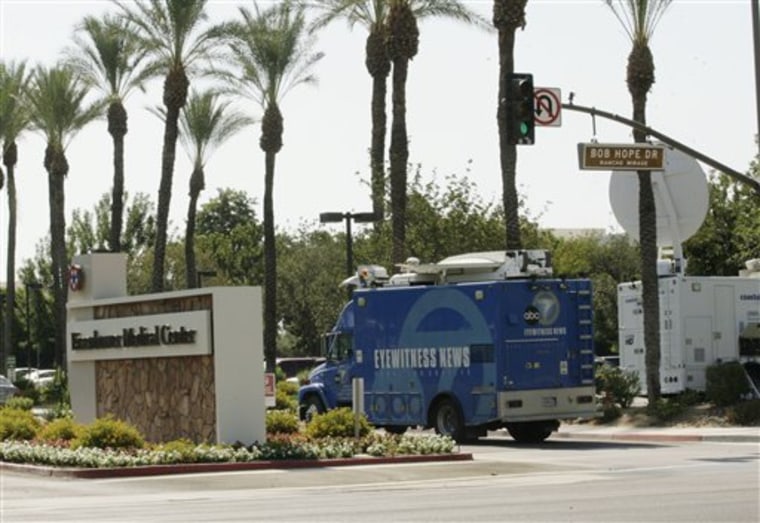 In 1996, Kelsey Grammer described to Jay Leno how his treatment at Betty Ford helped restore his joy of living. The actor also quipped about the center's stature and its famous patients.
"When I was on my way to the Betty Ford Center, I turned to one of my friends and said, 'You know, I've finally made it. I'm going to the Betty Ford Center,'" he said.
Grammer, however, also credited the center with saving his life, as did many other stars of stage and screen who credited Ford with developing the top-notch care that brought them back from the brink.
Elizabeth Taylor's first stay at the center came in 1983 and provided another high-profile face to those struggling with addiction. She would later meet one of her husbands, Larry Fortensky, while in treatment.
Johnny Cash also became a patient after he broke five ribs and relapsed into abuse of painkillers. "I ended up in the Betty Ford Center for 43 days," Cash told The Associated Press in 1986. "I've had no drugs since then. It has been the best three years of my life, the most productive and the happiest."
Other musicians, including Aerosmith frontman Steven Tyler and jazz singer Etta James, who battled heroin addiction, also received treatment at Betty Ford.
Those celebrities, old and young, honored Ford on Friday as news of her death spread, from Oscar-winner Marlee Matlin to "One Day at a Time" actress Mackenzie Phillips to Ali McGraw, who was treated at the center in 1986.
"She changed so many of our lives with her courage and intelligence, her honesty and humility, and her deep grace," McGraw said. "Her vision impacted my own life as few people have."
But Ford herself would have rejected the praise as she did in life, preferring instead to turn the attention back to the person who was struggling with the demons of addiction.
"People who get well often say, 'You saved my life,' and 'You've turned my life around,'" Ford once said. "They don't realize we merely provided the means for them to do it themselves, and that's all."
_____
McCartney reported from Los Angeles. Associated Press Writers Gillian Flaccus and Chris Weber in Los Angeles contributed to this report.