/ Source: msnbc.com staff and news service reports
Sweltering summer temperatures topped 100 degrees in many areas Monday as excessive heat warnings gripped 17 states. Oklahoma City saw its 12th day in a row of heat at 100 or above.
In some parts, it felt like 115 when the heat index was factored in.
Heat advisories were in place from Georgia to Illinois and back down to Oklahoma. where the heat index could make it feel like triple digits, the National Weather Service reported.
The heat index measures how hot it really feels when relative humidity is factored in with actual air temperature.
Forecasters warned that the extreme heat could continue for most of the week and perhaps beyond. At the same time, many people won't be able to cool off by taking a dip: Swimming pools in some cities have closed because of budget cuts.
For Tuesday, the National Weather Service issued heat advisories for much of the East Coast, from Georgia to Connecticut, where temperatures are expected in the upper 90s but will feel as hot as 105 because of the humidity.
"It says a lot when you are dealing with such an expansive area of heat alerts," said National Weather Service spokesman Chris Vaccaro.
Storm hits Chicago hard
The Chicago area, where the temperature reached 91, also got hit by a storm packing 75 mph winds that shut down O'Hare and Midway airports to all flights Monday morning for about 45 minutes.
Fallen trees downed power lines across northern Illinois, cutting power to more than 800,000 electricity customers.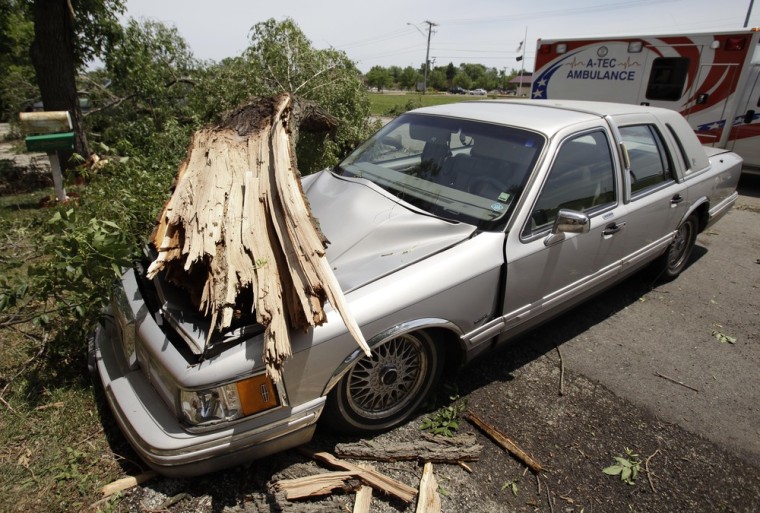 "It's one for our record books," Tony Hernandez, a spokesman for the utility company ComEd, said of the outage numbers.
The storm system even triggered a brief warning that a tidal wave-like surge could hit the Illinois side of Lake Michigan.
The National Weather Service warned people to stay out of the water and residents to be prepared to "take appropriate action to protect life and property."
Hutchinson, Kan., had reached 103 by Monday afternoon after hitting a scorching 112 on Sunday. (Records haven't been kept there long enough to tell if it was a new high for the date.) The mercury hit 99 in Joplin, Mo., by the afternoon after topping out on Sunday at 106, breaking the record of 104 for the date, set in 1980.

Oklahoma City has hit 100 degrees or higher — 110 on Saturday — every day since June 29, including Monday, making it 13 in a row. The record there is 22 consecutive days of 100 degree-plus weather, set in 1936.
In Kansas City, Mo., an excessive heat warning accompanied a possible heat index of 110. That warning extends through Tuesday night and the heat wave itself started on Sunday. What's it feel like there? NBC affiliate KSHB-TV summed it up in one word: furnace.
In Granite City, Ill., on Sunday, a 51-year-old man died of heat stroke in a mobile home without a working air conditioner.
Hot but no heat advisory in Dallas
Dallas recorded its 10th-straight day of 100-degree weather Monday. The city hit 100 for nearly three straight weeks as recently as 2006, and National Weather Service meteorologist Jesse Moore said the city isn't even technically under a heat advisory because the area is used to these temperatures. In 1980, the city endured 42 days in a row of 100-degree-and-over heat.

Triple-digit highs are expected through the weekend in Dallas, and there is little chance of rain to cool things down.

"It's breaking daily records, but when you're talking about a record string of days — we're not there yet," Vaccaro said. "We're in the midst of a heat wave that's not over yet."

On Monday, 87-year-old R.F. Lanham was taking the heat in stride as he picked weeds in his shaded front yard in Dallas. "I've seen a lot of hot summers," he said.

As 40-year-old Sally Smith loaded two of her children into her minivan as she left a spin class at a Dallas YMCA, she said that even though she had lived in Texas for 18 years, the hot weather was hard to get used to.

"You feel like your skin is baking," the Michigan native said.


In Fort Worth, all of the city's pools are closed because of budget cuts. Through a partnership with the YMCA, Fort Worth residents can swim at four of its pools for two hours a day without a membership.

Authorities said a 51-year-old man suffered heat stroke and died Sunday because his mobile home in Granite City, Ill., had no working air conditioner. His body temperature was 104 when he arrived at the hospital.

In Tahlequah, Okla., 56-year-old David Vaughan, who works construction at water treatment plants, said he was using survival skills he learned while working in Kuwait.

"In Kuwait, we had a saying: Walk slow and drink a lot of water," he said.

In El Paso, Texas, 67-year-old Jesus Franco was the grateful recipient of a fan from the Texas Department of Family and Protective Services. Franco, who is blind, said that he had a small air conditioning unit installed in his home last week, but even then, "at night it gets so hot you can't sleep."

As the stream of air cooled his shirtless torso Monday, he said, "This is much nicer."

Felix Cabrera, an employee of the agency giving out the fans, said: "With so many people unemployed and the population getting older, we are getting more calls."

In New Orleans, the heat was, as usual, heavy and suffocating — but just under 95 degrees, cool enough to allow the mule-drawn carriages to continue riding through the French Quarter. When the mercury hits 95, tourist guides are prohibited from working their mules.

Lorna Taylor, a guide and horse trainer, kept a close eye on her mule, Elvis. She threw snacks into his trough to force him to dunk his head in the water. But she wasn't worried.

"Mules are desert-dwellers," she said, sweat glistening on her brow. "So this is a walk in the park."

All-Star heat
In Phoenix, Ariz., where temperatures have been in the 100s and 90s, most of the Major League Baseball All-Star Game's activities on Monday and Tuesday will be indoors. But the players will be out on the streets Tuesday for a short parade.
Parishioners at a Phoenix-area church sweltered through services over the weekend when someone stole two of the church's three air conditioners. The units weighed 5 tons each.

The third unit did little to cool the building Sunday, which saw temperatures around 100 degrees at mid-day.
Air conditioner thieves typically will tear up the units and sell off copper parts and compressors.
So how is this summer comparing to past years? Weather.com provided these examples of extreme heat:
Oklahoma City, Okla.
21 100-degree days for 2011 through July 10 — more than double the annual average of 10;
Sunday was the 11th consecutive day with 100-degree temperatures;
Saturday's high of 110 was the hottest since early July 1996;
Most 100-degree days in a year: 50 in 1980.
Wichita, Kan.
18 100-degree days through July 10 — the annual average is 14;
Sunday's high reached 111 — the hottest day there since 1980;
Most 100-degree days in a year: 50 in 1936.
Dallas, Texas
16 100-degree days through July 10 —the annual average is 18 days;
Most 100-degree days in a year: 69 in 1980.
Austin, Texas

27 100-degree days through July 10 —more than double the annual average of 12 days;
Most 100-degree days in a year: 69 in 1925.