/ Source: NBC News and msnbc.com
An 8-year-old Brooklyn boy who got lost while walking home alone from day camp in his Orthodox Jewish neighborhood was killed and dismembered by a stranger, and his remains were found stuffed in a trash bin and the man's refrigerator, police said Wednesday.
The gruesome killing of Leiby Kletzy shocked the Hasidic community in Borough Park, in part because it is one of the safest sections of the city and because the man under arrest is himself an Orthodox Jew.
Levi Aron was taken into custody by detectives who said he lived alone in an apartment on Avenue C in a building occupied by his parents and other family members.
Kletzky got lost while walking home from a day camp and asked Aron for directions, police said.
Police Commissioner Ray Kelly said Aron, who turned 35 on Wednesday, has implicated himself in the boy's death. Aron was charged with second-degree murder later in the day.
Aron provided a lengthy confession and told investigators he spent "several hours" with the boy before he killed him, a source told NBC New York.
Thousands attend funeral
Thousands of mourners and residents gathered in a Brooklyn neighborhood courtyard for Kletzky's funeral Wednesday night, . A volunteer with a security patrol group estimated that close to 8,000 people were in attendance, the Times reported.
Earlier, police officers confirmed they were putting up "no parking today" signs on 16th Avenue between 57th and 55th streets because of expected crowds., NBC New York reported.
Hasidism is a form of mystical ultra-Orthodox Judaism. Followers live in communities nearly closed off to modern society and wear traditional dress — for men, dark clothing that includes a long coat and a fedora-type hat. Men often have long beards and ear locks.
Most of the 165,000 members in the New York City the area live in neighborhoods in Brooklyn and are part of three different major sects. Hasidism traces its roots to 18th-century Eastern Europe.
The insular community rarely seeks outside help, and State Assemblyman Dov Hikind, whose district includes the area, often speaks for the group.
Aron was Jewish but it's not clear if he's Hasidic. A $100,000 reward had been offered. Hikind said the outpouring of support has been tremendous, with people from all over the state volunteering their time to scour the neighborhood and hand out flyers.
Hikind said the boy was the only son of the Kletzky family. The couple has four daughters, and the husband works as a driver for a private car service.
"Everybody is absolutely horrified," he said. "Everyone is in total shock, beyond belief, beyond comprehension ... to suddenly disappear and then the details ... and the fact someone in the extended community ... it's awful," he said.
Bloody signs
When detectives arrived at the man's attic apartment around 2:40 a.m., they asked him where the boy was and he nodded toward the kitchen, Kelly said.
Detectives saw blood on the freezer door and they opened it to discover bloody knives, a cutting board and feet inside, police said.
Additional body parts were found inside a red suitcase that had been tossed into a trash bin in another Brooklyn neighborhood, nearly two miles away.
Police and volunteers had been looking since late Monday afternoon for Leiby, who disappeared while on his way to meet his mother in the Orthodox Jewish neighborhood of Borough Park.
Police said Aron worked as a clerk at the Empire State Supply Co., a hardware store in Kensington. Police accuse him of killing the child before cutting him into pieces. Aron told police that he had "panicked" after he saw reports of the massive search for the child.
He said he had suffocated the child, a source told NBC New York.
Coworkers said Wednesday that he showed up for work as usual on Tuesday and seemed fine.
Kelly said the boy's parents had taken him through the route the day before, and he was to walk the seven blocks from the camp to meet his mother. It was the first time the boy had been allowed to leave the camp on his own, sources told NBC New York.
He left at about 5:05 p.m. and got lost. He is shown on surveillance footage outside the dentist's office for about seven minutes, and then is seen getting into Aron's brown Honda sedan about 35 minutes later.
'Shock'
"I am in shock. I am not believing this," Debbie Kivel, Aron's ex-wife, told The New York Post. "He loved children. He loved kids. My kids are now 13 and 10, but when we were married they were younger — and he loved them."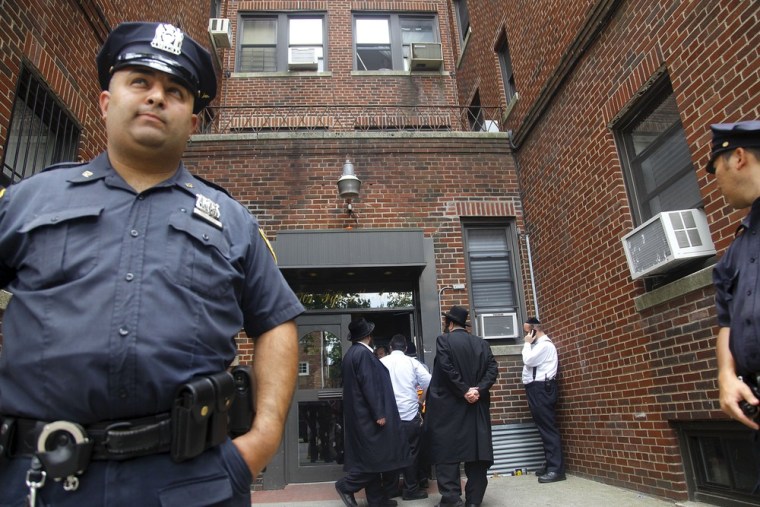 The couple met online through a Jewish dating website. They married in March 2006, but parted later after a "clash of character," Kivel told The Post. They were divorced in 2008.
During his stay in Tennessee, Aron worked odd jobs as a security guard, clerk and butcher at a kosher deli at Kroger's, a supermarket, The Commercial Appeal in Memphis reported.
Kivel described Levi Aron as a person who was shy until he got to know you and said he enjoyed music, karaoke and "American Idol."
His former father-in-law, Michael Kivel, described him differently.

"He was creepy person," Kivel, told the Post. "I gather he went to the Hebrew School, but wasn't smart enough and dropped out."
The break in the case came when investigators focused on a grainy surveillance video that showed the boy, wearing his backpack, walking down the street, while a man walked nearby.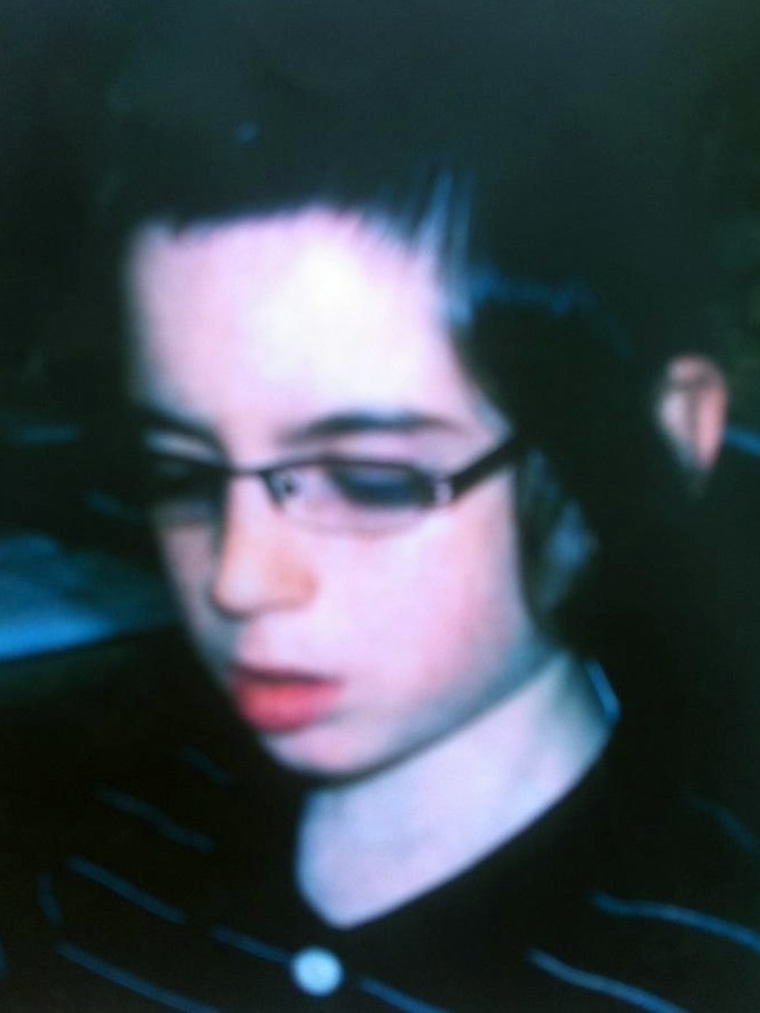 Detectives noticed the man on the video going into a nearby dentist's office, officials said. The dentist, located later in New Jersey, said he remembered someone coming by to pay a bill for a patient, and police said they were able to identify Aron using records from the office. When they went to his home, they made the gruesome discovery.
Police said Aron lived alone in the attic, in a building shared with his parents and uncle. He once had a summons for urinating in public but otherwise did not have a criminal record, Kelly said.
Aron has lived most of his life in New York, working as a clerk in Brooklyn, but spent about two years living in Memphis, Tenn., where he worked briefly, Kelly said.
Kelly said detectives were investigating whether he had a history of mental illness. He told investigators he panicked when he saw fliers with the boy's pictures on it, Kelly said. He would not say whether the boy had been sexually assaulted, and it didn't seem like Aron had ever seen the child before.
"It is every parent's worst nightmare," Kelly said.
Outside the family's apartment building Wednesday morning, men and women from the community clustered in separate groups. Many of the mothers gathered there said the streets are safe enough for a child Leiby's age to walk home alone.
"This is a no-crime area," said State Assemblyman Dov Hikind, whose district includes the area.
The medical examiner's office will determine a cause of death and positive identification.
"As a father, I cannot begin to imagine the horrible heartbreak that Leiby Kletzky's family is going through, and in speaking with their Rabbi today, I conveyed my deepest condolences," Mayor Michael Bloomberg said in a written statement. "This killing was a stunning shock to our entire city, and I ask all New Yorkers, including the thousands of individuals who volunteered to search for little Leiby, to keep the Kletzky family in their thoughts and prayers."
Shades of Etan Patz
For New Yorkers, the death of Leiby Kletzy has unmistakable parallels to the disappearance of 6-year-old Etan Patz, the first child to be put on a milk carton. On May 25, 1979, the boy left for school from his SoHo home, never to return.
According to , it was the first day Patz walked the two blocks from his apartment to the bus stop.
A suspect was identified, but never charged. Manhattan District Attorney Cyrus Vance Jr. recently confirmed that his office was reopening the investigation into the disappearance.
Patz's disappearance was the subject of one of the most extensive missing-child searches ever. He was never found but was officially declared dead in 2001.