/ Source: NBC, msnbc.com and news services
Mourners and well-wishers gathered outside the Gerald R. Ford Museum on Wednesday to offer a final western Michigan welcome home to former first lady Betty Ford.
Ford, wife of the late President Gerald Ford, helped found a world-renowned rehabilitation clinic that bears her name in Rancho Mirage, Calif. She died on Friday at the age of 93.
Ford was remembered for her activism and pioneering work for addicts at a memorial service in California on Tuesday that drew leading political lights of the past four decades. More are expected for a funeral Thursday in Grand Rapids.
The former first lady's remains were flown Wednesday to the Gerald R. Ford International Airport in Grand Rapids. The hearse was driven to the museum in downtown Grand Rapids, where a private service was scheduled. Ford was to lie in repose beginning at 7 p.m.
After the funeral on Thursday, Ford's body will be interred next to her husband's on the museum grounds overlooking the Grand River. President Ford died in 2006.
Among those expected to attend Ford's funeral on Thursday are former President Bill Clinton, former first lady Barbara Bush, former Vice President Richard Cheney and former Secretary of Defense Donald Rumsfeld, said Matt McLogan, spokesman for the Gerald R. Ford Presidential Foundation.
Lynne Cheney, Dick Cheney's wife, and historian Richard Norton Smith are scheduled to deliver eulogies.
First lady Michelle Obama, Secretary of State Hillary Clinton, former President George W. Bush and former first lady Nancy Reagan sat shoulder to shoulder in the second row of mourners at her funeral on Tuesday in Palm Desert, California.
The two services tie together the Fords' life in California, where they settled after Gerald Ford left the White House in 1977, and the town where both were raised.
Close to the hearts
The Fords remained close to the hearts of Grand Rapids' populace, represented by Gerald Ford in Congress from 1949 until his ascension to the presidency in 1974.
While both Fords were born elsewhere, each moved to Grand Rapids as a toddler and grew up in the solidly Republican area.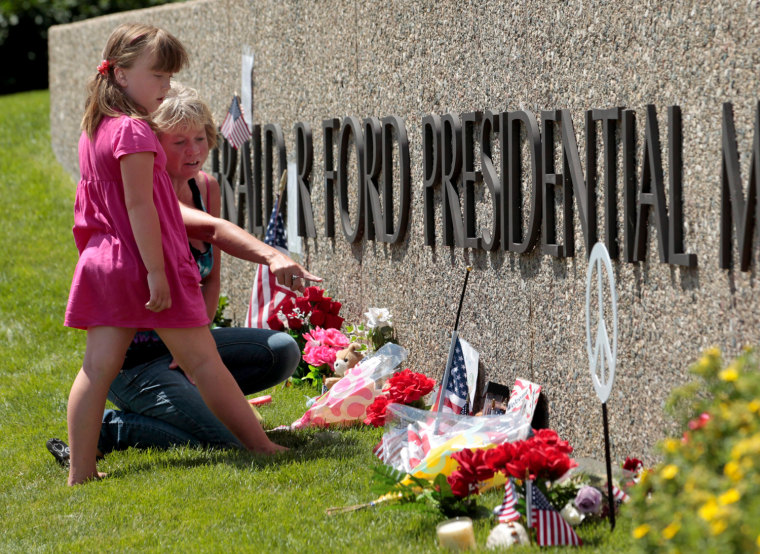 They were married in 1948 at Grace Episcopal Church, the location of Mrs. Ford's funeral on Thursday. Local lore has Mr. Ford late for their wedding because he made a campaign stop on the way to the church.
"The country felt strongly about her candor and courage as it related to chemical dependency and breast cancer," said Marty Allen, president emeritus of the Gerald R. Ford Presidential Foundation.
"The community took pride in the fact that she was from this area."
Over the years, the Fords lent their support to numerous fund-raising efforts in western Michigan. Local hospital Spectrum Health hosts the Betty Ford Breast Health Center.
The former first lady, who publicly battled breast cancer while her husband was president, was pleased that the center was named for her, Allen said.
"That meant a lot to her," he said. "She visited there. Any way she could help fight breast cancer, she did it."
Ford, once dubbed the "fighting first lady" by Time magazine for her outspoken political views, was a vocal supporter of women's rights while her husband was president from 1974 to 1977.
She also led early efforts to raise awareness of the battle against breast cancer after undergoing a mastectomy in 1974, less than two months after her husband succeeded the disgraced Richard Nixon as president.