/ Source: NBC News and msnbc.com
Eight-year-old Brooklyn boy Leiby Kletzky and the man arrested for his murder were together for more than 12 hours after the child went missing, according to a transcript of the suspect's alleged confession obtained by NBC New York.
Police and volunteers began looking for Kletzky late Monday afternoon after he disappeared while on his way to meet his mother in the Orthodox Jewish neighborhood of Borough Park after attending a day camp. It was the first time the boy had been allowed to leave the camp on his own, sources told NBC New York.
In the 450-word alleged confession, suspect Levi Aron claimed that Kletzky had asked him for a ride to a book shop, but then "changed his mind and wasn't sure where he wanted to go."
"So I asked if he wanted to go for the ride — (a) wedding in Monsey — since I didn't think I was going to stay for the whole thing since my back was hurting. He said OK," Aron said, according to the transcript.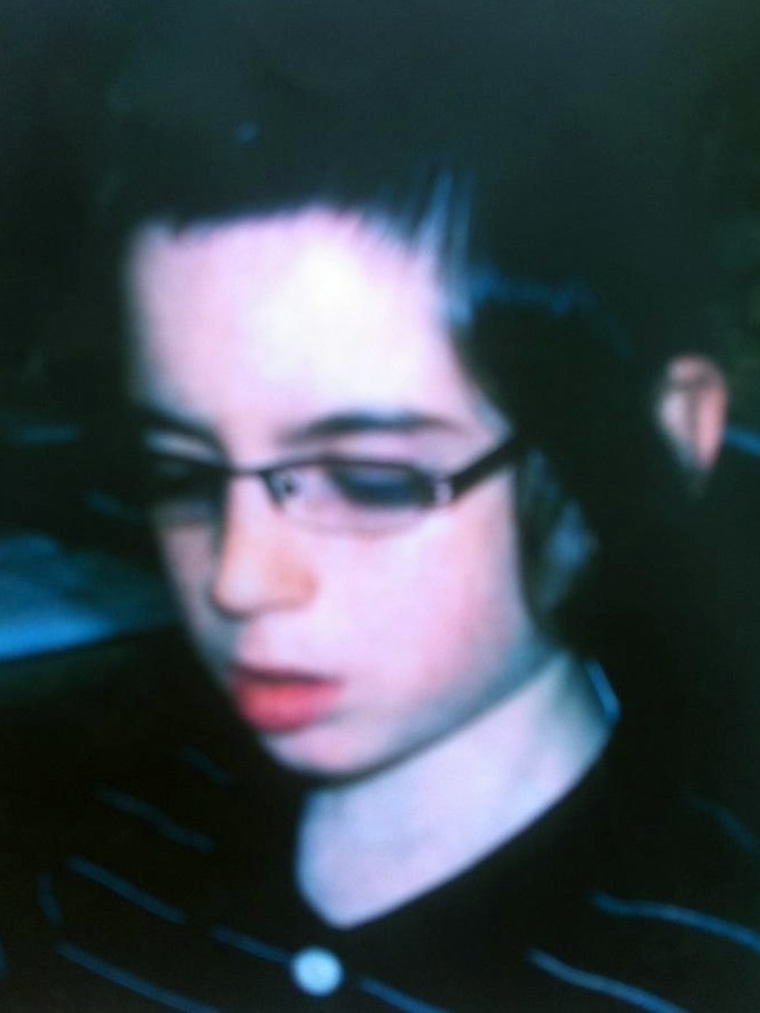 "Due to traffic, I got back around 11:20 p.m. ... so I brought him to my house thinking I'd bring him to his house the next day," he added. "He watched TV then fell asleep in the front room. I went to the middle room to sleep."
'I panicked'
The next morning, Aron said, the child was still sleeping "when I was ready to leave."
"So I woke him and told him I'll bring him to his house ... when I saw the flyers I panicked and was afraid," he said. "I was still in panic ... and afraid to bring him home. That is when I went for a towel to smother him in the side room. He fought back a little bit."
Aron said he again panicked "because I didn't know what to do with the body." He then described in graphic detail how he dismembered the body.
"I understand this may be wrong and I'm sorry for the hurt that I have caused," he added.
Aron was charged with second-degree murder Wednesday, his 35th birthday.
Police Commissioner Ray Kelly said the boy's parents had taken him through the route home the day before he went missing, and he was to walk the seven blocks from the camp to meet his mother.
He left at about 5:05 p.m. and got lost. He is shown on surveillance footage outside the dentist's office for about seven minutes, and then is seen getting into Aron's brown Honda sedan about 35 minutes later.
Kletzky's remains were found stuffed in a trash bin and the suspect's refrigerator, police said Wednesday.
Ex-wife 'in shock'
"I am in shock. I am not believing this," Debbie Kivel, Aron's ex-wife, told The New York Post. "He loved children. He loved kids. My kids are now 13 and 10, but when we were married they were younger — and he loved them."
The couple met online through a Jewish dating website. They married in March 2006, but parted later after a "clash of character," Kivel told The Post. They were divorced in 2008.
Aron lived in Tennessee for a time, working odd jobs as a security guard, clerk and butcher at a kosher deli at Kroger's, a supermarket, The Commercial Appeal in Memphis reported.
Kivel described Aron as a person who was shy until he got to know you and said he enjoyed music, karaoke and "American Idol."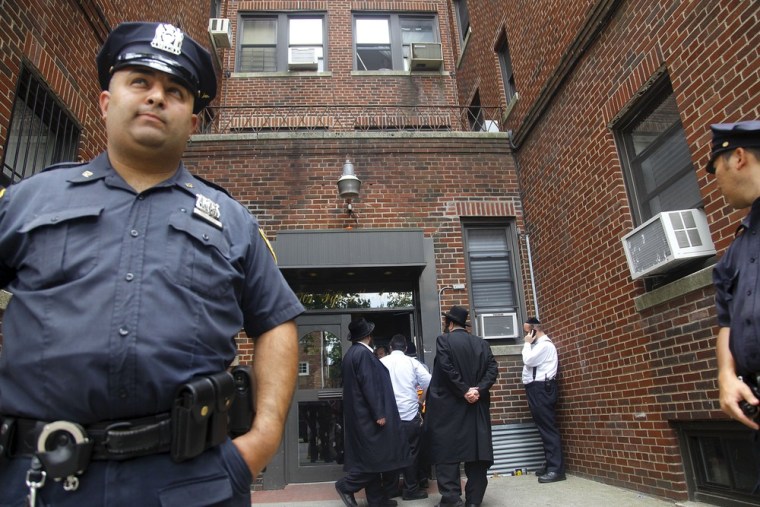 His former father-in-law, Michael Kivel, described him differently.
"He was creepy person," Kivel, told the Post. "I gather he went to the Hebrew School, but wasn't smart enough and dropped out."
Aron lived alone in an apartment on Avenue C in a building occupied by his parents and other family members, detectives said.
The gruesome killing shocked the Hasidic community in Borough Park, in part because it is one of the safest sections of the city and because Aron is an Orthodox Jew.
Thousands of mourners and residents gathered in a Brooklyn neighborhood courtyard for Kletzky's funeral Wednesday night, .
A volunteer with a security patrol group estimated that close to 8,000 people were in attendance, the Times reported.
Hasidism is a form of mystical ultra-Orthodox Judaism. Followers live in communities nearly closed off to modern society and wear traditional dress — for men, dark clothing that includes a long coat and a fedora-type hat. Men often have long beards and ear locks.
Most of the 165,000 members in the New York City the area live in neighborhoods in Brooklyn and are part of three different major sects. Hasidism traces its roots to 18th-century Eastern Europe.
The insular community rarely seeks outside help, and State Assemblyman Dov Hikind, whose district includes the area, often speaks for the group.
Hikind said the boy was the only son of the Kletzky family. The couple has four daughters, and the husband works as a driver for a private car service.
"Everybody is absolutely horrified," he said. "Everyone is in total shock, beyond belief, beyond comprehension ... to suddenly disappear and then the details ... and the fact someone in the extended community ... it's awful," he said.
Shades of Etan Patz
For New Yorkers, the death of Leiby Kletzky has unmistakable parallels to the disappearance of 6-year-old Etan Patz, the first child to be put on a milk carton.
On May 25, 1979, the boy left for school from his SoHo home, never to return.
According to , it was the first day Patz walked the two blocks from his apartment to the bus stop.
A suspect was identified, but never charged. Manhattan District Attorney Cyrus Vance Jr. recently confirmed that his office was reopening the investigation into the disappearance.
Patz's disappearance was the subject of one of the most extensive missing-child searches ever. He was never found but was officially declared dead in 2001.