/ Source: msnbc.com staff and news service reports
Indian authorities received no intelligence suggesting an attack was about to be launched before the three bomb blasts that killed 18 people in Mumbai, a top official said Thursday.
The bombings were the biggest militant attack on Mumbai since the 2008 assaults killed 166 people, raised tensions with neighbor and nuclear rival Pakistan, and left a city on edge.
Suspicion fell on the Indian Mujahideen, a shadowy home-grown militant group known for its city-to-city bombing campaigns using small explosive devices planted in restaurants, at bus stops and on busy streets.
"There was no intelligence regarding a militant attack in Mumbai. That is not a failure of intelligence agencies," Home Minister Palaniappan Chidambaram told a news conference.
"Know that perpetrators have attacked and have worked in a very, very clandestine manner. Maybe it's a very small group, maybe they did not communicate with each other," he added.
Chidambaram said it was too early to point the finger at a particular group, but said the "coordinated terror attacks" could be in retaliation to a number of plots recently stopped by police or the arrests, including from the Indian Mujahideen.
Pakistan condemns bombings
The Indian Mujahideen have been accused of having ties with Pakistani militant groups fighting Indian rule in Kashmir.
The blasts come as India and Pakistan seek to normalize ties. Pakistani leaders were swift in condemning the bombings, as was President Obama. Secretary of State Hillary Clinton is due in India for scheduled talks next week.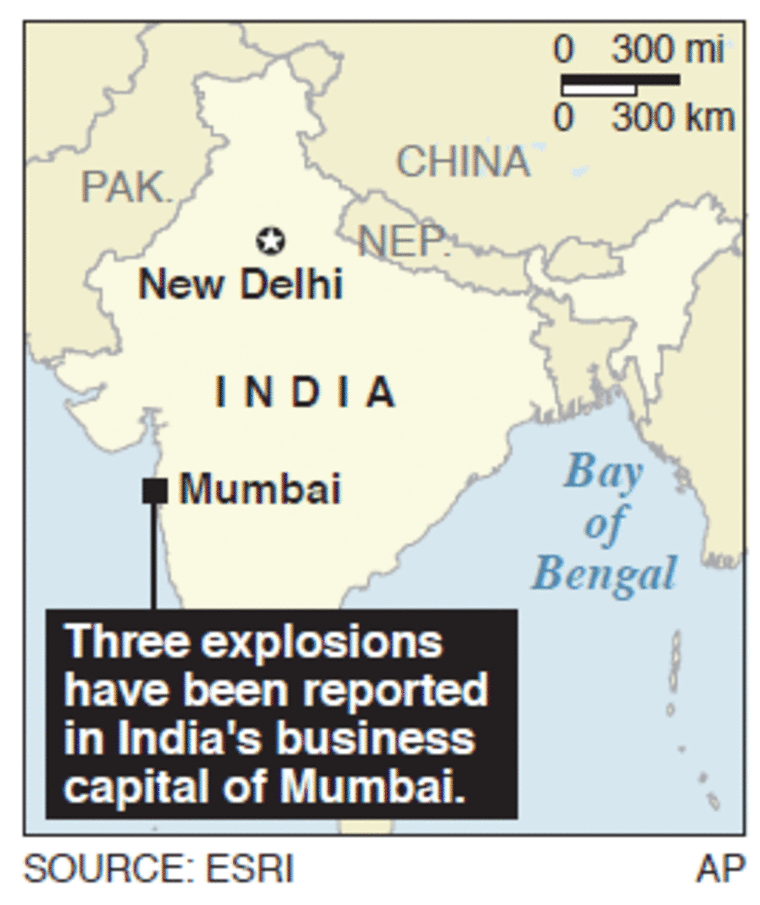 There was no immediate indication any Pakistani group was involved. But any suggestion of attributing blame to Islamabad would complicate a fraught relationship with India — with whom it has a long-running dispute over Kashmir — and further unravel ties with the United States.
"We live in the most troubled neighborhood in the world. Pakistan and Afghanistan are the epicenter of terrorism," said Chidambaram, adding that Pakistan had still not given India support in going after those behind the 2008 attacks in Mumbai.
There was no immediate claim of responsibility for the bombs, which were mixed with ammonium nitrate, a chemical compound often used in improvised explosive devices (IEDs).
"It's very likely coordinated by Indian Mujahideen looking at the severity and scale of the attacks — in the past they've used tiffin (lunch box) carrier bombs and IEDs," said Dr. Rohan Gunaratna, a Singapore-based al-Qaida expert.
"Certainly there can be links between those who have done these attacks and overseas sources but the attacks themselves have been conducted by local groups, home grown Indian groups," he said.
Chidambaram said 18 people had died in the attacks, lowering an earlier figure of 21. He said 23 out of the 131 injured and admitted to hospitals were in a critical state.
'Sitting Ducks'
Newspaper headlines voiced a mix of resignation and outrage over the latest attacks on a coastal city of more than 10 million that is home to India's main stock exchanges.
"Attacked. Again," said the Hindustan Times. "We're All Sitting Ducks," said the Economic Times.
On the streets, India television station NDTV reported that people were angry.
"For how long will innocent people be killed ... when will those responsible be punished?" it quoted a young girl as saying.
Others were more sanguine. "Well, I have to feed the family, I can't sit at home ... And it has become a routine thing for Mumbai," a worker in the diamond industry said, according to NDTV, although he added: "The government has to do something."
"Today, on account of very heavy rains in the city and Thane, a few people decided to stay put at home, but a majority are out as usual," Kiran S.V., an executive, told The Times of India.
Archana Shukla, who works in south Mumbai, told the newspaper that her children went to school "as usual" and it seemed like a normal day.
"I am a Mumbaikar and we shall not be scared by these terror attacks," she told The Times of India.
Prime minister plagued by scandals
The blasts came as beleaguered Prime Minister Manmohan Singh struggles to get past a series of corruption scandals and a resurgent opposition that has led to policy paralysis in Asia's third largest economy. A cabinet reshuffle this week was criticized as too little, too late.
Mumbai has a long history of deadly bombings and Wednesday's attacks did not rattle financial markets. The home minister said the attacks were not aimed at markets.
The bombings were centered mainly on south Mumbai's jewelry market area, crowded with diamond and precious metals traders and artisans. It was not the first time it was attacked.
The blasts occurred at about 6:45 p.m. (9:15 a.m. ET) Wednesday within minutes of each other. One bomb was placed at the side of the road, another on a motorbike and a third on the roof of a bus stop.
The home minister said the bombs were detonated with timers, a clock or other triggers, but not done remotely.
The biggest blast was in the Opera House area, a crowded hub for diamond traders. Pakistani-based militants carried out the bloody rampage in 2008 near the same popular area.
Another blast, also in south Mumbai, was at the Zaveri Bazaar, India's largest bullion market which was hit twice in the past. The third blast was at Dadar, in a street housing Muslim and Hindu shops in the center of the coastal city.