/ Source: NBC, msnbc.com and news services
Casey Anthony was freed from jail early Sunday, and her representatives whisked her away to a mystery destination.
She wore a bright pink Polo v-neck top as she was escorted out of the Orange County Jail shortly after midnight by her attorney Jose Baez and several heavily armed law enforcement officers. Anthony went to a waiting SUV, which whisked her away in a convoy closely followed by media helicopters.
Neither Anthony nor Baez said anything to the hundreds of reporters, spectators and protesters gathered outside. She said thank you to one of the sergeants on her way out, NBC News video journalist Tony Zumbado told msnbc cable television. Zumbado was one of three journalists allowed into the jail to witness the release.
"It is my hope that Casey Anthony can receive the counseling and treatment she needs to move forward with the rest of her life," Baez said in a statement released to reporters.
Cable television station News 13 tweeted that Anthony was taken to Orlando Executive Airport, where many corporate and private aircraft are based. But the Orlando Sentinel said the SUV went to downtown Orlando and then into the parking garage of her attorney Cheney Mason's office, perhaps to switch vehicles.
Before her release, law enforcement officials put up plastic barricades around the jail's booking and release center, and about seven or eight deputies wearing bullet-proof vests patrolled the area. At least one officer carried an assault weapon. About five officers patrolled the area on horseback.
As midnight approached, upward of 100 spectators had gathered outside the jail. The crowd included about a half-dozen, sign-carrying protesters who had gathered there, despite a thunderstorm that dumped heavy rain over Orlando.
"This release had an unusual amount of security so, therefore, in that sense, it would not be a normal release," said Orange County Jail spokesman Allen Moore. "We have made every effort to not provide any special treatment for her. She's been treated like every other inmate.
Moore said there were no known threats received at the jail. Officials had a number of contingency plans in place, including plans in case shots were fired as she was released.
The 25-year-old Anthony was found not guilty July 5 of killing her 2-year-old daughter Caylee in June 2008. But she was convicted of lying to detectives about the girl's whereabouts. When Caylee's disappearance was reported in July 2008, Anthony told detectives several lies, including that she had been kidnapped by a nonexistent nanny.
With credit for the nearly three years she's spent in jail since August 2008 and good behavior, she had only days remaining when she was sentenced July 7 to four years.
Caylee's remains were found that December in woods near the home Casey Anthony shared with her parents. Her attorneys say that Caylee drowned in the family pool.
Prosecutors alleged that Anthony suffocated her daughter with duct tape because motherhood interfered with her lust for a carefree life of partying with friends and spending time with her boyfriend. However, some jurors have told various media outlets that the state didn't prove its case beyond a reasonable doubt as required for a conviction — although most have added that they don't think Casey Anthony is innocent.
Defense attorneys and sheriff's officials have not said where Anthony is heading.
"She is safer in jail than she is out here," said Mike Quiroz, who drove from Miami to spend his 22nd birthday outside the jail. "She better watch her butt. She is known all over the world."
Lamar Jordan said he felt a pit in his stomach when he saw Anthony walking out of jail.
"The fact that she is being let out, the fact that it is her child and she didn't say what happened, made me sick," Jordan said.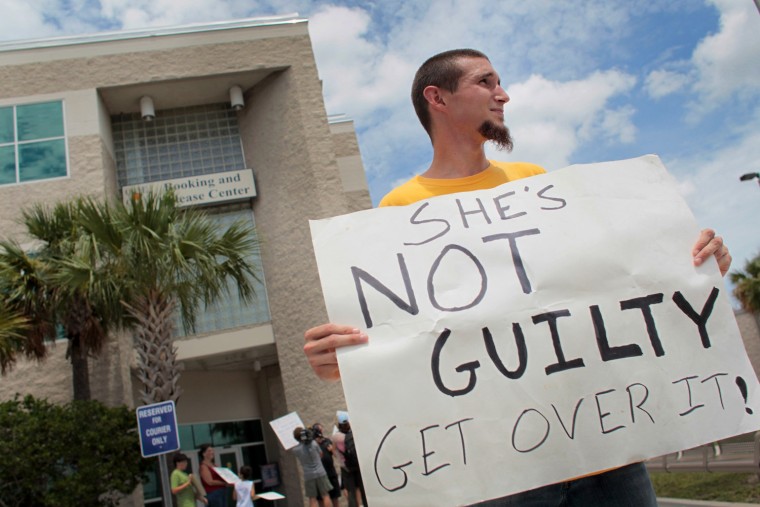 Earlier, Frank Klimek, wife Elaina and sons Michael, 14, and Christopher, 7, held signs proclaiming that Anthony would some day be .
But Klimek carried a sign urging people not to "do anything stupid."
One supporter of Anthony, David Antolic of Orlando, was in the minority outside the jail but told the Sentinel that he thought the news media had been unfair to her.  
"She was given her due process," Antolic told the Sentinel. "She was tried. People need to respect that due process."
The vitriol directed at Anthony has been pointed: After the verdict, anger spilled onto social networks like Facebook and Twitter from people who had spent weeks watching the trial on local and cable television networks. On Friday, Anthony's legal team said it had received an emailed death threat with a manipulated photo showing the 25-year-old woman with a bullet hole in her forehead. It has been forwarded to authorities.
In Orlando and elsewhere, many remain convinced Anthony isn't totally innocent. David Waechter recorded the trial and watched it at home with his wife every day after work. He said Anthony was guilty of "something, for sure."
"I'm perplexed. You know there is something there, but you don't know what," he said. "Yet she is getting out."
Others who have witnessed Anthony's saga with front-row seats said they were ready for the media attention to die down.
"Most people I talk to, they're done with it," Mandy Williams, a 38-year-old county parks employee, said outside a busy grocery story. "When it came out she was not guilty, people were ticked off."
Steven Klosterman, who owns a property management company, said if Anthony were to stay in Orlando, "I think she'll wind up like her daughter," given the threats she has received.
"Good luck to her," said Klosterman, 43. "She's going to have a hard time."
Security experts have said Anthony will need to hole up inside a safe house protected by bodyguards, perhaps for weeks, in case someone tries to make good on one of those threats. Anthony will not get special treatment beyond the protection any person would get if there were a credible threat, law enforcement authorities said.
Exactly where she will go remains unclear. It's unlikely she'll return to the home she once shared with her parents, as the trial left her family fractured. Baez argued during the trial that Caylee accidentally drowned in the family pool and that Casey Anthony's father, George, covered it up to make it look like a homicide. Baez also argued that George Anthony molested his daughter when she was a child — which resulted in psychological issues that caused her to lie and act without apparent remorse after Caylee went missing.
"Most of the time you can always go home, but she doesn't have that option," said Daniel Meachum, an Atlanta lawyer who has represented football star Michael Vick and actor Wesley Snipes. "Baez has to have somewhere for her to go for her to get herself together."
Anthony still faces a civil lawsuit. Attorneys for a woman who claimed Anthony defamed her had tried get her deposed before her release from jail but a judge ruled Friday that the deposition would take place in October. Also on Friday, Anthony filed notice that she will appeal the four misdemeanor counts of lying to law enforcement.