/ Source: The Associated Press
The United States has warned the Pakistani government that its diplomats in the U.S. could be hit with travel restrictions similar to those recently imposed on American diplomats in Pakistan unless Pakistan lifts its restrictions, U.S. officials said Monday.
The State Department said the U.S. and Pakistan were working to end the spat, the latest irritant in already strained ties, and it was confident the dispute would be resolved quickly. But the officials said Pakistan had been told the Obama administration would consider reciprocal steps to retaliate for the restrictions set down last month by Pakistan's foreign ministry if they are not rescinded.
The officials spoke on condition of anonymity due to the delicacy of the matter.
State Department spokesman Mark Toner declined to comment on the warning but said "reciprocity is always a consideration" when dealing with such matters.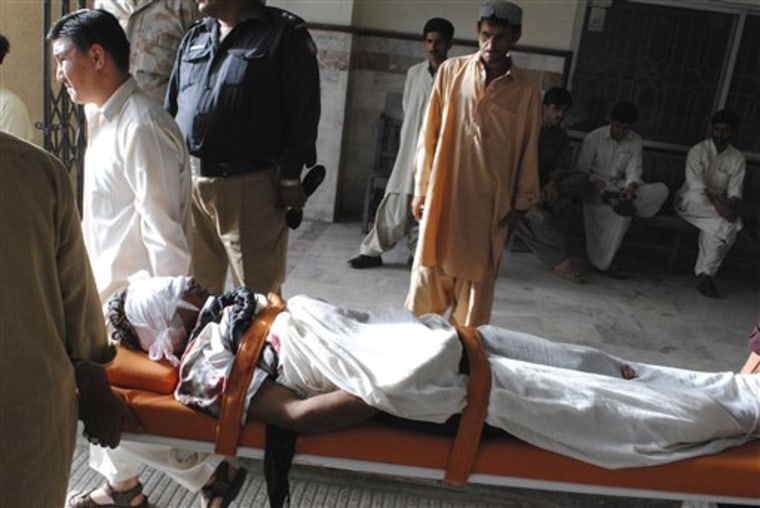 "We are working cooperatively with the government of Pakistan to resolve the issue," Toner told reporters. "We've met with Pakistani officials on this matter both in Washington and in Islamabad, and we believe it can be resolved. The issue is the right of our diplomats to freely travel."
Pakistan's foreign ministry in June issued rules forcing American diplomats to get special permission five days in advance to leave the capital of Islamabad, including to Pakistani cities in which the U.S. maintains consulates.
This led to an incident in which a carload of U.S. diplomats was refused entry to Peshawar after driving from Islamabad. Toner said travel between the two cities no longer appears to be a problem. Toner also noted that U.S. Ambassador to Pakistan Cameron Munter had been briefly delayed from boarding a domestic flight to Karachi at the Islamabad airport because he was not carrying a special pass.
"We obviously raised our concerns," Toner said, adding: "We feel that we're making progress towards resolving the issue."
Latest sign of a breakdown
The imposition of the restrictions was the latest sign of a breakdown in ties between Islamabad and Washington since the U.S. raid that killed Osama bin Laden on Pakistani territory on May 2. Pakistan reacted furiously to the raid because it was carried out with no warning to authorities in Islamabad.
The fallout battered an already frayed relationship seen as key to the fight against al-Qaida, and Washington's hopes of reaching a settlement in Afghanistan and withdrawing troops. Pakistan sent home at least 90 U.S. soldiers training Pakistani troops in counterinsurgency and severely cut back on intelligence cooperation.
The Obama administration, which took office pledging to strengthen ties with Islamabad, then announced it was suspending more than one-third of its military aid to the country.