With rebels poised to attack the capital, the exodus is under way in Haiti as diplomats, other foreigners and Haitians with the means head abroad to avoid the looming violence.
By Friday, there was more evidence of lawlessness as the main port was overrun by thousands of looters. The handful of armed police merely stood to the side.
A day earlier, there were tearful good-byes here as the crisis split apart families of those working for the United Nations and other non-governmental organizations.
Among those affected was the Chante family as Benedicte and her children were forced to leave their adopted country and head home to safety.
Two-year-old Zoe Chante sat on her mother's lap in a bus as her father, Michele, stood outside. Michele reached out to his son's hand on the window of the bus, a moment of unspoken love and fear. It could be months before they see each other again.
"I'm nervous because I'm leaving my husband, but it's best for my children," said Benedicte Chante, with her son in her arms and her 5-year-old daughter Meghanie in a seat at her side.
The Chantes were part of a group of families escorted to the airport by a heavily armed U.S. State Department convoy. In all 92 family members left, continuing an on-going exodus from the country.
American Pastor Dave Knoll has remained here through other revolutions in the past 27 years. But he's not staying this time. "I don't think it's ever been as extensive as it seems this time," said Knoll.
The Dominican Republic, which shares the island of Hispaniola with Haiti, also ferried people from the Dominican Embassy to the crowded airport and out of the country.
Brazil dispatched marines to evacuate South American citizens and protect its embassy. The United States and Canada have also sent troops to evacuate citizens and guard embassy property.
Late Thursday, American Airlines canceled flights between Haiti and the United States until March 3.
Haitians begin fleeing
Haitians have also begun fleeing the country in boats. The U.S. Coast Guard intercepted a dozen small boats carrying 546 Haitians near the Haitian coast this week, spokesman Luis Diaz said. "It doesn't appear to be a mass exodus," Diaz said.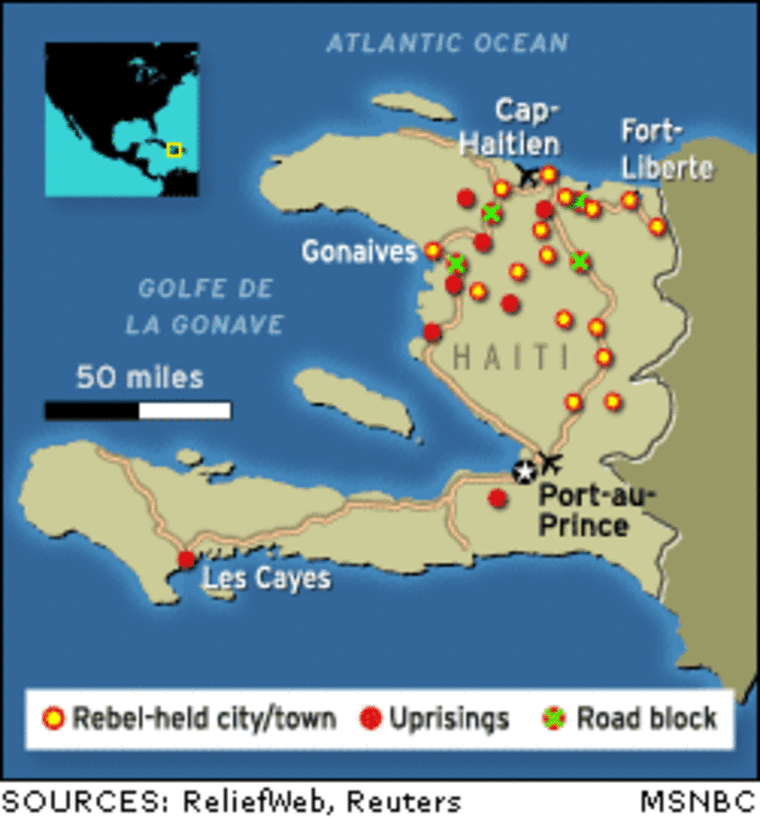 The United Nations refugee agency called on Haiti's neighbors on Friday to grant asylum to refugees fleeing the country as it slides further into chaos.
Nearly 400 Haitians have fled their homeland and sought asylum in the Dominican Republic, Jamaica and Cuba since the violence began in early February, according to the U.N. High Commissioner for Refugees.
"The agency is extremely concerned that should the situation in Haiti continue to deteriorate, more people will flee," the UNHCR said in a statement.
Businesses shuttered, streets empty
Meantime, businesses were shuttered, long lines formed at the few open banks and gas stations, and streets were mostly devoid of people in the capital.
Guards at the entrances to banks controlled the shouting crowds Thursday as depositors demanded their savings.
One man who declined to give his name told NBC News, "We need our money. Because all the people you see here are broke. They don't know what is going to happen tomorrow, or the day after tomorrow."
Rebels who have launched the bloody uprising took control of another town Friday, closing in on the capital as President Jean-Bertrand Aristide appealed for foreign peacekeepers and the country lurched further toward chaos.
Aristide's government appears to be losing the confidence of the United States as well as France as rebel leader Guy Philippe announced his plans to attack the capital by this Sunday, his 36th birthday.
Aristide has vowed that he will not step down, that he would rather die.
U.S. Rep. Mark Foley from West Palm Beach is among those who believe Aristide faces just such a fate.
"He can leave by plane, he can leave in a body bag. If the rebels reach the palace they will kill him," Foley said.