/ Source: msnbc.com staff and news service reports
A suspicious device attached to the neck of the 18-year-old daughter of a wealthy Australian businessman contained no explosives and appeared to be part of a "very elaborate hoax," Australian police said Thursday.
In a scene that could have been straight from a Hollywood thriller, bomb squad specialists worked for 10 horrifying hours to free Madeleine Pulver from a bomb-like device she said was chained to her neck by a ski-mask-clad man who entered her suburban Sydney home Wednesday afternoon. She was not hurt, and officials managed to free her around midnight.
New South Wales state Police Assistant Commissioner Mark Murdoch said Thursday that specialists had determined the device contained no explosives. Murdoch said the man apparently had also left a threatening note in the house with specific demands that police would not describe.
"A very, very elaborate hoax as it turned out," Murdoch told reporters. "But it was made and certainly gave the appearance of a legitimate improvised explosive device. We had to treat it seriously until we could prove otherwise and that's exactly what we did and that's why it took so long."
Murdoch said the device had been attached to the girl "by a chain or something similar," which took officers a long time to remove.
Pulver was reunited with her family Wednesday night and examined by doctors after being returned to her parents, Bill and Belinda Pulver, the Sydney Morning Herald reported.
Police said they had no idea why Pulver was targeted, but they said the attack did not appear to be random.
"I hardly think that the elaborate nature and sophistication of this device was the result of someone who picked on someone randomly," Murdoch said.
The family also was at a loss to explain the bizarre attack, he said.
"The offender went to a lot of trouble for a particular reason, but what that reason was, police are still working to determine," Murdoch said.
Police appealed to the public for clues and motives behind the incident.
Police said Madeleine Pulver called them to the house in the wealthy suburb of Mosman around 2:30 p.m.
Officials had kept a tight lid on information throughout the ordeal while consulting with federal and British bomb-disposal experts, officials said. The device was still intact upon its removal from the girl, Murdoch said.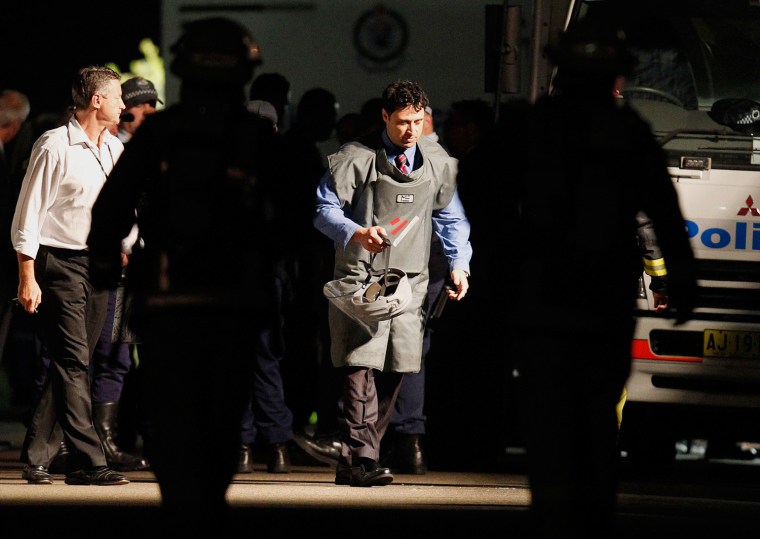 "There were some instructions left by the offender at the scene last afternoon and those instructions will provide us with further lines for inquiry," Murdoch told Australian Broadcasting Corp. radio. "Those instructions also limited us somewhat last night in how quickly we could proceed. Certainly the instructions were precise, they were such that led us to believe that we were dealing with a very serious and legitimate threat."
The Morning Herald described Bill Pulver, 53, as a wealthy businessman who runs an international software company, Appen Butler Hill, a linguistic solutions company. Pulver and his wife also have three sons.
Murdoch earlier described the device as "very elaborate, very sophisticated."
Police described the scenario as one never before experienced in Australia.
"This type of extortion, this type of bomb, we have never seen before," a senior police officer reportedly explained.
Neighbors in the well-to-do enclave were asked to leave their homes while police worked on the device.