/ Source: msnbc.com staff and news service reports
Air France once ordered that only male staff could serve Dominique Strauss-Kahn when the former IMF boss traveled on its planes, a French newspaper reported Thursday.
Le Parisien newspaper also said that lawyers for Nafissatou Diallo, the New York hotel maid who accused Strauss-Kahn of sexually assaulting her, are seeking testimony from Air France female flight attendants who allegedly suffered inappropriate behavior by him.
An Air France spokesman, however, rebuffed the report.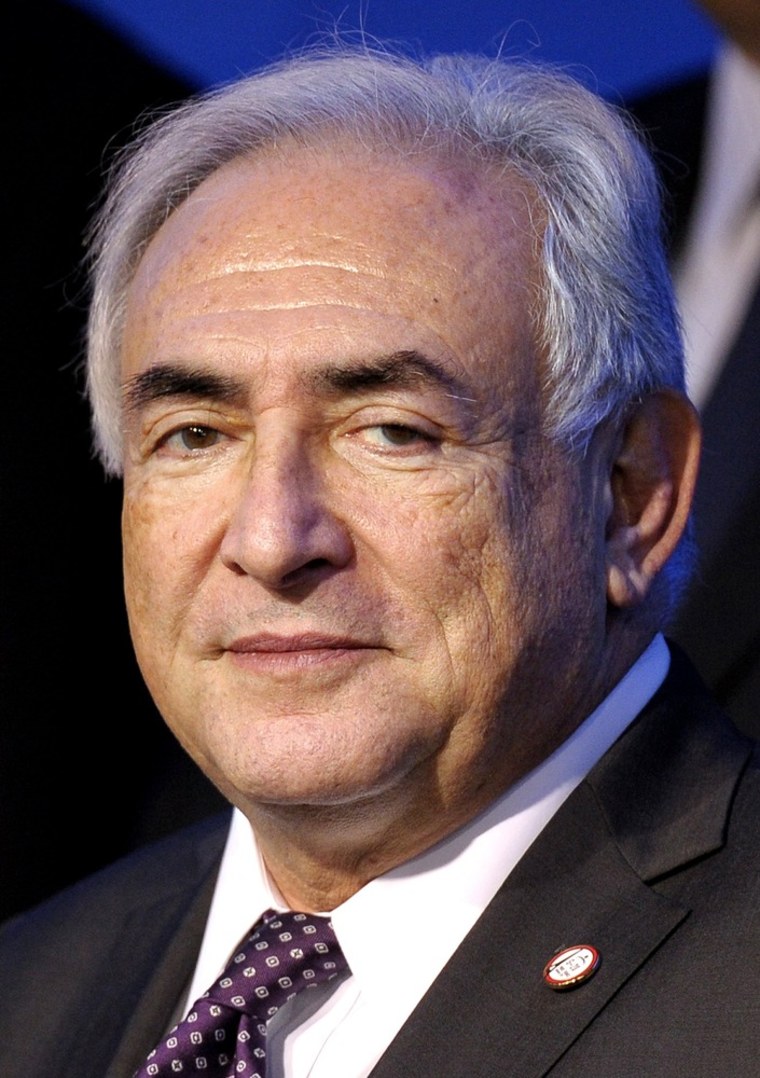 "Air France formally denies having given any instruction about the composition of its crews," he told AFP, the French news agency.
Le Parisien said Diallo's lawyers received at least two statements from crew members harassed by Strauss-Kahn.
The paper quoted the lawyers as saying that "this inexplicable mindset which enables him to abuse women is further proof which gives credibility to the aggression suffered by Ms. Diallo on May 14."
The lawyers — Kenneth Thompson and Douglas Wigdor — were not immediately available for comment on Le Parisien's report.
The report of the all-male staff order was contained in an anonymous letter allegedly written by an airline crew member who does not want to appear on any witness lists, Le Parisien said. It cited the letter, which said the rules applied in first-class, where Strauss-Kahn sat:
"Air France has a few hundred complaints from clients, employees, crew members who met the man suspected of having abused your client Madame Diallo. ...  It was decided by Air France that 'only male employees should be deployed in the first class cabin when this client [Strauss-Kahn] was traveling.'"
Representatives of several unions at the airline told AFP that their members had not reported any inappropriate behavior by the former IMF boss, who frequently traveled on Air France jets between the United States and Europe.
Strauss-Kahn, 62, a veteran French politician who had been considered a French presidential candidate, has denied seven charges of attempted rape and sexual assault arising out of the incident in his luxury Sofitel hotel suite in Manhattan.
Strauss-Kahn was hauled off an Air France flight from New York's JFK to Paris just hours after the alleged hotel attack. The politician had a long-standing arrangement with the airline which allowed him to take his seat on whatever flight he wanted, the New York Post reported.
Thompson has warned of a civil suit even if Strauss-Kahn escapes criminal trial. The ex-IMF chief's lawyers accuse the maid of seeking a big payday through such a civil suit.
A Frenchwoman claiming to be an ex-lover of Strauss-Kahn said last week she would testify in the Diallo criminal case if asked.
Another Frenchwoman, the writer Tristane Banon, 32, has brought legal action against him alleging that he tried to rape her in Paris in 2003. Strauss-Kahn has also denied that allegation.
Diallo, 32, has embarked on a media campaign experts say is designed to either pressure prosecutors to press on with their case or raise the stakes before a possible civil settlement. Prosecutors have expressed concerns about the case. 
The next court hearing for the case is scheduled Aug. 23.