/ Source: msnbc.com staff and news service reports
A polar bear attacked British campers on Friday, killing a 17-year-old boy and seriously injuring four people in Norway's Svalbard archipelago in the Arctic, officials said.

The bear entered a tent camp of the British Schools Exploring Society, a youth development charity, some 25 miles east of the town of Longyearbyen, said Liv Asta Oedegaard, spokeswoman for the Svalbard governor's office.

"The person killed is a 17-year-old boy, a British citizen, and the others are also British citizens," she said.

She said the injured — aged 16, 17, 27 and 29 and all males — were flown by helicopter to Longyearbyen hospital and then by airplane to Tromsoe on the Norwegian mainland.
"Their injuries are serious," Oedegaard said.
Edward Watson, chairman of the society, identified the teen killed as Horatio Chapple, who hoped to study medicine.

"By all accounts, he would have made an excellent doctor," Watson said, adding that his thoughts were with the family.

T he injured adults were the group's leaders, Michael Reid and Andrew Ruck, and the two other injured teens were identified as Patrick Flinders and Scott Smith.
"Patrick was trying to fend off the polar bear by hitting it on the nose — why, I don't know, but he did and ... the polar bear attacked him with his right paw across his face and his head and his arm," the boy's father, Terry Flinders, was quoted by the BBC as saying.
Eight unhurt campers were being cared for in Longyearbyen on the central island of Spitsbergen.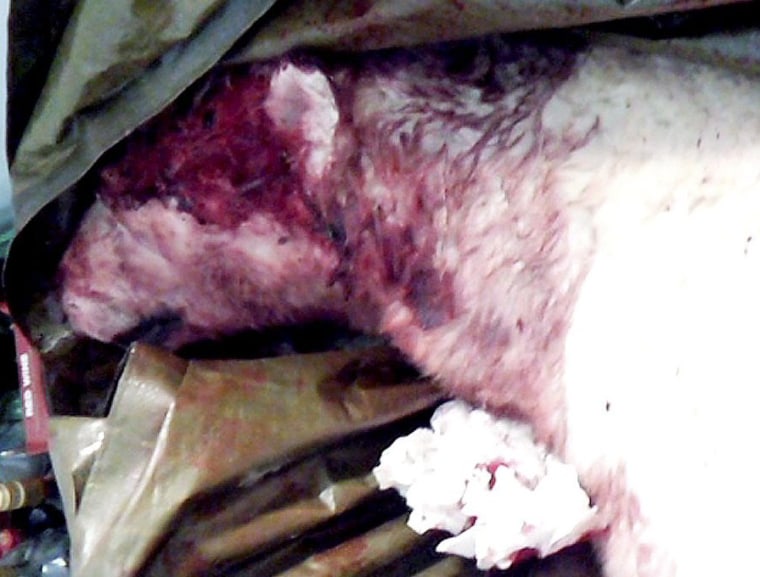 The exploring society organizes expeditions to help youngsters develop self-confidence by introducing them to wild, remote environments.

Svalbard, a renowned polar bear habitat, is in the Arctic Ocean about halfway between the Norwegian mainland and the North Pole. The attack occurred near the edge of Von Post Glacier and was reported by satellite phone, Oedegaard said.

After the attack the bear was killed by an armed member of the British group, she said, adding: "Our investigators are still trying to figure out exactly what happened."
Camp had tripwire to warn of bearsShe said the campers had surrounded their tents with a tripwire designed to set off a flare gun if touched by a bear.

"If this tripwire worked, or if the bear crossed over it in a clever way, we don't know," Oedegaard said.
"It is not unusual to camp here, but it is necessary to carry weapons," she said.
Researchers say there is not much food available for polar bears during the summer in that area.
The bears, which can grow to around 10 feet and weigh up to 1,200 pounds, are the world's largest non-aquatic predators. Although they don't usually hunt humans, they can attack nearly anything if they are hungry.

With their broad paws and claws as long as two inches, polar bears are extremely dangerous and visitors to Svalbard are advised to avoid confrontation and store smelly food securely.

The Svalbard archipelago, which is home to about 2,400 people and 3,000 polar bears, attracts well-off and hardy tourists with stunning views of snow-covered mountains, fjords and glaciers.

The British Schools Exploring Society has run expeditions for young people to remote and challenging corners of the globe for at least 75 years.

Members were spending either 3 or 5 weeks in the Arctic, and had each paid between 2,000 pounds (US$3,280) and 3,000 pounds (US$4,900) to join the trip, designed to mix science experiments with adventure.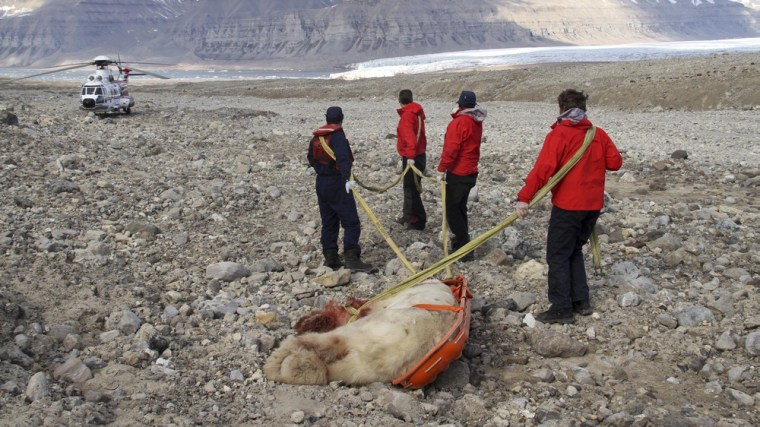 Participants were hunting for Arctic fossils and taking part in environmental experiments, including a project to install hydro and solar power systems. The group was also involved in a cleanup campaign run by Svalbard authorities, clearing beaches of tidal debris.

Before heading out to the Arctic, youngsters had been urged to raise their fitness levels to cope with the challenging terrain, and to prepare for a diet of freeze-dried meals.

The campers were part of a trip of 80 people, most of them between 16 and 23, the British Schools Exploring Society said. Many posed on Wednesday for a final photo together before splitting into smaller groups to head out to more remote parts of the Arctic.
Bears seen earlier
In a blog posting on the society's website on July 27, expedition member Marcus Wright wrote that the group had encountered polar bears shortly after arriving in Longyearbyen.

"I think we must have all dreamed of polar bears because the next day we were eagerly waiting for the ice floes to break up so we could move on to base camp," Wright wrote in his blog posting.

Wright wrote that the group had spotted a polar bear across a fjord, and also another bear floating on some ice. "This time we were lucky enough to borrow a kind Norwegian guide's telescope to see it properly," he wrote.

Other postings detailed that the group had been trained in using bear flares to protect their camps, and also received rifle training.

Kjersti Noraas, a Svalbard tourism coordinator, said around 30,000 tourists visit the islands every year and although most choose to go on guided tours, "quite a few come to camp in the wilderness."

The last time someone was killed by a polar bear at Svalbard was in 1995, when two people were killed in two different incidents, said Magnus Andersen, a researcher at the Norwegian Polar Institute.

On average, three bears have been killed every year during the period from 1993 to 2004 in encounters with humans, according to Svalbard authorities.