/ Source: The New York Times
As London surveyed the damage on Sunday after a small anti-police demonstration spiraled into looting and violence that left 26 police officers injured and led to 55 arrests, many sought to cast the blame beyond the rioters themselves.
In Tottenham, the northern London neighborhood at the center of the rioting, residents spoke of twin perils that had converged to leave their streets scarred and smoldering on Sunday.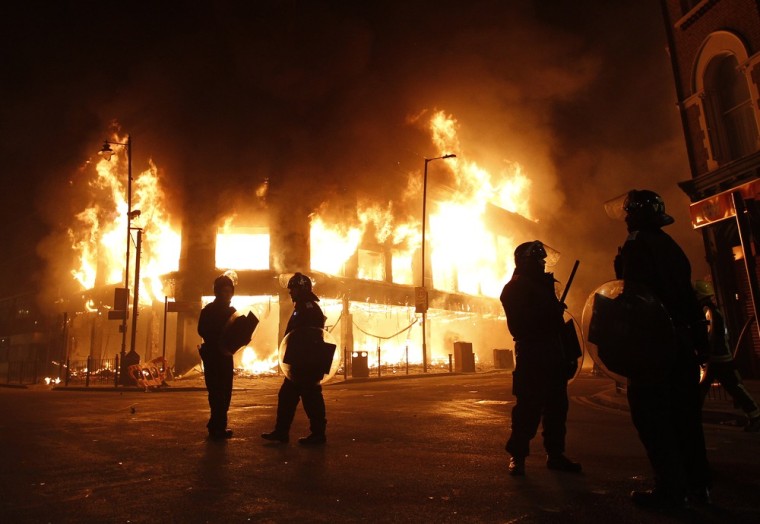 Frustration in this impoverished neighborhood, as in many others in Britain, has mounted as the government's austerity budget has forced deep cuts in social services. At the same time, a widely held disdain for law enforcement here, where a large Afro-Caribbean population has felt singled out by the police for abuse, has only intensified through the drumbeat of scandal that has racked Scotland Yard in recent weeks and led to the resignation of the force's two top commanders.
The riot was the latest in what has turned out to be a season of unrest in Britain, with multiple demonstrations escalating into violence in recent months. And there was not long to wait until a new one erupted: across London, skirmishes broke out on Sunday between groups of young people and large numbers of riot police officers, which one officer said were drawn from forces around London.
In Enfield, a usually calm suburb, shop windows were smashed and debris lay in the street. In nearby Edmonton, groups of young people gathered near damaged storefronts. In Tottenham itself, roads were closed, a helicopter hovered overhead and squads of police vans swooped in to make arrests in side streets.
The episode in Tottenham began as a small and peaceful march, in which residents gathered outside a police station to protest the killing of a local man, Mark Duggan, in a shooting by police officers last week. Scotland Yard has said that Mr. Duggan, who was riding in a taxi at the time of the shooting, was the subject of a "pre-planned operation" by officers. The police officers involved in the shooting have been quoted in newspapers as saying that they had come under fire, which slightly wounded one of the officers, before they began to shoot.
It was unclear where things went wrong on Saturday night, and there were conflicting accounts.
Makeshift weapons
A statement by Scotland Yard said the flashpoint came when police cars were attacked at 8:20 p.m. by "certain elements" — a phrase that other police comments suggested meant local troublemakers who used the protest as a chance to act violently. But Tottenham residents talked about rumors of a physical confrontation between a police officer and a 16-year-old girl that enraged the demonstrators.
The march turned into a pitched battle between hundreds of officers, some on horses, and equal numbers of rioters, wearing bandannas and armed with makeshift weapons that included table legs and an aluminum crutch. Looting throughout northern London continued past dawn, leaving streets littered with glass. In daylight, residents emerged to survey buildings, many considered landmarks, that had been left gutted and smoldering.
A local man, who said he was a bus driver but did not want to give his name for fear of reprisal, warned that unless endemic youth unemployment in Tottenham was curbed, "this will happen again. These kids don't care. They don't have to pay for this damage, we do. Working people do. What do they have to lose?"
Aaron Biber, 89, stooped to pick through the debris of his ransacked barber shop, which he said he had run for 41 years. "This country has changed," he said. "We've lost something."
Though the rioters, he said, were "lunatics," he felt that the police had stood by while his business was being savaged. It was a common complaint — many voiced concern that looters in other areas of London had been allowed to smash and steal for several hours before officers arrived.
Economic malaise
The police said, in a statement, that there "was no indication that the protest would deteriorate into the levels of criminal and violent disorder that we saw." The force's priority had been to preserve life, the statement said, though the looting was "regrettable." It said a major inquiry had been started to find and arrest those responsible for the violence.
Economic malaise and cuts in spending and services instituted by the Conservative-led government have been recurring flashpoints for months.
Late last year, students demonstrating against a rise in tuition fees occupied a building near Parliament and clashed repeatedly with the police. Prince Charles and his wife, Camilla, the Duchess of Cornwall, were attacked in their Rolls-Royce as protesters — some of whom were subsequently jailed — shouted "Tory scum," a reference to the Conservative Party's traditional links with the aristocracy, and "off with their heads!" In March, a reported 500,000 people marched against the cuts, with some protesters occupying the exclusive food store Fortnum & Mason — Prince Charles's grocer.
On Saturday night, as rioters in Tottenham threw fireworks and bottles at police officers, one man shouted, "This is our battle!" When asked what he meant, the man, Paul Rook, 47, explained that he felt the rioters were taking on "the ruling class."
Criticism of police
The Metropolitan Police force, once one of Britain's most respected institutions, has also been severely criticized for its role in the anti-austerity riots — for use of excessive force, or for being perpetually unprepared for the sheer levels of rage unleashed on London's streets.
The force's former commissioner, Sir Paul Stephenson, said last year that he was "embarrassed" by the failure to prevent protesters from occupying buildings. Sir Paul is one of two senior officers who were forced to step down last month as information about links with The News of the World tabloid emerged as part of the phone hacking scandal that has enveloped Rupert Murdoch's media empire in Britain. Senior officers have been openly chastised by politicians, and the police investigation into newspaper abuses is also looking into allegations that police officers had been bribed.
The sense of disarray and incompetence at the top levels of Scotland Yard have led to widespread calls for a wide-ranging shake-up, with an added element of urgency because of the Olympic Games. Set to start next July just a few miles from where the rioting broke out in Tottenham, the Games have been described as posing one of the largest challenges ever to the British police.
Concern in the government has risen to the point where Prime Minister David Cameron, a strong advocate of a police shake-up, has pressed for the search for the next head of Scotland Yard, due to be appointed within weeks, to be widened to include successful candidates from outside Britain. He has urged that William J. Bratton, a former police commissioner in Boston, Los Angeles and New York, and now chairman of the New York security company Kroll Associates, be considered for the job. But the result has been another political imbroglio, with the threat of a veto from Home Secretary Theresa May and protests from police organizations.
Speaking about clashes between disenfranchised youths and police, Graham Beech, the strategic development director for the crime reduction charity Nacro, said in a recent interview they could be rooted in "a culture of enforcement," which aimed to "sweep these young people away as a problem."
As the budget cuts take hold, risk of unemployment increases and social measures like youth projects are sacrificed, Mr. Beech said, and "all logic says there will be an increase in antisocial behavior."
"Boredom, alienation and isolation are going to be factors," he added.
John F. Burns contributed reporting.
This story, "," first appeared in The New York Times.