/ Source: msnbc.com staff and news service reports
Prime Minister David Cameron said Wednesday that police had drawn up contingency plans to use water cannons if necessary amid ongoing rioting in the U.K.
Every action necessary will be taken to return order to the streets on Britain, Cameron said, adding that the water cannons would ready to be deployed within 24 hours.
"We will do whatever is necessary to restore law and order onto our streets," Cameron said in a somber televised statement. "Nothing is off the table."
While thousands of extra police officers on the streets kept a nervous London quiet Wednesday after three nights of rioting, looting flared in Manchester, Birmingham and several other cities.
In Birmingham, police launched a murder investigation after three men were hit by a car while apparently protecting their neighborhood early Wednesday, according to reports.
and a car had been recovered after the incident at about 1:15 a.m. U.K. time (8:15 p.m. ET Tuesday).
The BBC reported that a large crowd of people had gathered outside the hospital in Birmingham where the men were taken. Riot police were blocking the main entrance to the hospital.
Members of the local community claimed the car drove away after hitting the men, the BBC reported.
Other local residents said the dead men, aged 20 to 31, were members of Birmingham's South Asian community who had been patrolling their neighborhood to keep it safe from looters.
Tariq Jahan, the father of one dead man, named as 21-year-old Haroon Jahan, was quoted by the Telegraph newspaper, describing how he tried to save his son's life.
"I ran towards the commotion and the first guy I found was someone I didn't know. I started giving him CPR until somebody pointed out that the guy behind me was my son on the floor," he said, according to the paper.
"Then I swapped positions and started giving him CPR. My hands were covered in blood, my face was covered in blood. He was a good, gifted kid. You can't explain losing a son. It's going to be hard for me now," he added.
The that there had been "serious disorder" in the cities of Manchester, West Bromwich and Gloucester in addition to Birmingham with violence also affecting Liverpool, Leicester, Bristol and Leeds.
Cameron: 'Big problem'
The paper said Wednesday that across the U.K. there had been 1,335 arrests since trouble started Saturday, including 768 in London and 300 in the Manchester area.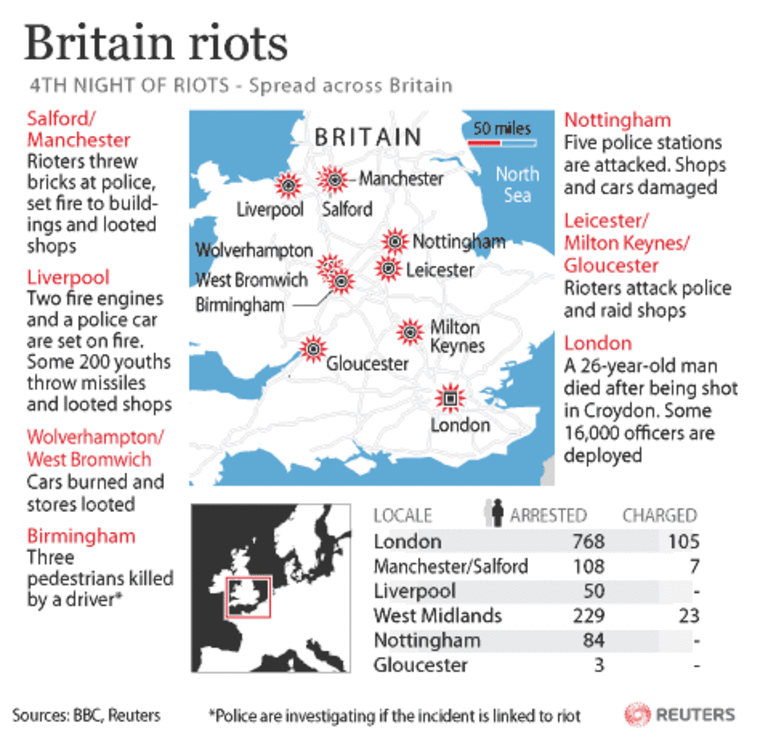 Speaking Wednesday, Cameron said it was "all too clear that we have a big problem with gangs in our country," The Guardian reported.
"When we see children as young as 12 and 13 looting and laughing, when we see the disgusting sight of an injured young man with people pretending to help him while they are robbing him, it is clear there are things that are badly wrong in our society," he added.
Cameron, who made fixing "broken Britain" a cornerstone of his premiership, also said that there were "pockets of our society that are not just broken but frankly sick."
Senior officers have said they are also considering the possible use of plastic bullets — blunt-nosed projectiles designed to deal punishing blows to rioters without penetrating the skin.
Such weapons, formally called baton rounds, still are used to quell riots in Northern Ireland but have never been used by police on Britain's mainland.
The violence, the worst unrest Britain has seen since race riots set London ablaze in the 1980s, began when an initially peaceful protest over a police shooting in the capital's Tottenham neighborhood turned violent.
That clash has morphed into a general lawlessness in London and several other cities that police have struggled to halt.
Residents in various places across the country have taken to standing guard to protect their neighborhoods. Outside a Sikh temple in Southall, west London, residents vowed to defend their place of worship if mobs of young rioters appeared.
The Guardian said there had been minor clashes in London "as groups of vigilantes sought to maintain order."
"In Enfield (an area of London), there was a racial undertone to the scenes as a large group of men roamed the area, chanting 'England, England,'" the paper said. This chant is used innocently at soccer matches, but has also been adopted by far-right groups such as the English Defence League.
The EDL also said that about 1,000 of its members around the country were taking to the streets to deter rioters.
"We're going to stop the riots — police obviously can't handle it," EDL leader Stephen Lennon told The Associated Press. He warned that he couldn't guarantee there wouldn't be violent clashes with rioting youths.
Anders Behring Breivik, who has confessed to the bombing and massacre that killed 77 people in Norway last month, has cited the EDL as an inspiration.
Authorities said there would be 16,000 officers on duty — almost triple the number present Monday — and said a large presence would remain in the city through the next 24 hours at least.
The show of force seems to have worked. "Without wishing to speak too soon it's been reasonably quiet for us so far tonight," London's Fire Brigade said in a message posted to Twitter Tuesday.
Several usually busy streets were quiet as some cafes, restaurants and pubs also decided to shut down for the night.
In east London's Bethnal Green district, convenience store owner Adnan Butt, 28, said the situation was still tense. "People are all at home — they're scared," he said.
Chaos spreads
But outside the capital, chaos was spreading.
In Manchester, hundreds of youths — some looking as young as 10 — rampaged through the city center, hurling bottles and stones at police and vandalizing stores. A women's clothing store on the city's main shopping street was set ablaze, along with a disused library in nearby Salford.
Manchester's assistant chief constable Garry Shewan said looting and arson had taken place there on an unprecedented scale.
In the central England city of Nottingham, police said rioters hurled firebombs though the window of a police station, and set fire to a school and a vehicle outside a second police station — but there were no reports of injuries. A total of 90 people were arrested.
In Liverpool, about 200 youths hurled missiles at police and firefighters in a second night of unrest, and the area's police force reported 44 arrests.
So far 167 people — including an 11-year-old boy — have been charged and the capital's prison cells were overflowing.
A total of 111 officers and at least 14 members of the public have been hurt so far in the rioting.