/ Source: The Associated Press
The United States sent a representative for the first time Tuesday to the annual memorial service for victims of the atomic bombing of Nagasaki, one of two nuclear attacks that led Japan to surrender in World War II.
The U.S. bombing of Nagasaki 66 years ago killed some 80,000 people. Three days earlier, the U.S. had dropped another atomic bomb on the Japanese city of Hiroshima, killing up to 140,000.
U.S. Charge d'Affaires James P. Zumwalt, the first American representative to attend the Nagasaki memorial service, said in a statement that President Barack Obama hoped to work with Japan toward his goal "of realizing a world without nuclear weapons" — a commitment Japan has made repeatedly since the war.
Obama last year sent Ambassador John Roos to the 65th anniversary of the bombing in Hiroshima, and Roos visited Nagasaki twice last year on other dates, according to the U.S. Embassy in Japan.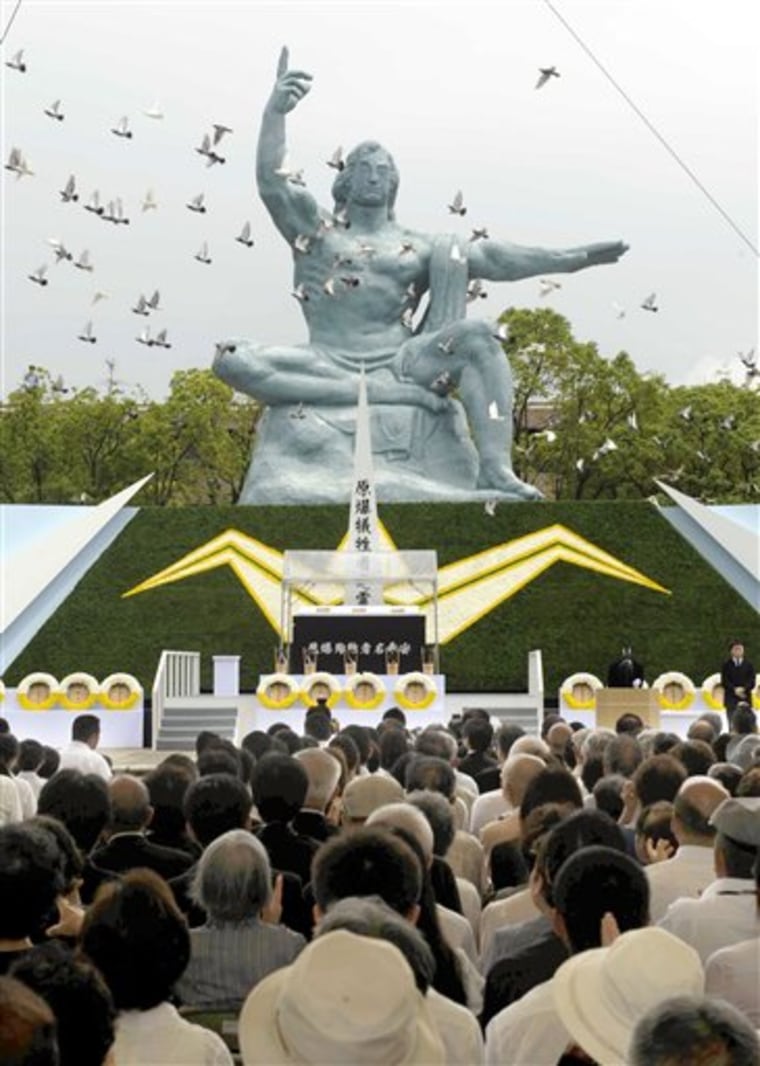 Zumwalt joined Nagasaki's residents and mayor on Tuesday in observing a moment of silence at 11:02 a.m. — the moment the bomb dropped on the city on Aug. 9, 1945, in the closing days of the war. Six days later Japan surrendered.
As in past years, a bell rang out in a prayer for peace, and bomb victims who were children during the attack sang a song called "Never Again."
Changes in Japan's nuclear policy
Mayor Tomihisa Taue called on Japan to change its nuclear policy and reject not just atomic weapons but also nuclear power — as decades-old fears of radiation sickness were renewed in March by a nuclear power plant disaster following a massive earthquake and tsunami.
"Why must this nation that has so long fought for bomb victims once again live in fear of radiation?" Taue said. "The time has come to thoroughly talk about what kind of society we want and make a choice."
He called for a shift from nuclear reactors — Japan has 54 along its coast — to renewable energy sources.
Prime Minister Naoto Kan promised that Japan would work to become less dependent on nuclear energy with the aim of "becoming a society free of dependence on nuclear power."
"We must never forget," he said of Nagasaki, "and it must never be repeated."