/ Source: The Associated Press
A U.S. tourist who told authorities his friend disappeared while the two snorkeled in Aruba has been detained because police doubt aspects of his story, including whether the pair even went into the water together, a prosecutor said Wednesday.

Gary V. Giordano's account of the disappearance of his travel partner, 35-year-old Robyn Gardner, had enough inconsistencies that authorities decided they couldn't let him leave the Caribbean island and arrested him, Aruban Solicitor General Taco Stein said.

"The only thing we have is his story, his statement, and it leaves us with some questions," Stein said in an interview with The Associated Press.

The prosecutor would not disclose the specific doubts, fearing it could undermine the investigation, but one of them is fairly basic: So far, there are no witnesses who saw the couple go snorkeling in the late afternoon on the wind-swept southern tip of Aruba. "We only have his story on that," Stein said.

Prosecutors aren't the only ones with doubts. Gardner's brother, Andrew Colson, and a boyfriend who didn't join her on the Aruba vacation say the woman was not someone who was likely to go snorkeling at all.

"She just wouldn't want to ruin her makeup or get her hair wet," Colson said.

Giordano, 50, called police in Aruba around 6:30 p.m. on Aug. 2 to say that he and Gardner got separated while snorkeling and she never made it back to shore. Video and photos obtained by the AP show him assisting police in a helicopter and boat search of the Dutch island's coastline.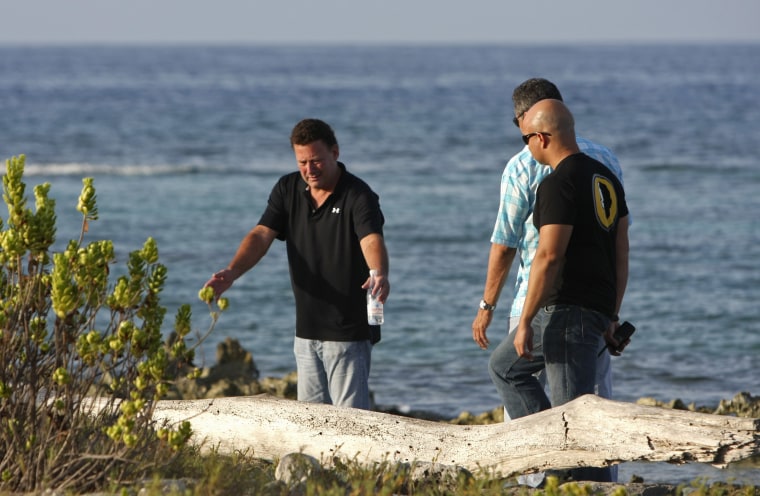 Stein said police have the woman's computer, which they are considering sending to the Netherlands for analysis, and the couple's rental car but no physical evidence of a crime. All they have is the fact that the woman is missing and nagging doubts about Giordano's explanation.

Giordano has been in custody since Friday and investigators are interviewing him every day. His Aruban lawyer insists he is innocent and is being unjustly detained.

"What we have to go on at this point in time is the story of her companion who says they went into the water together and she didn't come out," Stein said. "We are more concentrating on what he is saying and how we can either corroborate or disprove his statement."

The judge's pretrial detention order expires Monday. Prosecutors can ask for an extension but will have to present evidence to justify continuing to hold him, Stein said.

Gardner's mother traveled to the island to assist with the search but has since returned to her home in Florida. Her son said that while she was in Aruba, she met Giordano and also had doubts about his version of events.

"He didn't seem very sorrowful. He wasn't mournful or anything," Colson said by phone from Odenton, Maryland.

Giordano, who lives in Gaithersburg, Maryland, runs an employment agency.

His Aruban lawyer, Michael Lopez, said the two Americans had been in Aruba a couple of days when they went snorkeling and were pulled out to sea by the current. Giordano tapped on Gardner's leg to signal that they should swim back but when he reached shore he realized she never made it, the lawyer said in a statement to the AP.

Lopez said his client waited until the woman's mother arrived before he decided he should return to the U.S. Giordano says he was given permission to leave by an official at the U.S. consulate on the nearby island of Curacao, the lawyer said.

Lopez said that after being detained, Giordano initially declined to cooperate further with prosecutors and police because he felt he was being wrongly detained.

"As judicial representative of our client we can say that after reading and analyzing everything there is until now in his case file, there is no concrete or direct indication that our client might be involved in any illicit act concerning his friend," Lopez said.

Gardner, a 5-foot-5-inch blonde with prominent tattoos on her arm, rib cage and right bicep, had worked in the past as a patient care coordinator at a dental office in Bethesda, Maryland, said Richard A. Forester, who said he was her boyfriend.

Forester said that Gardner lived much of the time with him in the Rockville, Maryland, area and that Gardner and Giordano were platonic friends. The pair were scheduled to spend about five days in Aruba, Forester said.

Aruba has experience dealing with missing person cases following the still-unsolved disappearance of Alabama teenager Natalee Holloway during a high school class trip to the island in 2005. Her remains were never found and the main suspect, Joran van der Sloot, is in jail in Peru on charges of killing a 21-year-old woman last May.

___

Associated Press writer Ben Fox reported this story from San Juan, Puerto Rico, and Dilma Arends Geerman reported in Oranjestad, Aruba.