/ Source: NBC, msnbc.com and news services
British Prime Minister David Cameron will face pressure Thursday to soften his austerity plans, toughen up policing and do more to help inner-city communities after days of riots and looting laid bare deep social tensions in a depressed economy.
With the public seething over the looting of anything from sweets to televisions, Cameron has so far dismissed the rioters as nothing more than opportunistic criminals and denied the unrest was linked to the knock-on effects of deep spending cuts.
But community leaders say inequality, cuts to public services and high youth unemployment are also probably to blame for some of the worst violence seen in Britain for decades.


As the clear up continues, the Conservative-Liberal Democrat coalition government must find quick fixes to avoid further unrest while also addressing longer-term problems in what Cameron has called "broken Britain." 
An eerie calm prevailed over most of London overnight, with a highly visible police presence watching over the capital. Metropolitan Police said objects had been thrown at officers in south London's Eltham neighborhood but that the incident had been "dealt with" and a group was dispersed.
Other cities where looters had wreaked havoc earlier this week also came through the night largely unscathed, though for the first time minor disturbances were reported in Wales.
'Fightback is under way' "We needed a fightback and a fightback is under way," Cameron said after a meeting on Wednesday of the government's COBRA committee that deals with national security crises.
"Whatever resources police need, they will get."
Courts worked through the night on Wednesday to process riot cases. Among the defendants were an 11-year old boy, a charity worker and a teaching assistant. More than 1,000 arrests had been made, with 805 in London alone.
The 11-year-old boy, from Romford, Essex, told the court he had joined in a gang of youths who looted a department store. Wearing a blue Adidas tracksuit, the youngster spoke only to confirm his name, age and date of birth. He pleaded guilty to burglary, after stealing a waste bin worth 50 pounds. A charge of violent disorder was dropped.
A surge in police numbers helped to calm streets in London and cities across England such as Manchester and Birmingham on Wednesday night, but four days of often unchecked disorder have embarrassed the authorities, leaving communities ransacked and exhausting emergency services.
It is unclear whether the peace will hold, but trouble on Wednesday night was limited to the odd skirmish. Businessmen and residents had also come together to protect their areas.
'Broken society'
The prime minister branded the unrest, which erupted in poor, inner-city areas of London at the weekend, as nothing more than criminality.
He made no reference to social and economic conditions which community leaders say sparked the problems. The initial trouble followed the death of an Afro-Caribbean man in north London from a gunshot wound after an incident involving armed police.
"There are pockets of our society that are not just broken but frankly sick," said Cameron, who made fixing "broken Britain" a cornerstone of his premeirship.
Gangs of youths in hooded tops battled police in Manchester on Wednesday, smashing windows and looting shops, and setting fire to a clothes shop. In nearby Salford, rioters threw bricks at police and set fire to shops and cars.
Assistant Chief Constable Garry Shewan of Greater Manchester Police on Wednesday warned the rioters: "Hundreds and hundreds of people, we have your image, we have your face, we have your acts of wanton criminality on film.
"We are coming for you from today, and no matter how long it takes we will arrest those people responsible."
Manchester police also said they would investigate the circumstances surrounding an amateur video that appears to show police officers striking a youth after he dismounts from a bike. "As the circumstances surrounding the footage of this particular incident are currently unknown, it is inappropriate for GMP to comment further."
Avon and Somerset police launched and appealed to the public to help identify them.
In the port city of Liverpool, rioters attacked two fire engines and a fire officer's car, police said. Some 200 youths throwing missiles wrecked and looted shops.
Cars were burned and stores looted in West Bromwich and Wolverhampton in central England; and in Nottingham rioters set fire to a police station and a college.
The police -- already facing manpower losses due to public spending cuts -- are at full stretch. With thousands of reinforcements sent from regional forces to London, other cities might find their own police ranks depleted.
Vigilantes
In Birmingham, police arrested a 32-year-old man on suspicion of murder after three Muslim men died after being run over by a car. A friend of the men told BBC radio the victims had been part of a group of British Asians protecting their area from looters after attending Ramadan prayers at a mosque.
Tarik Jahan, father of 21-year-old Haroon Jahan, one of the victims, appealed for calm.

"We are mourning three members of our community," he said, according to The Telegraph. "Please respect the memory of our sons."
He said the killings were not race-related.
Shopkeepers and residents in London and other cities were reported to be organizing vigilante groups to protect their property.
The Muslim Council of Britain condemned the violence and called on its community to remain calm and to support the authorities. It also urged them to help clean up the streets. Many small shops and businesses in England are run by Muslims of south Asian heritage.
The violence has appalled many Britons who have been transfixed by television pictures of rioters attacking individuals and raiding family-owned stores as well as targeting big business.
It has also prompted soul-searching.
Community leaders said the violence in London, the worst for decades in the multi-ethnic capital of 7.8 million people, was rooted in growing disparities in wealth and opportunity.
"This disturbing phenomenon has to be understood as a conflagration of aggression from a socially and economically excluded underclass," the liberal Independent newspaper said.
"These youths live in the heart of British cities but they do not feel part of them. Far too little has been done by successive generations of politicians and public servants to integrate these individuals into normal society. The fuse for this explosion has been burning down for many years."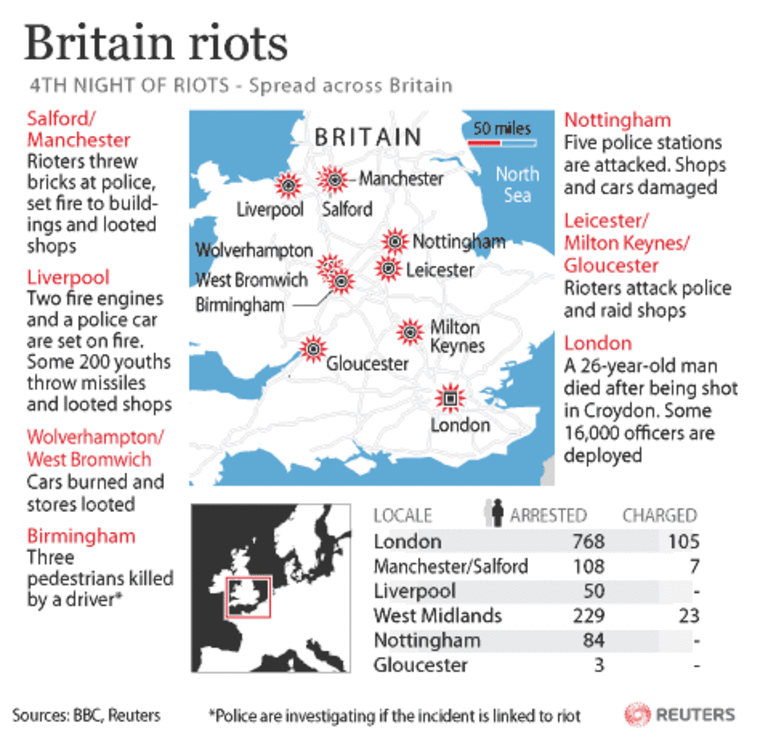 The right-wing Daily Telegraph took a harder line.
"The thugs must be taught to respect the law the hard way. These riots have shamed the nation and the government must be held to account."