Some 20 "gladiators" or "centurions" have been arrested outside some of Rome's most famous tourist sites, in an undercover sting by police aimed at breaking up a violent racket targeting tourists, according to reports.
The AFP news agency said police had disguised themselves as gladiators, garbage men and members of the public to make the arrests.
The detained people are alleged to have attacked and intimidated competitors, the AFP said.
In one arrest operation, police officers disguised as gladiators were beaten up before other undercover officers moved in, according to AFP.
The Guardian newspaper reported that swords, although only wooden ones, were drawn during the clash in the Piazza Venezia Wednesday.
It also said that tourists had complained that they had been threatened.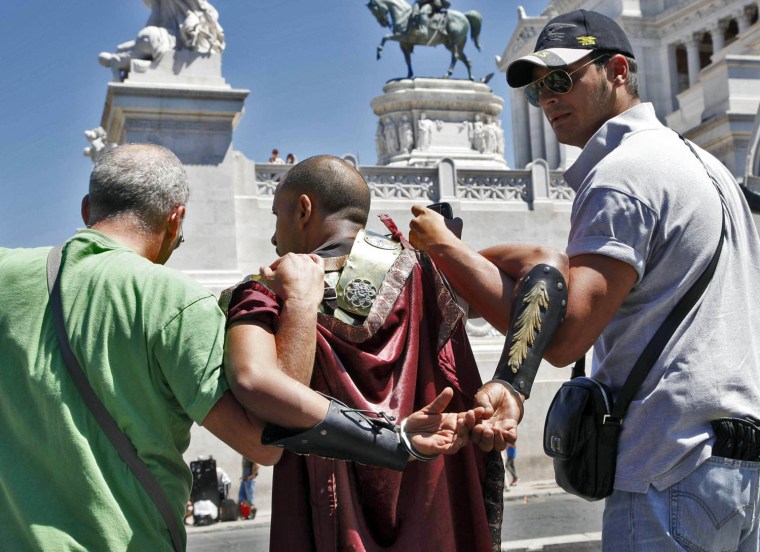 Tourists threatened
The undercover police operation was set up after complaints from Italian tourists and tour agencies, The Guardian said.
The tourists said they had paid a costumed man for a tour of museums in the Vatican, the paper reported. They claimed they were threatened when they demanded their money back because the tour did not take place.
The Guardian said other allegations against the gladiators including claims they demanded more than $40 to pose for a picture. "One ruse" was to offer to take a photograph of a tourist with their camera, then refuse to return it unless money was paid.
The paper cited other incidents involving fake centurions:
In 2003, a gladiator was arrested for carrying a real sword. There was also a fight involving rival groups of people in costumes from Ancient Rome outside the Colosseum.
In 2007, a centurion was arrested after a reported attack on an American man and a Chilean woman, which put them both in hospital.