Syrian tanks fired on low-income Sunni Muslim districts in the port city of Latakia on Tuesday, the fourth day of an assault which has killed 36 people and forced thousands of Palestinian refugees to flee, activists said.
A senior Palestinian official described the military offensive in the city as "a crime against humanity," adding to Arab condemnation of President Bashar al-Assad's crackdown on popular demonstrations calling for his overthrow.
After five months of unrest, Assad, from Syria's minority Alawite community, has broadened and intensified the military assault against main urban centers of protest since the start of the Muslim holy month of Ramadan on August 1.
The Local Coordination Committees said Assad's forces killed at least two people in Latakia, including 13-year-old Mohammad Shohan, hit by sniper fire in the Raml al-Filistini slum district, bringing the death toll to 36 in four days.
The activists' group said the death toll was probably higher, but roadblocks and disrupted communications made it hard to gather information on casualties in the stricken city.
Syria has expelled most independent media since the unrest began, making it difficult to verify reports from the country.
A security official cited by Syria's official state news agency said security forces backed by an army unit had completed a mission in Latakia's al-Raml neighborhood against "armed terrorist groups who have terrorized the citizens."
A Latakia resident, a university student who did not want to be named, said tank machinegun fire could still be heard in the neighborhood and that tanks and armored vehicles moved deeper into the city, including the main Port Said street.
"We can only hear the tank fire. Anyone who goes near al-Raml al-Filistini risks being arrested or shot," he said.
A senior Palestinian official condemned the Latakia violence, which the United Nations said had forced between 5,000 and 10,000 Palestinians to flee the Al Raml refugee camp.
"The shelling is taking place using gun ships and tanks on houses built from tin, on people who have no place to run to or even a shelter to hide in," Yasser Abed Rabbo, the West Bank-based PLO secretary general, told Reuters.
"This is a crime against humanity."
The United Nations agency which cares for Palestinian refugees said on Monday four had been killed and 17 wounded.
Syrian forces killed a 16-year-old boy when they fired on a protest in the eastern city of Deir al-Zor, residents said, hours after the authorities said the army was pulling out.
Nibras al-Sayyah was hit by bullets fired by military intelligence personnel to disperse hundreds of people who marched at night after Ramadan prayers, the residents said.
Witnesses said most tanks and troop carriers had pulled out of Deir al-Zor, which they attacked on August 7, and moved to the outskirts. Many troops remained in the city and were storming houses looking for wanted dissidents, they said.
'Breaking bones'
"The regime seems intent on breaking the bones of the uprising across the country this week, but the people are not backing down. Demonstrations in Deir al-Zor are regaining momentum," one activist in the city said.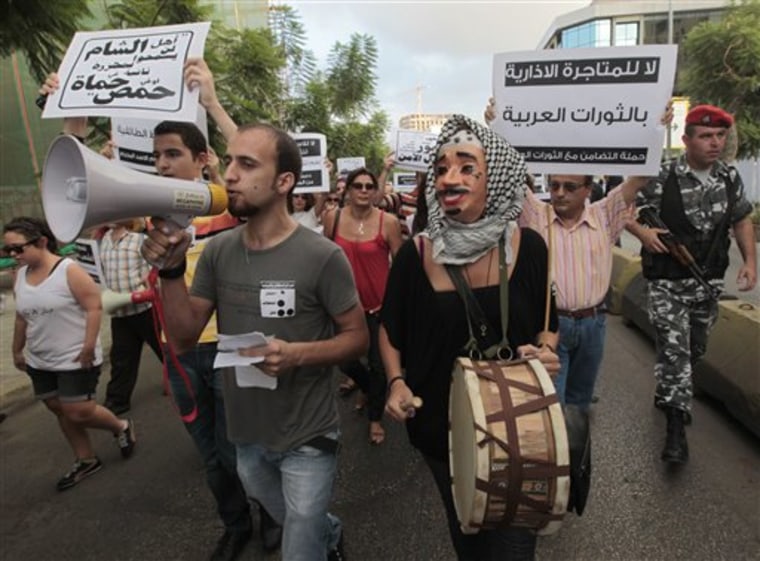 Apart from Deir al-Zor and Latakia, Syrian forces have already stormed Hama, scene of a 1982 massacre by the military under Assad's father, the southern city of Deraa and several northwestern towns in a province bordering Turkey.
Syrian authorities blame others for the violence, saying anti-government forces have killed 500 soldiers and police. Rights groups say at least 1,700 civilians have been killed by security forces since protests erupted in March.
Turkey, once a close ally of Assad, ruled out foreign intervention in Syria but said attacks on civilians were unacceptable, keeping up pressure on the Syrian leader.
"We do not want foreign intervention in Syria but we do not accept and will not accept any operations against civilians," Foreign Minister Ahmet Davutoglu said, a day after he urged Assad to halt such assaults immediately and unconditionally, saying this was Ankara's "final word.
Turkey's foreign ministry denied a report it was planning to set up some form of buffer zone in the Syrian border area, where Syrian troops have pursued people fleeing for Turkey.
Yasser Saad, a dissident Syrian commentator, said Turkey was concerned about the fate of Sunni co-religionists in Latakia, which has a significant Alawite minority.
"The popular Syrian movement still regards the Alawite community as an important part of the national mosaic," he said, urging Alawite notables to "declare a clear stand regarding the crimes of the regime and not allow the sect to be used as human shields that falls with the fall of the regime."
Assad has been repeatedly told by the United States, European Union and Turkey to halt the bloodshed but said last week his army would "not relent in pursuing terrorist groups."
The Geneva-based U.N. Human Rights Council will hold an emergency session next week to decry Syria's military crackdown after enough states backed the initiative, diplomats said.
Overwhelming force
Assad, who inherited power in 2000 from his father, clearly believes overwhelming force will extinguish calls for the dismantling of the police state and the Assad clan's power monopoly, free elections and an end to corruption.
For Assad to enact the reforms he has been promising since he came to power, he would have to purge his strongest allies and end the control of the security apparatus over the state. Since they are the pillars of his power, that is unlikely.
In Tartous, a small city south of Latakia with many Alawites, thousands marched on Monday to "affirm national unity and support for the comprehensive reform program led by President Bashar al-Assad," SANA news agency said. Authorities have previously organized such pro-Assad rallies.
The Syrian Revolution Coordinating Union said troops also assaulted villages on the Houla plain north of Homs on Monday, killing eight people as they raided houses and made arrests. The organization said four people were also killed in Homs.