/ Source: The Associated Press
The 55-year-old man was found lying on the side of the road on the Navajo Nation, a pack of dogs mauling him relentlessly. Emergency workers chased them away, but the pack — their ribs sticking out — kept trying to circle back.
It was not determined whether the dogs or a seizure felled Larry Armstrong as he went for a walk near his rural home last December. An autopsy report said he died from the bites, but investigators were unable to determine if he was even conscious when he was attacked. Regardless, the case vividly underscored the problems the Navajo Nation — and many other tribal lands — have with stray, feral or just neglected and loose dogs.
On the vast Navajo Nation, wildlife and animal control manager Kevin Gleason estimates there are four to five dogs for each of the more than 89,000 households — or as many as 445,000 dogs, most of which roam unchecked, killing livestock and biting people with alarming regularity.
"They kill everything," Gleason said in a recent interview. "Cats, dogs, cattle, sheep, horses. We've also had people severely injured by them. We've had people with horrendous bites. We just had a case ... where a man lost 37 sheep to a pack of dogs.
"We have that going on all the time. Our officers respond to more than 25 bite cases a month, and 25 livestock damage cases a month."
'It looked like we never touched it'
Attempts to diminish the problem with round-ups by animal control officers, weekly spay and neuter clinics in Gallup, and ongoing efforts by small group of volunteers to ship a few healthy puppies and dogs to shelters in Albuquerque and Colorado have had virtually no impact.
"You look at the Sundance area where that gentleman was killed, we went in and removed 79 dogs after that and it looked like we never touched it," Gleason said.
Dogs roam the sides of highways, restaurant, gas station and store parking lots and just about anywhere else they might find food. Their carcasses in various stages of decomposition litter spots along the sides of the main roads and interstates.
After Gleason added the animal control operations to his duties in October, he said he ordered his officers to conduct a series of roundups. Between October and April, he said officers picked up 2,332 dogs. Of those, only 79 were adopted and 313 were released back to their owners. The rest were euthanized. The roundups were cancelled shortly after that, he said, "because we ran out of money."
On average, he said, the Nation euthanizes about 6,000 dogs a year. In McKinley County and the city of Gallup, which are surrounded by tribal lands, nearly 4,000 dogs, cats and other animals were euthanized last year.
The problem goes back to a contrasting mix of cultural and socioeconomics issues. For some tribes, respect for dogs dates back to a time when canines served as pack animals and protectors of the camp. Others believe dogs belong to the spirits and should not be killed.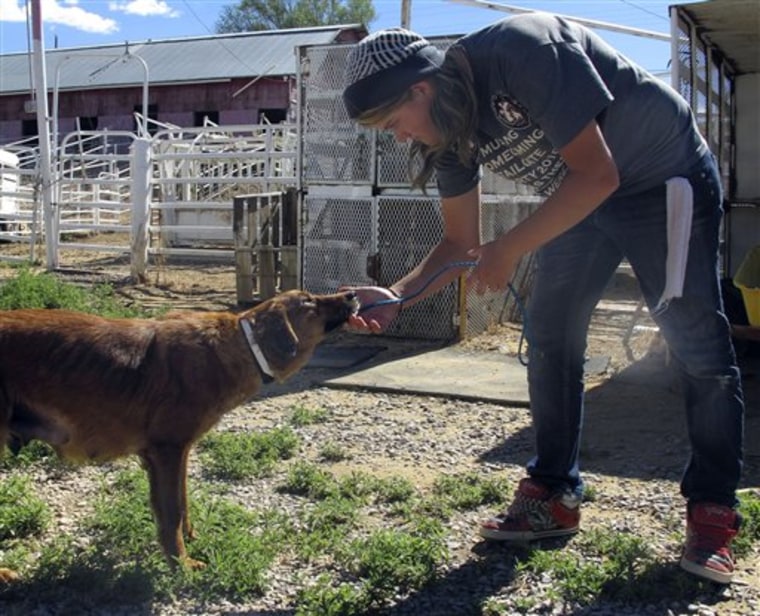 But care for the animals varies widely. On the Navajo reservation, many people are too poor to even get their dogs to a vet — if there was one around — let alone pay for medicine or a spay or neuter procedure. Dogs are referred to as feces eaters, and children are taught to never cry for or bury a dog.
At the Navajo Nation shelter in Fort Defiance recently, there was no emotion as two kids and a woman unloaded three seemingly well-taken care of family dogs from the back of their truck, dragging and eventually having to carry them into the small, dilapidated building where they huddled together in a cage, waiting to be euthanized for attacking the neighbor's sheep.
A common problem
Donna Damon, a Navajo who is a vet tech at the Gallup Humane Society, said her father still doesn't understand why she chose a career taking care of animals.
"He said, 'Why can't you be a nurse,'" she said.
Animal rescue groups say dog overpopulation is a problem on most reservations.
"They have varying levels of seriousness," said John Polis, a spokesman for the Best Friends Animal Society, a rescue group that runs a sanctuary for thousands of animals in rural Utah, "but they are all kind of dealing with the same problem.
"We get calls from people all over the place who happen upon a reservation during their vacation or have taken in a reservation dog and want to know how to socialize it," Polis said.
He said the group has worked with the Navajo Nation and occasionally takes some of its animals but "it is such a gigantic problem we haven't been able to tackle it with enough resources to make a huge impact."
Both Polis and Gleason cited cultural barriers and mistrust as impeding efforts by rescue groups and tribes to work together.
Gleason said the Navajo Nation has no choice to but to continue to euthanize dogs at a high rate.
"Prior to me coming here, we weren't really doing adoptions. We are trying to get as many dogs out as we can. But the thing is, we don't pick up one or two dogs. We pick up 50, 60, 70 at a time."
After the sweep that netted 79 dogs in Sundance in December, he said, only 12 were claimed by owners.
Gleason said he has tried to work with off-reservation rescue groups, but many don't want to deal with the tribe, he said, because of its high euthanasia rate.
Polis said there are also problems with outsiders going on tribal lands and "stepping on toes."
"A lot of people think they should round them up and take them off. But a lot of them are people's pets. Sometimes people take a dog and we tell them you are stealing."
Trying to stem unwanted breeding
While the problems are pervasive across many reservations, Polis pointed to a project on the Pine Ridge Indian Reservation in South Dakota as an example of a progressive community-based effort to stem unwanted breeding.
"We don't have a big problem with (attacks on people) although we do occasionally have dogs that are hungry and will pack up and kill young livestock," said Virginia Ravndal, who started the Lakota Animal Care Project. "Probably a bigger issue for us is disease, starvation and freezing. Mange is a huge problem. And going into South Dakota winters without hair, a lot of dogs don't make it."
Ravndal said the project has worked to train tribal members to provide basic care like treatment for mange and worms. After they gain the trust of pet owners, they talk to them about spay and neutering.
"You can't just go in and say your animal has to be spayed and neutered. You really have to develop a relationship," she said.
She has also developed a kids program called Shunka Scouts (shunka means dog in Lakota), in which children can interact with animals and earn "acts of kindness badges" that help teach them basics of animal care. Part of the message: "Animals are our relations and no one should go hungry, no one should go cold, no one should be sick."
The program, which also works with rescue groups and no-kill shelters, has had to temporarily shutter some of its programs because it has run out of money, Ravndal said. She hopes to host a gathering of nations next summer to help other tribes set up similar programs designed to make long-term changes to how tribal members view and care for their pets.
When the project started, she said people who could no longer care for a starving or freezing dog would call and say, "'Can you shoot the dog for us.' Now they call and say, 'Can you help us find it a home.'"