/ Source: The Associated Press
A chemistry student working as a volunteer for the pope's visit to Madrid was arrested on suspicion of planning a gas attack targeting protesters opposed to the pontiff's stay, officials said Wednesday.
Pope Benedict XVI is due to arrive Thursday for a nearly four-day visit to celebrate World Youth Day, and thousands of protesters railing against his visit marched through central Madrid to the central Sol plaza where they have held months of demonstrations against the government's anti-austerity policies.
A police official said the suspect arrested in Madrid Tuesday is a 24-year-old Mexican student specializing in organic chemistry. She would not say whether investigators believe the man was actually capable of carrying out a gas attack, and did not know if he actually had chemicals that could have been used to assault the protesters.
The detainee was identified by the Mexican Embassy in Madrid as Jose Perez Bautista, which said he was from Puebla state, near Mexico City.
He was arrested at a Madrid convention center where the hundreds of thousands of pilgrims coming to town for the papal visit are supposed to pick up their accreditation, the police official said on condition of anonymity in line with the department's rules.
An official with the visit's organizing committee said the Mexican was a volunteer working to help deal with the massive flow of people coming to Madrid. The official would not give her name, citing the church-run committee's policy.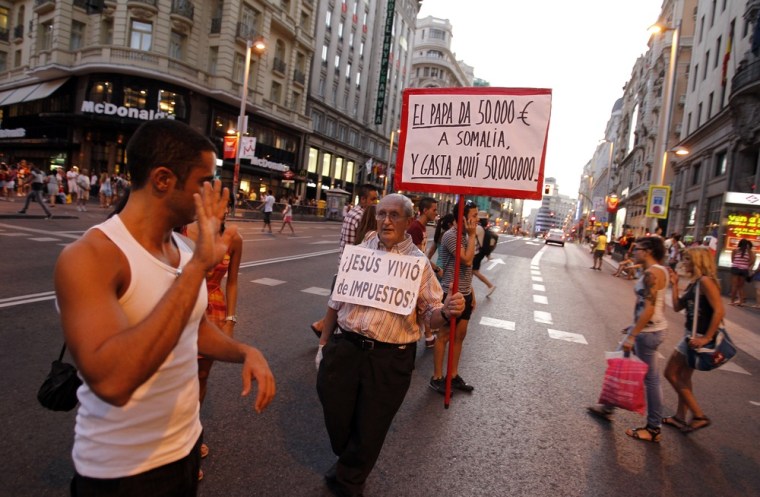 A total of 30,000 people from around the world are taking part in that organizing effort, 10,000 police are providing security in Madrid and organizers say they expect more than 1 million young pilgrims for World Youth Day, which started Tuesday and runs through Sunday.
The protest he allegedly wanted to disrupt happened relatively peacefully, and the main incident of note as of late Wednesday were some shouting exchanges between demonstrators and pilgrims who support the pope.
Police have 72 hours from the time of the arrest to bring the detainee before a judge at the National Court for questioning or to release him. A court official said he would appear before the judge Thursday at the earliest.
The official — speaking on condition of anonymity in line with court policy — said the detainee had been making threats over the Internet against people in Spain opposed to the pope's visit, and police who'd been monitoring his online activity ultimately decided to arrest him as the visit approached.
Police said in a statement released Tuesday night that officers who searched the detainee's apartment in a wealthy district of Madrid seized an external hard-drive and two notebooks with chemical equations that had nothing to do with his studies.
It said he tried to recruit people via the Internet to help him, and that a computer allegedly used for this purpose was among objects seized by police.
The man had planned to attack anti-Pope protesters with "suffocating gases" and other chemicals, the statement said. But it did not mention police having confiscated chemicals that could be used in an attack.
Mexican Embassy spokesman Bernardo Graue said consular officials had visited Perez Bautista in prison and described him as "relaxed" and in good physical condition as he waits to go before a judge. The Mexican officials did not ask him if he had in fact planned a gas attack, because interrogating him is up to Spanish authorities, Graue said.
Without knowing what chemicals and delivery system the man may have had, it is impossible to know what harm he could have caused on protesters marching in open air through the streets of Madrid, as will happen Wednesday evening, said Magnus Ranstorp, a terrorism expert at the Swedish National Defence College in Stockholm.
'Very dedicated student'
The suspect was in Madrid studying with Spain's top government research body, the Spanish National Research Council, and his office there was searched, the police statement said. The council confirmed the arrest but gave no immediate details on the Mexican.
Mexico's Autonomous University of Puebla confirmed that a man with the same name had completed an undergraduate degree in chemistry in 2009 and had expressed interest in doing graduate work in Spain.
"Both the name and the academic background match," said Rafael Hernandez Oropeza, the university's director of international relations. He said Perez Bautista had an 8.6 grade average out of 10, "which is pretty high."
Gloria Leon Tello, the academic director of the university's school of chemistry, said Perez Bautista was a quiet, well-mannered, hardworking student. She had contact with him as an administrator, but did not have him in class.
"He was a very dedicated student, calm, very well-mannered," said Leon Tello, who said his age roughly matched that of the Madrid suspect. "He had very deep values ... like discipline, responsibility." Leon Tello said she did not hear him express political or religious views.
History of religious extremism
Mexico has some history of conservative religious extremism.
In 1926, tensions over Mexico's harsh anti-clerical laws broke into armed conflict between the government and Catholic rebels in the bloody, three-year Cristero War in which tens of thousands died.
In 1928, a young conservative Catholic activist, Jose de Leon Toral, assassinated President-elect Alvaro Obregon.
In the 1960s and 1970s a number of conservative Catholic youth groups grew up at universities in Mexico, including Puebla, and sometimes scuffled with left-wing student activists of the time.
Church organizers say the papal visit will cost about euro50 million ($72 million). Protesters claim the government is essentially spending taxpayers' money on the visit by granting tax breaks to corporate sponsors and perks such as discount subway and bus tickets for pilgrims.
The visit comes as Spain gets ready for early elections in November. And while the church officially keeps out of politics, it will be sure to be watching closely — as the outcome could affect Spain's direction on hot-button ethical issues.
The election will pit the ruling Socialists, who irked the Vatican with social reforms including gay marriage and a law allowing 16-year-olds to get abortions without parental consent, against conservatives who tend to back church thinking on such issues and are heavily favored to win.
'A time of uncertainty'
Spain's economy is sputtering as it seeks to overcome recession, Madrid's stock market has been a roller-coaster of late, the government is saddled with debt woes, and young Spaniards feel doomed and angry over their grim prospects amid a nearly 21 percent unemployment rate.
This bitter cocktail, or ingredients of it, is being served up in much of Europe and elsewhere.
"This is a time of uncertainty for young people. The pope is coming to Spain for World Youth Day, bringing a positive and challenging message from young people from all over the world," the Rev. Federico Lombardi, chief Vatican spokesman, said last week.
Pilgrims echoed that need for solace and inspiration.
"The message is about hope, about the future, to move from the current situation — whatever it is, and now it is kind of devastating — but move forward toward the future and hope that things will be better," said the Rev. Father Stanley Gomes, a chaplain at Seton Hall University who is accompanying 15 students from the school near New York City.
Organizers say about 450,000 young people from 193 countries — some from as far away as Vietnam and Pakistan — have registered to take part.
But signing up beforehand is not mandatory and from past experience the total will be about three times those who register.
Two-thirds are expected to be Spaniards; among the rest Italy, France, the United States, Germany and Poland are sending the largest delegations.
The main events are a prayer vigil with the 84-year-old Pope and outdoor sleepover for pilgrims Saturday night at a sprawling air base, and Mass there the next morning.
Except for a trip Friday to a historic monastery in El Escorial, 30 miles northwest of Madrid, the Pope will spend the whole visit in Madrid, meeting with young people, hearing confession from some of them, riding through the city in his pope-mobile and greeting young nuns, seminarians and university professors, among other activities.
Minority attend church regularly
In Spain the church faces a congregation for whom being Catholic is more a birthmark than a way of life.
A poll released in July says that while 72 percent of Spaniards identify themselves as Catholic, 60 percent say they "almost never" go to Mass and only 13 percent every Sunday.
Church organizers insist the papal visit involves zero cost for Spanish taxpayers because the money is coming from corporate sponsors, private donations and fees paid by some of the pilgrims, among other sources.
Critics are complaining of the cost of providing extra police security, tax breaks being granted to the corporate sponsors, discount subway and bus tickets for the visitors, and the price tag of opening up school gyms and sports facilities in a vacation month to set up makeshift digs for so many pilgrims.
Even some progressive Catholics are joining a protest march Wednesday night to denounce taxpayer money spent for World Youth Day, a globe-trotting meeting held every three years. The last was in Sydney, Australia, and the next will be in Rio de Janeiro.
"At a time of crisis, and with so many people in need, we feel this visit should not be so massive and attention-drawing, so spectacular, but rather something more simple and closer to the grassroots of the church," said Raquel Mallavibarrena, a spokeswoman for a progressive Catholic group called Redes Cristianas, or Christian Networks.