/ Source: msnbc.com staff and news service reports
Turkey launched a heavy air and artillery assault on Kurdish guerrilla targets in northern Iraq overnight following a declaration by Prime Minister Tayyip Erdogan that he had lost patience with separatists fighting in southeast Turkey.
Kurdistan Workers Party (PKK) separatists use the mountains of Northern Iraq as sanctuary from which to launch attacks in southeast Turkey. The raids, the first by Turkey in the area since July 2010, responded to a surge in rebel action in recent months and an ambush on Wednesday that killed nine servicemen.
Camps housing the PKK's top commanders were among those targeted, security sources told Reuters. The PKK is designated a terrorist group by Turkey, the United States and European Union.
The Turkish General Staff said artillery hit 168 targets in the region overnight before warplanes pounded 60 positions in two waves.
More than 40,000 people have been killed in the separatist conflict since the PKK took up arms for Kurdish self-rule in 1984. Most of those killed have been Kurds.
'Patience has finally run out'
"Our patience has finally run out. Those who do not distance themselves from terrorism will pay the price," Erdogan said Wednesday on the sidelines of a conference in Istanbul.
The General Staff said in a statement that the strikes had centered on Kandil Mountain, Hakurk, Avasin-Basyan, Zap and Metina regions. All planes had returned safely to their bases.
It said all necessary steps were taken to avoid civilian casualties. Operations would continue until the PKK was "rendered ineffective."
In the second air raid, six F-16 jets took off from a base in the southeastern city of Diyarbakir.
The targets included anti-aircraft defenses and rebel shelters in the region. Around 30 planes took part in the entire operation, the sources said.
It was not immediately clear what damage or casualties the operation had caused.
President Abdullah Gul will chair a previously scheduled National Security Council meeting on Thursday, with a recent upsurge in PKK attacks and the military response likely to top the agenda.
Fears of popular uprisingThe air strikes increase the risk that recent growing antagonism between the Turks and Kurds will spiral out of control, Fadi Hakura, manager of the Turkey project at British research institution Chatham House, told msnbc.com.
"The risk is that security operations of this nature will then degenerate into a mass popular uprising and complicate the issue in the longer term," he said.
While the government has carried out Kurdish cultural and language reforms in recent years to address the grievances of the 12 million-strong minority, many Kurds feel that the changes don't go far enough and are pushing for great political autonomy.
A recent survey that found that close to 60 percent of ethnic Turks would not marry a Kurd — in contrast to 26 percent of Kurds who said that they would not marry a Turk — and indicate growing intolerance between the ethnicities, Hakura said.
The ethnic antagonism that has been on the rise among Turks is particularly dangerous because it indicates that most Turks now see the minority as a problem, whereas in the past they have largely distinguished between militants and the broader Kurdish population, he added.
Ambush
After the first wave of Turkish attacks, Dozdar Hamo, a PKK spokesman told Reuters in Iraq: "The border area has been bombed since 9 p.m. (2 p.m. ET) by Turkish planes, and the bombing is very intense. Nearby there are three Kurdish villages. We have no casualties on our side. We don't know if there are any casualties among villagers."
Turkey and Iran have often skirmished with Kurdish rebels in that region. Last month Iranian shelling of the area forced hundreds to flee their homes during clashes with the PJAK, an Iranian offshoot of the PKK.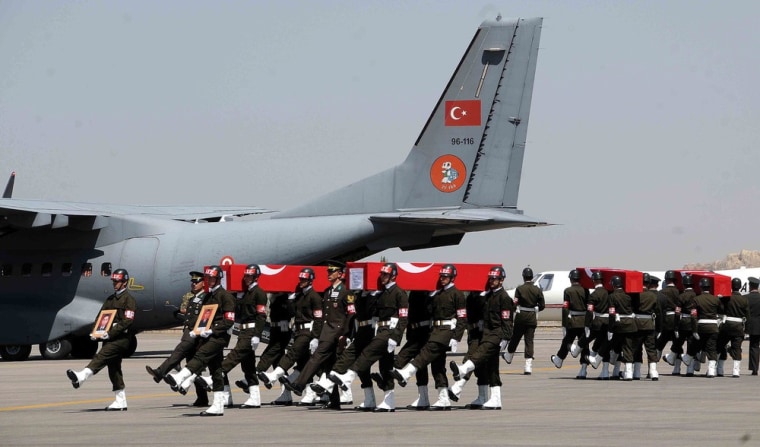 Earlier on Wednesday the PKK attacked a military convoy at Cukurca in the southeastern Turkish province of Hakkari. The General Staff said eight soldiers and one member of the state-backed village guard militia were killed in the attack. Fifteen personnel were wounded.
Last month, the PKK's jailed leader Abdullah Ocalan sent word through his lawyers that he had agreed with Turkish officials to set up a "peace council" aimed at ending the conflict.
But Erdogan said the time for talking was over.
In July, Kurdish fighters killed 13 troops, the highest death toll for Turkish troops in an attack since the PKK ended a ceasefire in February.
Thursday's National Security Council meeting follows a period of upheaval in the armed forces. Four new top commanders were appointed this month to replace those who resigned in protest at the jailing of hundreds of their colleagues in connection with anti-government conspiracies.