/ Source: NBC, msnbc.com and news services
Libyan rebels battling Moammar Gadhafi's troops along the country's Mediterranean coast said Saturday they have captured all of the strategic eastern port city of Brega, which has repeatedly changed hands in the 6-month-old civil war.
Rebel military spokesman Col. Ahmed Bani said fighters gained control of the industrial section of Brega, after having captured its residential areas last week.
Brega's capture is an important boost for the rebels. It contains Libya's second-largest hydrocarbon complex and is where the country's main oil fields feed into for refining.
"We have liberated Brega and all of it is under our control," Bani told The Associated Press on Saturday. "The fighters are in the port and taken the refineries."
The clashes with Gadhafi forces killed two rebels and left fifteen injured, according to rebel spokesman Mohammed Idris.
His claim could not be immediately verified and officials in the Libyan capital Tripoli made no comment on it.
Brega is a wide strip of desert made up of two residential sections about 6 miles (10 kilometers) apart, followed by the oil refineries near the port on the Mediterranean Sea.
Brega, about 125 miles (200 kilometers) southwest of the de-facto rebel capital of Benghazi, fell under rebel control briefly in March, but was recaptured by Gadhafi's forces shortly afterward. The fighting around the city has gone back and forth since then, with the rebels struggling to keep their ground.
Rebels closed in on Moammar Gadhafi, pushing back his fighters in a fierce battle in one key coastal city and seizing another town as they advanced toward his remaining bastion, the capital of Tripoli.
The territory remaining under Gadhafi's control has been shrinking dramatically in the past three weeks, with opposition fighters moving closer to Tripoli, a metropolis of 2 million people, from the west, south and east.

At the nearest point, rebel fighters are just 30 miles (50 kilometers) west of Tripoli, in the coastal city of Zawiya, where battles raged Friday over control of the city center. Gadhafi's forces pounded rebel-held areas of the city with rockets, mortars and anti-aircraft fire, but by nightfall were pushed out of a multistory hotel on the square.
NATO's bombing campaign has made it difficult for the regime to send massive reinforcements to Zawiya, enabling the rebels to maintain a hold over much of the city, their biggest prize in months.
But Friday's onslaught by regime forces also signaled that an opposition push toward Tripoli could be arduous and bloody. The massive fire at one point pinned down some two dozen rebel fighters behind a building about 200 yards (meters) from Zawiya's central square, a symbolic prize in the battle for control of the city of some 200,000 people.

The area was deserted, with building facades blackened and scarred by bullet holes.

The men took a break for Muslim noon prayers, washing their hands and feet with water from plastic bottles, then kneeling on carpets under an olive tree.

The group was commanded by Rida Shaeb, a 47-year-old electrician who wore his workman's blue coveralls to the front line. "We are here to fight," said Shaeb. "We are not going back, even if we die."


East of the capital, rebels seized the city of Zlitan after clashes with regime forces that left 31 rebels dead and 120 injured, a spokesman said. Zlitan had been a major obstacle in the rebels' push toward Tripoli from the east.

"The fighters have liberated Zlitan and they are fighting west of the city," said Munir Ramzi of the opposition Misrata Military Council. He said Gadhafi's forces were fleeing after Friday's victory and the rebels are in control of the city.

With the recent advances, the rebels cut off the coastal road to Tripoli from the east and the west, and also control a city along a major supply road to the capital from the south.

Dealing another blow to the increasingly isolated leader, Libyan rebels said Friday that Abdel-Salam Jalloud, a close Gadhafi associate who was once the No. 2 top regime official, has defected.

Jalloud helped Gadhafi stage the 1969 coup that propelled him to power and transformed Libya from a monarchy to a republic. He was Gadhafi's most trusted deputy for two decades but began to clash with the leader starting in the 1990s.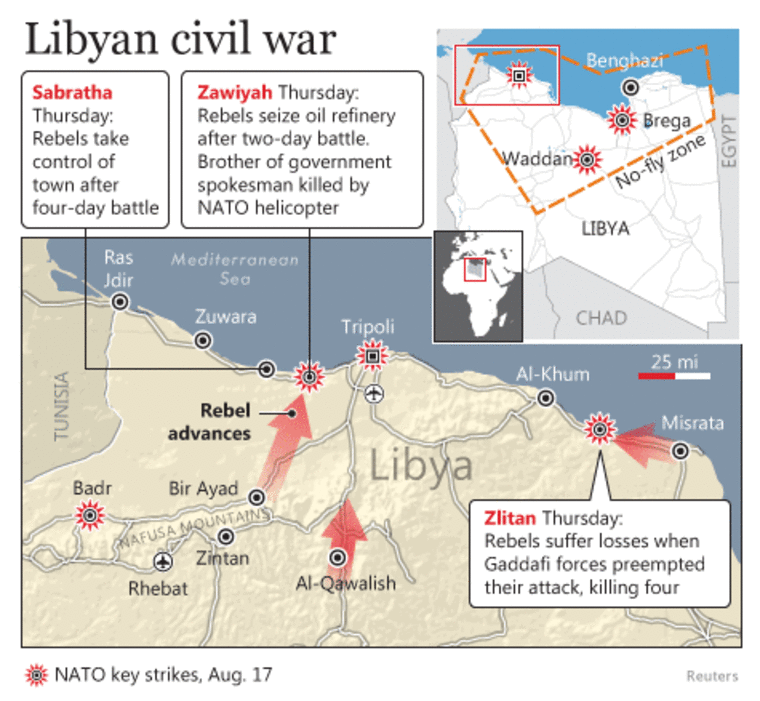 Rebel spokesman Mahmoud Shammam said that Jalloud had fled to a rebel-held area in the western mountains and was on his way to Europe. Pictures showing Jalloud in the western town of Zintan appeared on rebel Facebook pages. Jalloud did not issue any statements, but Shammam said he had confirmed the defection on the telephone.

Jalloud's defection, if confirmed, would be the latest crack in what remains of Gadhafi's regime, although the two men had fallen out. Rebels also said Jalloud could provide valuable information about Gadhafi's inner circle.

Rebel official Abdel-Hafiz Ghoga said the defection "gives us assurance that Gadhafi is weakening" while stressing that Jalloud would face justice for any crimes committed when he was part of the regime.

As fighting intensified, the International Organization for Migration announced plans to start evacuating "large numbers" of Egyptians and other foreigners, including some journalists, from Tripoli in coming days.

IOM spokeswoman Jemini Pandya said the organization has appealed to donors for emergency funding for the rescue effort, which was needed because the road between Tunisia and Tripoli has been closed.

"We have a very limited window of opportunity to carry out this operation because of the fighting, so it is essential that we are not constrained by a lack of funds from the outset," she told reporters in Geneva.

In recent weeks, the rebels gained momentum, following long stretches of deadlock in the 6-month-old civil war. Fighting had erupted after anti-regime protests swept the country in February. In the early stages, the rebels seized much of the east and two pockets in the west, including the Nafusa mountain range and the port city of Misrata.

For the past week, rebel fighters have been bogged down in the center of Zawiya, after claiming victory over a sprawling oil refinery complex on the western outskirts following days of fighting.

Rebel forces have frequently found themselves outgunned by Gadhafi's forces despite stepped up airstrikes by NATO in Zawiya, Tripoli and surrounding areas.

Fisal Ben Issa, a 30-year-old lawyer-turned-fighter on Zawiya's front line, said he shares his Belgian-made assault rifle with a neighbor, each doing 12-hour shifts at the front line to get maximum use out of the weapon. Ben Issa was listing the weapons at Gadhafi's disposal when he was cut off by a particularly deafening round of mortar fire.

Shortly afterward, the group of two dozen fighters decided to disband, leaving the area in pickup trucks and on foot. Moments later, a tank captured by the rebels later started rumbling toward the center of the city, firing several shells to the shouts of "God is great."

Just before nightfall, more than two dozen pickup trucks filled with rebel fighters and mounted with anti-aircraft guns charged forward into Zawiya. Witnesses and a rebel returning from the front line said the fighters had taken control of the central square and a hotel that had been a key regime sniper position, although government troops still held the main hospital.

The relentless shelling of Zawiya has sent many civilians fleeing. Others hunkered down in their homes, despite the risks. Muftah Mohammed, a civilian, said he was outside his house when he was struck by shrapnel from a mortar shell. A cousin was also hurt. Both were being treated at a clinic on the outskirts of Zawiya.

The brother of Gadhafi's spokesman, Moussa Ibrahim, was killed in an airstrike in Zawiya, a government official in Tripoli said. Hasan Ibrahim, 25, and others were struck by bullets fired from an Apache helicopter while on foot in Zawiya's central square, the official said, speaking on condition of anonymity in line with government policy.

Meanwhile, explosions shook Tripoli early Friday as NATO jets circled overhead. Flames lit up the Tripoli skies near Gadhafi's Bab al-Aziziya headquarters and army barracks.

Gadhafi preparing to flee?
Meanwhile, U.S. officials have told NBC News that Gadhafi is making preparations for a departure from Libya with his family for possible exile in Tunisia.
One official suggested it was possible that Gadhafi would leave within days, NBC News reported Thursday.
The information obtained by NBC News follows a series of optimistic statements this week from U.S. officials that Gadhafi would soon give up the five-month-old fight and and leave Libya.
In an on-camera forum at the National Defense University this week, Defense Secretary Leon Panetta said, "I think the sense is that Gadhafi's days are numbered."
The officials could provide no further details as to conditions or precise timing for Gadhafi's departure, NBC said, and the news report emphasized that there was no guarantee that Gadhafi would follow through on any plans to flee.