/ Source: NBC, msnbc.com and news services
Libyan rebels launched an assault early Sunday on the capital of Tripoli amid unconfirmed reports that leader Moammar Gadhafi had fled, NBC News reported.
"Zero hour has begun," a rebel commander told NBC News.
However, a government spokesman said Gadhafi remained in control and the leader in a live interview on state television called the rebels "rats" who need to be destroyed.
Rebels were fighting in at least four areas of Tripoli, NBC News said.
Four loud explosions were heard at around 4 a.m. Sunday local time in the heart of the city as NATO warplanes flew overhead, Sky News reported. The targets have not yet been identified.
Earlier Sunday protesters demanding the departure of Gadhafi took to the capital streets, Reuters said. Heavy mortar fire and sustained gunfire grew intense, witnesses said.
White House and U.S. intelligence officials were monitoring rumors that Gadhafi had left with his two sons, Hannibal and Mutassim, ending his 41-year rule, NBC News reported.
Late last week, intelligence officials told NBC News that Gadhafi might seek exile in Tunisia.
White House officials said President Barack Obama, vacationing at Martha's Vineyard, Mass., "had been briefed on Libya and is getting regular updates as needed."
A second senior official said the administration was in close contact with the Libyan opposition and U.S. allies and partners, and believes that Gadhafi's days in power are numbered. Both aides spoke on condition of anonymity.
In Libya, rebels said they launched the Tripoli assault in coordination with NATO and with the uprising of rebels inside the capital.
"This was a pre-set plan," said Abdel Hafiz Ghoga, vice-chairman of the National Transition Council, based in the eastern Libyan city of Benghazi. "They've been preparing for a while. There's coordination with the rebels approaching from the east, west and south.''
Ghoga said NATO warplanes were launching raids to distract Gadhafi's forces.
"The next hours are crucial. Many of their (pro-Gadhafi) brigades and their commanders have fled.''
His claims could not be independently confirmed immediately.
Sustained gunfire and thuds were heard in the distance and residents of Tajoura, on Tripoli's eastern outskirts, where reported clashes were under way.
An eyewitness told Al Arabiya news agency that the suburb was in rebel hands and people were out dancing in the streets.
Free Libya Now television reported that rebel forces set up command and control and civil control structures.
It also claimed rebels were in control of the airport, but the government denied the report.
An unknown number of rebels were killed in clashes in the Tripoli suburb of Qadah and fighting was ongoing at Mitiga airbase, a rebel activist told Reuters.
In the eastern coastal city of Benghazi, residents took to the streets to celebrate the advance on Tripoli, Al Jazeera news agency reported.
However, Gadhafi on a state television audio broadcast, congratulated Libyans on the elimination of "the rats."
He said French President Nicolas Sarkozy "wants the Libyan oil." Rebels don't represent Libya and are bent on "the destruction of the Libyan people," he said, also mentioning the time so he could prove his statements were not pre-recorded.
He signed off saying, "Long live. Go forward, go forward, go forward, go forward."
Gunfire was heard in Tripoli after Gadhafi finished his talk, witnesses said.
Earlier, government spokesman Moussa Ibrahim told state television: "All of Tripoli is safe and stable."
"I ensure Libyans that Gadhafi is your leader ... Tripoli is surrounded by thousands to defend it,'' he said. "Armed people sneaked into Tripoli but have been dealt with."
"We have arrested Algerians, Tunisians and Egyptians in Tripoli," Ibrahim said.
Ibrahim renewed a call to rebels to surrender, saying they would be forgiven even if "they have killed our relatives.''
Mobile telephone subscribers received a text message from the government urging them to "go out in the squares and streets to eliminate the armed agents," according to one resident who received the message on his phone.
NATO resumed its Tripoli attacks with heavy bombing runs after nightfall Saturday.
Multiple explosions rocked Tripoli on Saturday night and repeated anti-aircraft fire was seen streaking across the sky, a Reuters reporter in the city said.
Earlier, rebels expelled government forces from the strategic western city of Zawiyah on Saturday, a major victory for the opposition in their march on Tripoli.

The territory remaining under the Libyan ruler's control has been shrinking dramatically in the past three weeks, with opposition fighters advancing on the capital, a metropolis of 2 million people, from the west, south and east.

Zawiya, a coastal city just 30 miles (50 kilometers) west of Tripoli, is the biggest prize so far in the rebels' three-week-old offensive.
The rebel presence in Zawiyah cuts off Tripoli's main route to the outside world. Although Gadhafi's forces, determined to retake it, mounted a fierce counter-offensive Friday, the rebels were still in control Saturday and said they expected more fighting.

"Gadhafi will try to take back Zawiyah at any price. He will keep shelling the hospital," said a rebel fighter as he was preparing for midday prayers in the mosque of Bir Hawisa, a nearby village where many civilians are sheltering in safety.

"We will not let that happen. We will fight," he said.
The rebels also claimed to have captured two more towns — Zlitan in the west and Brega in the east.

However, later Saturday, rebel military spokesman Col. Ahmed Bani said his troops fell back in Brega, losing the industrial section of the key oil port to Gadhafi's forces.

Brega, home to Libya's second-largest hydrocarbon complex and the place where the country's main oil fields feed into for refining, has repeatedly changed hands in the 6-month-old civil war.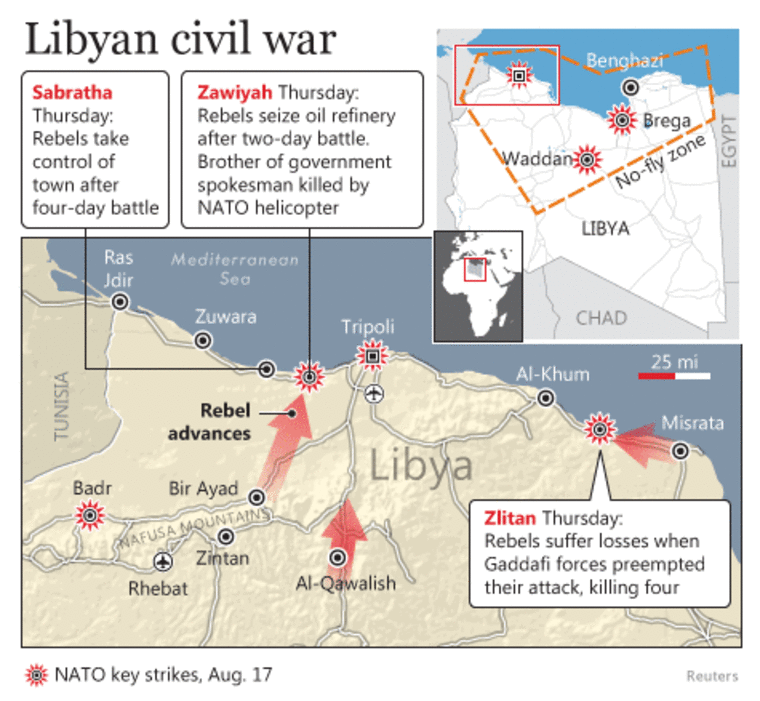 Hundreds of miles to the east of Tripoli, U.S. Assistant Secretary of State Jeffrey Feltman visited the Libyan rebels' de-facto capital of Benghazi and to announce the reopening of Libya's embassy in Washington, this time under control of the opposition Transitional National Council, not Gadhafi's envoys.

The Obama administration earlier in August had approved the reopening after formally recognizing the Benghazi-based Council as Libya's legitimate governing authority. The State Department shut down the Libyan Embassy shortly after it suspended the operations of the U.S. Embassy in Tripoli in February.

"Gadhafi's days are numbered," Feltman told reporters in Benghazi on Saturday. "The best case scenario is for Gadhafi to step down now ... that's the best protection for civilians."