/ Source: msnbc.com staff and news service reports
New York prosecutors on Monday asked a judge to dismiss sexual assault charges against former IMF chief Dominique Strauss-Kahn, a stunning reversal that could revive the political future of a man many had seen as the next president of France.
Prosecutors gave up hope they could convict Strauss-Kahn after losing faith in Nafissatou Diallo, a hotel maid from Guinea who alleged that Strauss-Kahn emerged naked from the bathroom of his luxury hotel suite on May 14 and forced her to perform oral sex.
"The defendant engaged in a hurried sexual encounter with the complainant," Manhattan District Attorney Cyrus Vance wrote in the motion, "but it does not independently establish her claim of a forcible, nonconsenusal encounter."
"If we do not believe her beyond a reasonable doubt, we cannot ask a jury to do so," he added.

The motion was filed after a brief meeting between prosecutors, Diallo and her lawyers, where Diallo was told the case would be dropped.

"Manhattan District Attorney Cyrus Vance has denied the right of a woman to get justice in a rape case," Diallo's lawyer Kenneth Thompson told reporters after the meeting.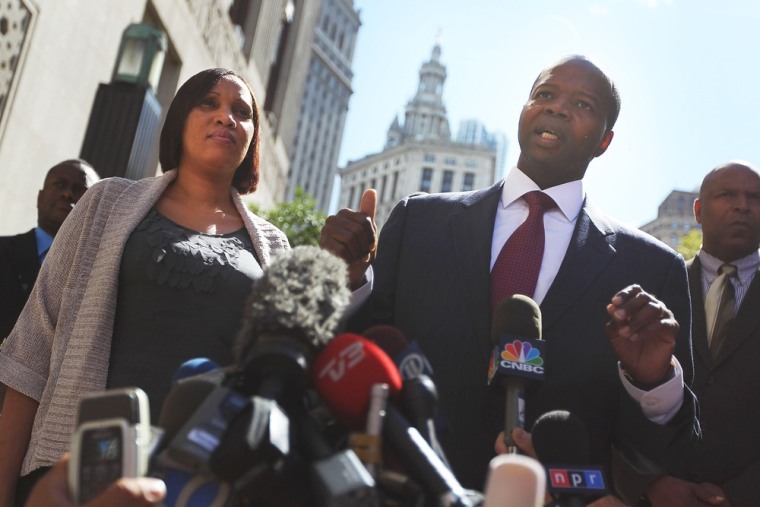 "He has not only turned his back on this innocent victim but all of the forensic, medical and other physical evidence in this case," he said. "If the Manhattan district attorney who is elected to protect our mothers our daughters, our sisters, our wives and our loved ones, is not going to stand up for them when they are raped or sexually assaulted, who will?"

Outside the court, women's rights protesters shouted "New York City, rape capital of America!"
Strauss-Kahn is to appear in court Tuesday morning, at which time a judge could act on the recommendations.
Lawyers for Strauss-Kahn, 62, welcomed the case being dropped.

"We have maintained from the beginning of this case that our client is innocent," Strauss-Kahn's lawyers William Taylor and Benjamin Brafman said in a statement. "We also maintained that there were many reasons to believe that Mr. Strauss-Kahn's accuser was not credible."
Strauss-Kahn's lawyers have said anything that happened wasn't forced. Thompson calls that "utter nonsense."
Earlier Monday, Diallo's lawyers filed a motion demanding that the district attorney's office be disqualified from the case.

The motion, filed in state Supreme Court, seeks the appointment of a special prosecutor and asks that the case be stayed until a hearing can be held on the request.

Legal analysts say the unusual request is unlikely to succeed.
Some political supporters were convinced the allegations were part of a setup meant to destroy Strauss-Kahn's chances of unseating French President Nicolas Sarkozy in next April's election.

Though he is free to return to French politics, his image was damaged and the Socialist party would have to make an exception to allow him into the presidential race at this late date. A poll released in July showed two-thirds of French people do not want him to be a candidate.

He also still faces a civil lawsuit that Diallo filed against him on Aug. 8 and a complaint from a French writer who said he tried to rape her during a 2003 interview.
After detectives pulled him off the first-class section of a Paris-bound jet on the day of the purported attack on Diallo, his arrest sent shockwaves across the globe.

Charming and multilingual, the silver-haired Strauss-Kahn had gained esteem for reforming the International Monetary Fund, injecting it with transparency and accountability. Then his stature took a mighty fall.

Diallo painted a vivid picture of what she said happened in Suite 2806 of the Sofitel Hotel near Times Square, saying a naked Strauss-Kahn chased her down a hall and into the bedroom and forced her to perform oral sex.

She said she broke free and that he dragged her into a bathroom where he forced himself on her again.

But her credibility was later thrown into question when prosecutors revealed she had told authorities numerous lies, including fabricating a story about being gang-raped in Guinea in order to gain U.S. asylum. She also changed details of her story about what happened following the purported assault.

U.S. media at first kept her identity secret, respecting a practice not to name sexual assault accusers, until she came forward in an interview with Newsweek magazine and ABC television in late July.

"I want justice. I want him to go to jail. I want him to know that there is some place you cannot use your money, you cannot use your power, when you do something like this," she said tearfully in the ABC interview.
Like many sexual assault cases, in which the accused and accuser are often the only eyewitnesses, the case has hinged heavily on the woman's believability.

Early on, prosecutors stressed that Diallo had provided "a compelling and unwavering story" replete with "very powerful details" and buttressed by forensic evidence; his semen was found on her uniform. The police commissioner said seasoned detectives had found her credible.

But later Diallo wasn't consistent about what she did after her encounter with Strauss-Kahn, telling a grand jury she had hovered in a hallway when she actually returned to his and another room before consulting her boss, prosecutors said. She said the alleged discrepancy was a misunderstanding.
She also alluded to Strauss-Kahn's wealth in a recorded phone conversation with a jailed friend, and her bank account had been a repository for tens of thousands of dollars she couldn't explain, a law enforcement official has said.

She said the jailed man had used the bank account without telling her.
As for the phone call, Thompson said she mentioned Strauss-Kahn's money only to say that her alleged attacker was influential.

According to her lawyers, prosecutors said they turned up a recorded conversation between Diallo and the man in which, speaking in the West African dialect Fulani, she said "words to the effect" that "this guy has a lot of money. I know what I am doing."

Strauss-Kahn resigned from the IMF four days after his arrest, while he was still being held without bail in New York's notorious Rikers Island, a massive complex of 10 jails.

He later was granted house arrest after posting $1 million cash bail and a $5 million insurance company bond, staying in a $50,000-a-month townhouse in Manhattan's Tribeca neighborhood with an electronic monitor clamped to his ankle. He paid another $150,000 a month for a security detail that included armed guards.
The case also brought up troubling stories from Strauss-Kahn's past as a womanizer who flirted with female journalists covering him, and revived the story of a controversial affair he once had with a subordinate at the IMF. He was nicknamed "the great seducer."

The Paris prosecutor has opened a preliminary inquiry into a complaint filed by French journalist Tristane Banon, who says Strauss-Kahn unhooked her bra and tried to open her jeans as she kicked him in what ended up as fight on the floor. Now free of New York charges, he must mount a new defense in France.

However, a judicial source said the French complaint was likely to be dropped as prosecutors were struggling to find evidence to support a charge of attempted rape.

A statute of limitations on a lesser crime of sexual aggression has already expired.

Other French women have seized on the cases to air their grievances about sexism in the professional sphere, shifting the conversation beyond commentaries on America's prudish views on sex to a national assessment of French machismo.

Yet his own wife, the wealthy and well-known former television journalist Anne Sinclair, seemed forgiving of his reputed behavior.

"No, I'm rather proud of it!" she told the French weekly L'Express in a 2006 interview. "It's important to seduce, for a politician. As long as I seduce him and he seduces me, that's enough for me."

It also exposed a French-American rift on the rights of criminal defendants. Many French were outraged at Strauss-Kahn's "perp walk" — perp is short for perpetrator — when detectives paraded a handcuffed, unshaven defendant before media cameras while the identity of his accuser was kept private.

In the end, the accuser's credibility issues were so severe that the Manhattan District Attorney's office agreed to release Strauss-Kahn from house arrest without bail on July 1.

Meanwhile, Manhattan District Attorney Cyrus Vance was forced to eat his words. After portraying the accuser as a traumatized victim who offered a consistent and credible story about being attacked, Vance was forced to backtrack and ultimately surrender, an embarrassing setback sure to be an issue when he is up for re-election in 2013.