/ Source: NBC, msnbc.com and news services
As night fell on Tuesday after a day in which rebel forces gained "full control" over Moammar Gadhafi's fortified Bab al-Aziziya compound in Libya's capital, heavy fighting was reported in a southern desert city, Sabha, that rebels forecast would be Gadhafi loyalists' last redoubt.
Forces loyal to Gadhafi were shelling the towns of Zuara and Ajelat, west of Tripoli, and had gained control of parts of the town, Arabiya television reported.
In Tripoli itself, Reuters correspondents said there still appeared to be some hostile fire around the city center as darkness descended and looting broke out.
Gadhafi speaks out
Early Wednesday, the besieged dictator told state TV that his withdrawal from the bastion was a "tactical move."
He also said the compound was leveled to the ground from 64 NATO airstrikes.
He vowed death or victory in his fight against NATO "aggression."
It was not clear from the remarks when Gadhafi abandoned the Bab al-Azaziya compound.
"We are resisting with all our strength... we will either win or become martyrs, God willing," Gadhafi said.
Gadhafi was speaking on a local Tripoli radio station and his talk was reported by Al-Orouba TV.
Hours later, al-Rai TV broadcast more audio remarks from Gadhafi. "All Libyans must be present in Tripoli, young men, tribal men and women must sweep through Tripoli and comb it for traitors," the Libyan leader said. "I have been out a bit in Tripoli discreetly, without being seen by people, and ... I did not feel that Tripoli was in danger," he added.
Gadhafi government spokesman Moussa Ibrahim told Al-Orouba TV in a live interview after Gadhafi's talk was aired that the regime can resist for months or years.
Ibrahim claimed that 6,500 volunteers had entered Tripoli "in the past six hours" and have spread throughout "all the streets of Tripoli." More tribesmen were on the way to battle rebels, he said.
He threatened to turn Libya into a "burning volcano and a fire under the feet of the invaders."
Ibrahim said forces left the Bab al-Aziziya compound because it "no longer served a military or strategic purpose."
He also said that Gadhafi forces captured four "high ranking'' Qataris and one United Arab Emirates national.
Loyalists strike back
Omar al-Ghirani, a spokesman for the rebels, said loyalist forces had fired seven Grad missiles at residential areas of the capital, causing people to flee their homes in panic.
"The Al-Sour road, which is not far from (Gadhafi compound) Bab al-Aziziya ... is being pounded by Grad missiles and mortars," a witness told Arabiya television by telephone.
The station also reported that pro-Gadhafi forces are heading from Bani Walid toward Tripoli, about 60 miles northeast, to attack rebels.
He told Reuters Gadhafi forces had also fired mortar rounds in the area of the Tripoli airport.
The continued shooting suggested the six-month popular insurgency against Gaddafi, a maverick Arab nationalist who defied the West and kept an iron hand on his oil-exporting, country for four decades, had not completely triumphed yet.
Gadhafi's compound, shown in news video as heavily damaged by NATO airstrikes but with some buildings still standing, had emerged as one of the last centers of government resistance before it was overrun by rebels.
"It's over! Gaddafi is finished!" yelled a fighter over a din of celebratory gunfire across the Bab al-Aziziya compound, Gadhafi's sprawling citadel of power in the Libyan capital.
The rebels' political leaders planned high-level talks in Qatar on Wednesday with envoys of the United States, Britain, France, Turkey and the United Arab Emirates on the way ahead.
Another meeting was scheduled for Thursday in Istanbul.
Loyalists fight back

Bastion overrun
"Strategically, this means that Tripoli has fallen," NBC's Richard Engel said Tuesday from inside the compound.
Several rebels, in a show of contempt for the man who ruled their vast North African nation for more than 40 years, placed a head seized from a statue under their feet and kicked it. One happily lifted it above his head while his comrades danced and yelled joyfully around him.
Others tore large pictures of Gadhafi and defaced a symbolic statue of a fist gripping a U.S. fighter jet. Gadhafi had the sculpture installed in front of a house in the compound that was bombed in 1986 on the orders of President Reagan.
Fighters poured into the area by the hundreds, carting off boxes of ammunition and firing weapons in the air in celebration.
There was heavy fighting before the rebels broke through the green gates of the compound and shooting broke out from other parts of the large, sprawling complex. The body of a slain Gadhafi fighter with a gaping head wound was sprawled on the floor of one of two tents that had been used for pro-regime protests. The other tent was partially on fire.
Smoky fires shrouded landscaped palms and multistory buildings of what the rebels have called Gadhafi's last hideout. Many buildings were looted, and rebel fighters walked around with high quality weapons, including advanced machine guns and, in one case, a gold-plated pistol, The New York Times reported.
Libyan rebels said on Wednesday more than 400 people were killed and at least 2,000 were injured in the fight to wrench control of Tripoli from Gadhafi, Al Arabiya Television said.
Gadhafi out of sight
Gadhafi's whereabouts remained unknown to the public early Wednesday.
Troops loyal to Gadhafi were retreating from the oil port Ras Lanuf, which rebels said they took Tuesday, to Red Valley, toward the direction of Sirte, the leader's hometown and one of the few remaining cities still under his control.
Al-Jazeera reported that pro-Gadhafi forces fired several scud missiles from Sirte late Tuesday night. A scud was also fired Monday, military officials said.
It was not immediately clear whether Gadhafi or members of his immediate family were in the compound when it was breached by the rebels, but the ferocity of the battle led many to speculate that the maverick leader may have been inside.
Kirsan Ilyumzhinov, Russian head of the World Chess Federation, said he spoke Tuesday with Gadhafi, who remains in Tripoli and "wants to defend his country."
Ilyumzhinov's visit to Tripoli this summer was the last time the Libyan leader was seen in public after NATO airstrikes began. The two of them were filmed playing chess together on June 12.
"In Arabic language, Moammar Gadhafi said that now he is in his country, he doesn't want to leave his homeland, he wants to defend his country and he wants to thank all people in the world who support his small country, small nation who fights against countries from NATO," Ilyumzhinov said in an interview with Associated Press Television News. "And after that he adds in English: Thank you very much!"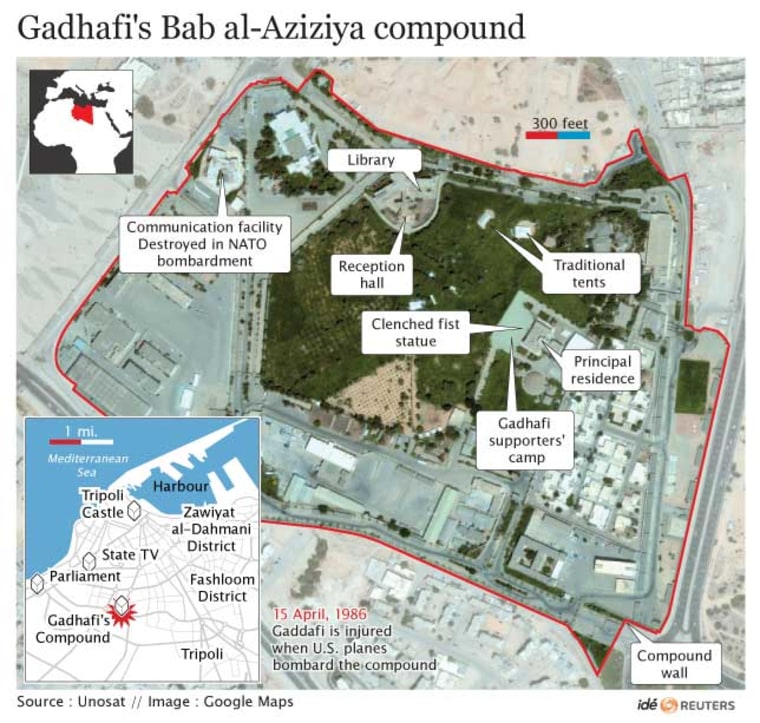 In Tripoli, Abdel-Aziz Shafiya, 19, walked down one of the main roads of the compound with a rocket-propelled grenade launcher in one hand and a Kalashnikov in another. The teenager, who is from the embattled city of Misrata, said he felt "an explosion of joy inside."
"I lost friends and relatives and now I can walk into Gadhafi's house," he said. "Many of my friends have died and now all of that meant something."
The battle for Bab al-Azizya, in which mortars, heavy machine-guns and anti-aircraft guns were used, came hours after Gadhafi's son and heir apparent, Seif al-Islam, turned up free to thwart Libyan rebel claims he had been captured and rally supporters.
His surprise appearance underlined the potential for Gadhafi to strike back even as his grip on power seemed to be slipping fast.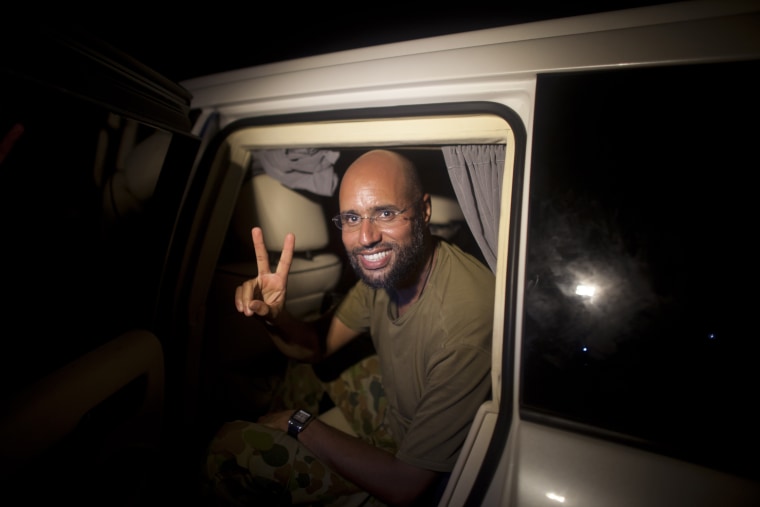 Gadhafi's former right-hand man Abdel-Salam Jalloud told Al-Jazeera television that he thought the Libyan leader was moving around the outskirts of Tripoli, taking shelter at private homes, small hotels and mosques. Jalloud defected this month.

Mahmoud Shammam, a Doha-base spokesman for the rebels' interim council, was more cautious.


"We don't know who is inside Bab al-Aziziya. We believe that there is someone there and that he is leading a fierce battle. It is a symbol. This is the final castle of Gadhafi," he said.

NATO warns Tripoli remains dangerous
Street battles between pro-Gadhafi troops and rebels also broke out elsewhere in the city. Thick clouds of gray and white smoke filled the Tripoli sky as heavy gunfire and explosions shook several districts of the city of 2 million people.
NATO warned the situation in Tripoli remains very dangerous and promised the alliance will continue bombing forces loyal to the 69-year-old Libyan leader if they keep fighting.
"Snipers, shelling, missiles could do much damage, but they can't change the course of history or the outcome of this campaign," spokesman Col. Roland Lavoie told reporters at a news conference in Naples, Italy. He said NATO had to stay vigilant because of fluidity of the situation on the ground.
"Most notably, Tripoli is still the site of numerous clashes between pro- and anti-Gadhafi forces, and the tension is far from being over. The situation in Tripoli is indeed very, very dynamic and complex, even today, and we are closely monitoring developments hour after hour," he said.

NATO officials in Brussels said the alliance's warplanes were flying over Tripoli on Tuesday, but that there have been no bombing runs.
President Barack Obama said on Monday the situation in Libya reached a tipping point in recent days after a five month NATO-led bombing campaign. However, he acknowledged that the situation remained fluid and that elements of the regime remained a threat.
Saying the conflict was not over yet, Obama cautioned rebels against exacting revenge for Gadhafi's brutal rule. "True justice will not come from reprisals and violence," he said.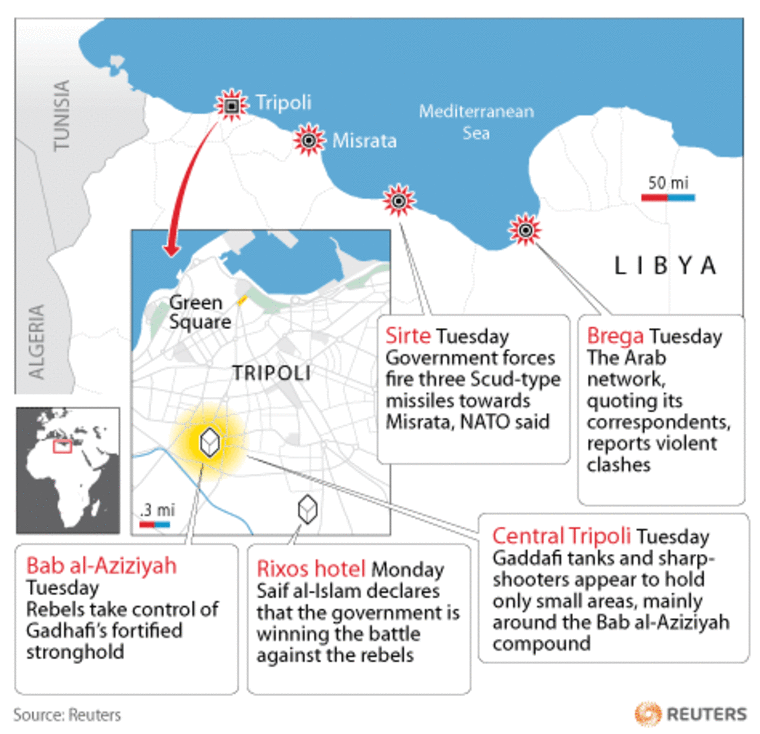 Outside of Tripoli, almost all of eastern and western Libya is now under rebel control. The east of the country from the Egyptian border to Benghazi fell into rebel hands at the beginning of the uprising. In the weeks leading up to Sunday's lightning advance on Tripoli, the rebels consolidated control of the western Nafusa mountain range near the border with Tunisia. It was from there they staged the run on the capital. Most of the rest of the country was quickly falling into their hands.
On Saturday rebels said they gained control of the oil refineries and airport at the oil terminal of Brega, on the road heading out of Benghazi west toward Tripoli.
The rebels' startling breakthrough on Sunday, after a long deadlock in Libya's 6-month-old civil war, was the culmination of a closely coordinated plan by rebels, NATO and anti-Gadhafi residents inside Tripoli, rebel leaders said. Rebel fighters from the west swept over 20 miles in a matter of hours, taking town after town and overwhelming a major military base as residents poured out to cheer them. At the same time, Tripoli residents secretly armed by rebels rose up.
Libyan state television was off the air Monday amid reports it had been seized by rebels.
The first signs emerged of moves to begin restoring oil production that has been the foundation of the economy and a source of hope for Libya's 6 million, mostly poor, people. Staff from Italy's Eni arrived to look into restarting facilities, Foreign Minister Franco Frattini said on Tuesday.
Italy, Libya's nearest European neighbor and the colonial power until World War Two, is a big customer for Libyan energy. But it will face stiff competition from others seeking a share of Libya's wealth — a competition some fear could test the ability of untried rebel leaders to hold the country together.
U.S. intelligence officials told NBC News they believed they could learn a great deal about the country's terrorist activities from a "treasure trove" of material in the Libyan intelligence archives — not only the Lockerbie bombing, but also its support for the Irish Republican Army, Palestinian groups and terrorists like Ilich Ramirez Sanchez, the notorious Carlos the Jackal.
So far, the U.S. has spent nearly $890 million on its part of the NATO air campaign, a senior defense official told NBC News. If operations continue at the same pace until the mandate expires at the end of September, the cost to the U.S. will be more than $1 billion.