/ Source: NBC, msnbc.com and news services
Rebels fought gunbattles with loyalists of Moammar Gadhafi on Thursday as they hunted for his relatives and supporters, according to witnesses and an Arab television station.
A bounty of up to $2 million has been put on the fallen dictator's head. Rebel leaders have also offered an amnesty for anyone who kills or capture him.
While some die-hards kept up the fight to defend Gadhafi, his support was crumbling by the hour. His deputy intelligence chief defected, and even his foreign minister said his 42-year rule was over.
Asked by the British broadcaster Channel 4 if a negotiated settlement or safe passage for Gadhafi from Libya was still possible, Foreign Minister Abdul Ati al-Obeidi said: "It looks like things have passed this kind of solution."
Britain's Defense Minister Liam Fox said Thursday that NATO is supporting Libyan rebels hunting Gadhafi and his sons and has stepped up air raids targeting loyalists.
"I can confirm that NATO is providing intelligence and reconnaissance assets to the NTC (National Transitional Council) to help them track down Colonel Gadhafi and other remnants of the regime," he told Sky News.
He declined to comment on a report in the U.K's Daily Telegraph newspaper that British special forces were on the ground in Libya assisting with the hunt. Many analysts believe Britain, France and Arab allies, notably Qatar, may have some special forces in Tripoli.
Paris Match magazine also reported Thursday that Libyan commandos had come came close to capturing Gadhafi when they raided a private home in Tripoli where he appeared to have been hiding.
Citing a source in a unit which it said was coordinating among intelligence services from Arab states and Libyan rebels, the French weekly said Gadhafi was gone from the safe house when agents arrived about 10 a.m. (4 a.m. EDT) on Wednesday after a tip-off from a credible source. But, the magazine said, they found evidence that he had spent at least one night there — though it did not say how recently that was.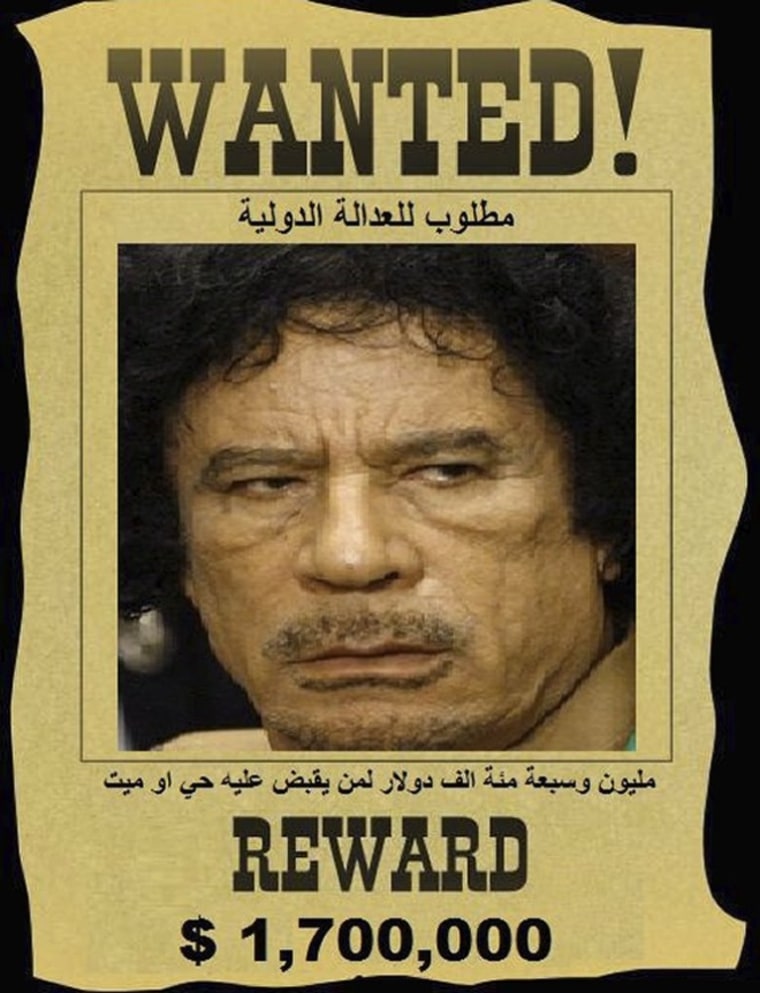 Meanwhile, a Reuters correspondent said bursts of gunfire rang out near the Corinthia Hotel in central Tripoli late Wednesday and a column of smoke rose from the area.
The shooting came after a group of heavily armed rebels arrived at the hotel demanding to search room after they had heard that one of Gadhafi's sons, Saadi, was inside.
A Reuters reporter saw about half a dozen rebels arrive in a truck mounted with an anti-aircraft gun. The men ran into the hotel and blocked off access to the elevators as they prepared to search the building room-by-room.
In a separate incident, a rebel spokesman told Al Arabiya Television that gunmen fought a fierce battle with Gadhafi's top military commander, Gen. Abdul Rahman Al Syd, at his farm in Tripoli on Wednesday, but it was not clear whether he had been captured.
A Reuters television crew filmed heavy clashes Wednesday afternoon on the edge of Gadhafi's Bab al-Aziziya compound, which was ransacked by rebels Tuesday.
The rebels pulled back at sundown, saying they did not want to hurt civilians they believed were caught in the cross fire inside some of the buildings. The rebels vowed to return to fight again in the morning.
'He must be found'
Senior U.S. officials told NBC News on Wednesday that there were serious concerns over a "leadership vacuum in Tripoli," where neither the National Transition Council nor Gadhafi appeared to be in command.
The U.S. officials, who spoke on condition of anonymity, said Washington was encouraging rebel leaders to establish some level of "presence and authority" in the capital as soon as possible.
A senior U.S. official said that as long as Gadhafi remains at large, he could remain a symbolic figurehead for any armed opposition to a transitional government.
"He's clearly gone to ground, and whether it takes days, weeks or months, he must be found," the official told NBC News' Jim Miklaszewski in Washington.
However, rebel leaders were beginning to set up a new government in Tripoli. The National Transitional Council, the rebels' interim administration, has been based in the eastern city of Benghazi, which fell under rebel control shortly after the outbreak of widespread protests in February.
"Members of the council are now moving one by one from Benghazi to Tripoli," said Mansour Seyf al-Nasr, the Libyan opposition's new ambassador to France.
The Arab League on Thursday recognized the NTC as the "legitimate representative" of the Libyan people.
Rebel officials are eager to prove they can bring a stable political future to Libya, and that their movement is more than an often-fractious collection of tribes, ethnicities and semiautonomous militias. Mahmoud Jibril, the head of the opposition government, outlined plans for a new constitution and elections and said officials were talking to the U.N. about sending up to 200 monitors to help ensure security in Tripoli.
Rebels found no sign of Gadhafi after storming his compound Tuesday, but rumors churned of his possible whereabouts. White House spokesman Josh Earnest said there was no evidence he had left Libya, but rebel officials acknowledged they could not find him.
"He might be in Sirte or any other place," Jibril said in Paris, where he met French President Nicolas Sarkozy. Sirte, a coastal city 250 miles from Tripoli, is Gadhafi's hometown and a bastion of regime support.
Khaled al-Zintani, spokesman for the rebel military council for the western mountains, said it has set up an operations room with intelligence officers, military defectors and security officers who are trying to find Gadhafi, his family, regime members and his forces. They are collecting information on the location, size and direction of any convoys.
The operations center is in the western mountains, the staging base for the rebels who marched on Tripoli.
Mohammed al-Herizi, an opposition official, said a group of Tripoli businessmen has offered a $2 million reward for the arrest or killing of Gadhafi. The rebels themselves are offering amnesty for anyone who kills him or hands him over.
"The biggest prize is to offer amnesty, not to give money," rebel spokesman Col. Ahmed Bani said.
Elections promisedThe rebels have taken control of much of Libya with the help of a relentless NATO air campaign that included about 7,500 airstrikes against Gadhafi's forces. His defenses around Tripoli melted away as the rebels rapidly advanced and entered the capital Sunday.
An uprising in Libya ousts dictator Moammar Gadhafi.
Jibril said a commission created with members from around Libya would write a new constitution, which would be put up for a referendum. He didn't specify a timetable but said that once a constitution is adopted, elections for parliament would be held within the next four months, and its president would be Libya's interim leader until a presidential election sometime later.
In the postwar period, a new army will be created, he said, and the National Transitional Council planned "to call on all those who took up arms to join either the new army or the new police force that we will constitute in coming days."
Fighting continued, however, and not just in Tripoli. Jibril said pro-government forces were shelling a number of southern cities.
Residents of the port town of Zwara, about 70 miles west of the capital, said they had suffered through four days of shelling. All roads to the city had been cut off, and rebels said they were running low on supplies.
As they are routed elsewhere, Gadhafi's forces "take their revenge by shelling our town," Sefask al-Azaabi, a rebel, said by telephone. "We are appealing to the (rebel) military council to send us reinforcements or this town will be finished in no time."
In Tripoli, pro-Gadhafi snipers repeatedly fired on the fighters from tall buildings in the Abu Salim neighborhood, a regime stronghold, rebel Mohammed Amin said.
American writer escapesHe said the rebels had surrounded Abu Salim, home to the country's most notorious prison and scene of a 1996 massacre of protesting political prisoners, but had been unable to push into it. But late Wednesday night, al-Kabir, the rebel spokesman, said rebels released thousands of inmates from Abu Salim, many of them political prisoners who had been held there for years.
Matthew VanDyke, a writer from Baltimore missing since March in Libya, was among those who escaped, his mother said. VanDyke called her and said he had been held in solitary confinement, but fellow prisoners helped him escape to a compound where he borrowed a phone. He had traveled to Libya to write about the uprising against Gadhafi.
The State Department said Wednesday that all American citizens known to have been detained in Libya have been released.
A State Department spokeswoman, Victoria Nuland, said in a statement that the families of those detained have been notified of their freedom and welfare. No further details were given.
In other developments:
Four Italian journalists who were abducted near Zawiya on Wednesday have been freed, Italian daily Corriere della Sera reported.
The United States asked the U.N. Security Council to unfreeze $1.5 billion of Libyan assets to support the rebels and for humanitarian assistance. No vote was held on the draft resolution, but diplomats said a vote could come Thursday or Friday
A ship chartered to rescue hundreds of foreigners from Tripoli docked in the Libyan capital's port after waiting offshore for days due to fighting.