Texas Gov. Rick Perry, who recently underwent an experimental injection of his own adult stem cells to relieve back pain, pushed a bill through the Legislature in June that paves the way for a company co-owned by his doctor to become the first state-approved "bank" to store and cultivate such cells for medical treatment, according to internal emails and corporate records obtained by NBC News.
The measure, which was adopted without any public hearings, could prove a financial bonanza for Celltex Therapeutics Corp. — a Houston company headed by Stanley Jones, the surgeon who injected the cells into Perry, and David G. Eller, the former chairman of the board of Texas A&M University and a longtime political donor to Perry who says he has served as a "strategic" adviser for his presidential run, according to industry officials and scientific researchers who have closely followed the issue.
Perry's role in pushing the stem cell bank bill, at the same time he was receiving injections of stem cells, illustrates two aspects of his record that are drawing increasing attention as he pursues the presidency: his enthusiasm for ideas that are sometimes outside the scientific mainstream and what critics view as his willingness to use the levers of state government to benefit friends and political benefactors.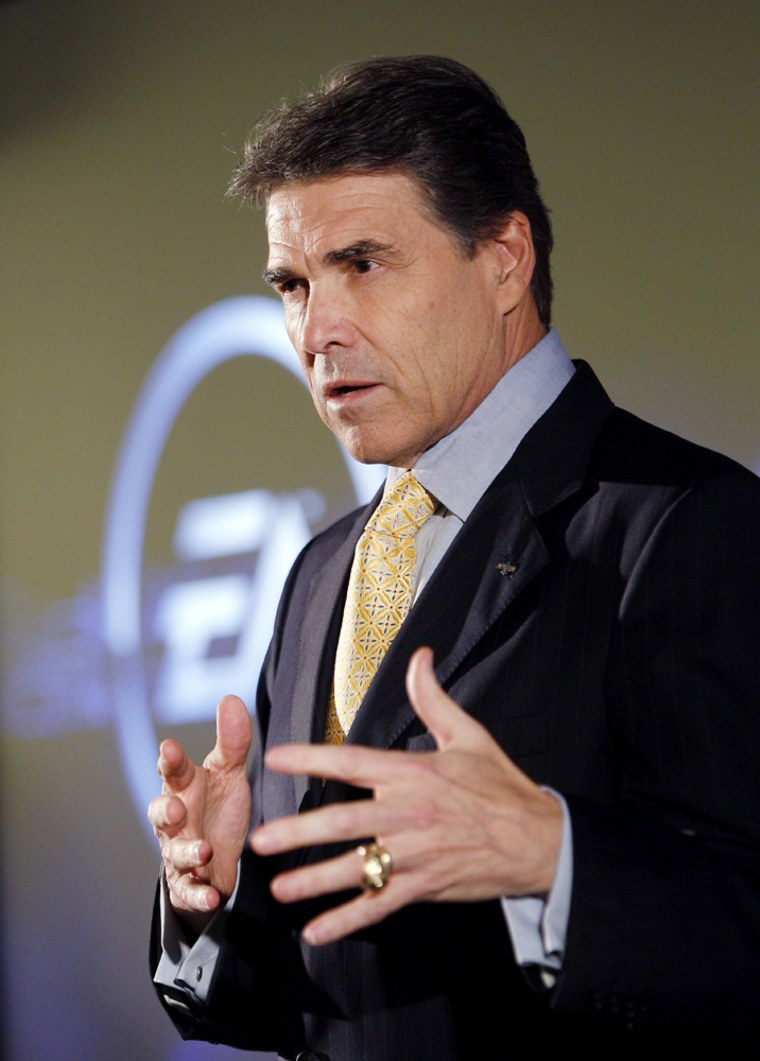 'Unproven science'
The use of adult stem cell treatments, which involves re-injecting a person's stem cells back into his or her body after they have been extracted and "cultured," or expanded in a laboratory, is viewed as experimental or "unproven science" by many top researchers. (It is also different from embryonic stem cell research, which is vigorously opposed by social conservatives like Perry.)
While many scientists believe ongoing clinical tests could lead to using adult stem cells to treat diseases — including heart ailments and Parkinson's — the U.S. Food and Drug Administration has not approved adult stem cell infusions for the public and has moved to crack down on some companies that are marketing such therapies, citing potential safety risks and misleading advertising to consumers.
But the new Texas measure, which Perry signed into law last month, could help turn the state into a national capital of such treatments: It authorizes the Texas Health and Human Services Commission to establish rules for the operation of a single "autologous stem cell bank" that would be approved to receive "blood and tissue components" from "live human donors."
"The governor is interested in innovative medical procedures that cure people," Mark Miner, Perry's campaign spokesman, said when asked about the governor's initiative. "This is about treating people for diseases (and) making Texas a destination for coming to be treated for ailments and diseases."
Minor added that the adult stem cell initiative was "not related" to the activities of Celltex, whose two top executives, Jones and Eller, met with Perry in March, three months before it launched a new stem cell bank just as the legislation was moving through the Legislature. He said Perry had long backed investments in adult stem research and had made this a "priority" area.
"That's why Texas is a leading state in health care," he said.
The bill that passed in Austin was originally sponsored by state Rep. Rick Hardcastle, whose rural district includes the governor's parents and who suffers from multiple sclerosis — a disease he says he hopes can be successfully treated through adult stem cell infusions.
When originally proposed by Hardcastle in early June, the bill authorized the licensing of multiple adult stem cell banks in the state. But it was changed to authorize the approval of a single bank after being redrafted by Perry's office, according to copies of internal emails that circulated among state legislators in June.
"The governor's office has asked us to go forward with this," one of Hardcastle's aides wrote June 8 after receiving a revised version of the lawmaker's amendment from Perry's office that changed the word "banks" to "bank."
Miner said the change was a mistake that would be corrected in the future.
"It was a drafting error," Miner said. "The legislation was always intended to cover not just one bank, but all banks."
Perry surgery
In March, Celltex, the company co-founded by Jones and Eller (and then operating under a different name), signed a $30 million licensing agreement with RNL Bio, a South Korean biotech company, according to a copy of the agreement obtained by NBC News. RNL has aggressively promoted the use of adult stem cells for medical and cosmetic use. According to the internal legislative emails, one of its executives provided the initial draft of the legislation introduced by Hardcastle.
Eller, who has been friends with Perry for more than 30 years and has donated $35,000 to his gubernatorial campaigns, is Celltex's chairman. Jones, the governor's back surgeon, is the firm's vice chairman and medical director. The firm is also backed by about 30 Texas oil and gas investors, many of whom are also Perry supporters, according to Eller. (He declined to identify the other investors.)
As part of the new contract, Celltex will have the exclusive rights to market RNL Bio's stem cell technology in North America. Eller said he believes adult stem cell treatments will become a "multi-billion dollar industry." But before signing the contract, Eller said, he did his "due diligence" and consulted with Perry.
"He told me that, certainly, anything that we could do that would help and enhance the health of citizens, he was for it," Eller said.
On June 7, the day before Perry's redrafted stem cell bank bill was submitted to state lawmakers, RNL officially registered as a foreign corporation in Texas, stating its intention to provide "stem cell therapeutics" and "stem cell banking services."
Although the Texas Health Commission has not yet begun writing rules governing such procedures, RNL and Celltex have already opened their new lab outside Houston and begun offering their services to Texas consumers, executives of both firms told NBC News.
Among the services the firms are offering: "lifetime banking options" that include paying up to $50,000 apiece for "culturing" and "lifetime cyropreservation" of a customer's adult stem cells to be used for future medical use, according to a copy of its "banking services fees" menu that Celltex provided to NBC News.
In recent years, Perry has publicly backed adult stem cell research, approving millions of dollars in state grants, contending that such research could yield treatments for diseases ranging from diabetes to many forms of cancer. He has also argued that it can put an end to embryonic adult stem cell research.
"Let's get Texas in on the ground floor and invest in adult stem cell research, the one area of that field that is actually proven to expedite cures," Perry said in his 2009 State of the State address. "Expertise in this emerging and increasingly promising field will not only bring healing to the suffering and create jobs for Texans, it will also establish an appropriate firewall protecting the unborn from exploitation."
What hasn't been known until recently was Perry's willingness to use his own stem cells to advance the cause — and the commercial interests in Texas that are positioning themselves to benefit from his personal and governmental support.
As first reported by The Texas Tribune, Perry underwent the stem procedure in late June — a decision that surprised many in Texas, especially because it came on the eve of his decision to run for president.
Jones, the governor's back surgeon, confirmed to NBC News that the governor had small amounts of fat tissue extracted from his body in early June. The cells from the tissue were then cultivated and grown in the new Houston-area lab being run by RNL Bio and Celltex.
Jones said he then reinjected the adult stem cells into the governor on two occasions — once during surgery at a Houston hospital to fuse vertebrae in the governor's spine and a second time intravenously in Jones' medical office. Perry is due to receive a third intravenous injection in his office shortly, he said.
"This is the future of medicine, OK?" Jones said in an interview about Perry's treatment, saying that before the injections and surgery, Perry was experiencing "very, very painful" back problems that made it difficult for him even to walk up and down stairs.
"He's not cured, but he can run up and down the stairs, and he can do things that are absolutely phenomenal," Jones said. "His physical shape is unreal."
(Miner, Perry's campaign spokesman, said Perry made a personal decision to undergo an "innovative" procedure and paid for it out of his own pocket. Another campaign official, Ray Sullivan, said in an email that "the governor is recovering quickly and thoroughly." Asked about reports that Perry continues to wear a back brace, Sullivan replied: "use of any kind of brace is optional and intermittent.")
Suspicious therapy?
But there are serious legal, safety and effectiveness questions surrounding such therapies — as well as the activities of RNL Bio, according to federal regulators, scientists and an independent watchdog group that monitors stem cell research
"A major part of my concern is that he is legitimizing a process which is unfortunately highly suspicious," said George Q. Daley, a Harvard Medical School professor and past president of the International Society for Stem Cell Research.
Daley noted that in addition to receiving stem cell injections in his spine to enhance the healing from his back surgery, Perry also received intravenous injections from Jones.
"That is bizarre, quite frankly ... and I would be concerned about his safety," Daley said. "These cells taken from Governor Perry's body were kept in the petri dish for many weeks, and during that time we really don't know what happens to them. And that's the time when problems like infections, mutations and other complications can set in, making this a potentially risky intervention. It is certainly unproven."
Citing similar concerns, the FDA this year moved to shut down another company that was marketing adult cell therapies in Colorado. The agency contended that cultured stem cells are the equivalent of a "drug" that can become "adulterated" in a lab and therefore need agency approval before they are sold to the public, according to court documents the agency has filed in the case.
In another recent case, federal prosecutors brought criminal charges against the operator of an Arizona medical clinic that marketed stem cell therapies for cancer and other chronic illnesses. In a plea deal, the operator of the clinic pleaded guilty to 12 charges, including selling and using the mail to distribute what the agency concluded was a "drug" that had not been approved by the FDA. (Prosecutors had charged that the clinic operator obtained the stem cells on the black market from umbilical cords bought from the parents of newborn babies.)
(Another Texas firm, BioLife Cell Bank, also recently started an adult stem cell bank. But unlike the Celltex-RNL venture, it does not engage in "culturing" or growing cells -- the aspect of adult stem cell treatments that is considered most controversial and most likely to be objectionable to the FDA.)
Shelley Burgess, an FDA spokeswoman, said she could not comment on whether the agency would investigate RNL Bio or Celltex for providing stem cells to Perry. But when the agency becomes aware of companies that are marketing adult stem cell therapies to the public without agency approval, "we would look into that," she said.
Controversial history
RNL Bio, Celltex's partner, has had a controversial history and was recently expelled from an international medical society for its alleged failure to impose safety controls after the death of one of its patients from a blood clot, according to the executive director of the group.
The company first garnered worldwide headlines three years ago for being the first company to commercially clone dogs, replicating five puppies from the skin cells of Booger, a deceased pit bull terrier owned by a California woman. But it has also aggressively marketed adult stem cell treatment around the world, touting its abilities to cure patients of everything from hearing loss to arthritis.
The company's headquarters is in South Korea, which bans adult stem cell procedures. As a result, the company has advertised and set up clinics for its treatments in Japan, China and Mexico, prompting charges by some scientists and watchdog groups that it is engaging in "stem cell tourism."
Last year, the International Cellular Medicine Society, a professional organization of stem cell researchers and practitioners, dispatched a team of scientists to investigate the death of an RNL patient in Japan who died of a blood clot that migrated to the lungs.
The association concluded that the death was "likely" triggered by RNL's stem cell treatment and announced that RNL had agreed to make changes in its procedures that included better informing patients and their doctors of the risks involved.
But afterward, "we never heard from them again," said David Audley, executive director of the society, explaining that he sent several emails and placed phone calls that went unanswered. As a result, "the company was expelled from the ICMS," Audley said in a statement he provided to NBC News.
Asked in an interview about the medical society's action, Donna Lee, RNL's vice president for business development, said, "Oh, we didn't know about that."
Lee and Jeong Chan Ra, RNL's chairman, both insisted in a joint interview that they were unaware of the society's concerns because Ra had been traveling and had not had a chance to review a recent email from the group. Ra also said that the death of the patient in Japan was unrelated to his stem cell treatments.
"According to my research, your stem cell is for you (the) most, most safe technology," Ra said. "... It's common sense."
'Revolutionary potential'
Despite the questions about its treatments, RNL last year landed an extremely enthusiastic customer: Jones, Gov. Perry's back doctor. Jones told NBC News that, after hearing about the company's treatments, he flew to Japan last year in hopes that an adult stem cell infusion could cure crippling arthritis in his hands that had spread throughout his body and made it virtually impossible for him to operate on patients.
"I couldn't even believe how much pain I was in," Jones said in the interview. "I could not walk up and down the stairs. I couldn't turn the keys on in my car. I couldn't honestly put my gloves on to operate. I couldn't even hold a scalpel."
But within five months after receiving the stem cell injections, Jones said, he got miraculously better.
"I woke up one day and I had no pain," he said. "And I jumped out of bed and I told my wife, I said, 'Wow ... this is — it's amazing.'"
Ever since, Jones said, he has felt he had a "calling" to spread the word about adult stem cell treatments, causing him to encourage his most famous patient — Rick Perry — to receive such injections for his back pain.
It also led him to form Celltex with Eller. Celltex signed its exclusive marketing agreement to market RNL's treatments on March 19. The day after the contract was signed, Eller and Jones took Ra and Lee to meet Perry in the governor's office in Austin to discuss the future of such treatments in Texas.
After the stem cell bank legislation passed and he had his own procedure, Perry wrote a letter in late July urging the Texas Medical Board to adopt new rules that would "recognize the revolutionary potential" of adult stem cell therapies and would protect and encourage doctors in the state to use such treatments.
The Medical Board, a state body whose members are appointed by the governor, has since appointed a "stakeholders' group" that will draft the new rules. That group includes Jones.
As for RNL, it has recently assembled a promotional video on YouTube that touts the company's work in adult stem cell treatments. Among the highlights: photos of this year's meeting among Ra, the CEO; David Eller; and Gov. Perry.