/ Source: NBC, msnbc.com and news services
The Obama administration on Tuesday removed or reassigned the top officials involved in a widely criticized U.S. operation to trace the flow of illegal guns into Mexico.
"Fast and Furious" was intended to gather information on how Mexican drug cartels use operatives in the U.S. to buy and smuggle guns across the border. Federal Alcohol, Tobacco and Firearms agents were instructed to watch — but not to stop — the illegal sales in the hope of gathering intelligence on how the smugglers worked.  But in the process, hundreds of guns wound up in the hands of Mexican drug gangs. Two of the weapons turned up at the scene where a U.S. Border Patrol agent was killed in a shootout.
The acting director of ATF, Kenneth Melson, has been reassigned to a Justice Department policy office. And Dennis Burke, the U.S. attorney in Arizona who approved the "Fast and Furious" operation, resigned Tuesday.  A senior Justice Department official said Attorney General Eric Holder had lost confidence in them and that ATF needed "a fresh start."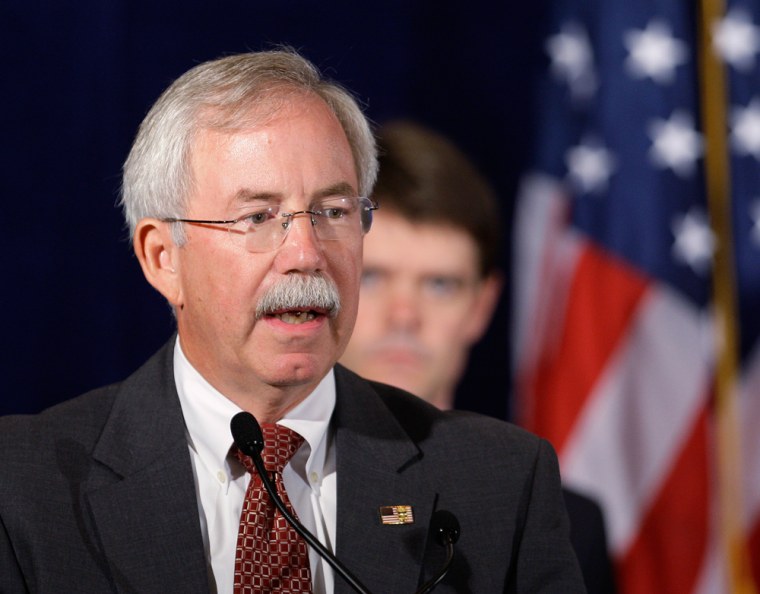 Melson has been under fire and has admitted mistakes in the sting operation meant to try to crack down on the flow of weapons to violent drug gangs.
Burke is an experienced federal prosecutor. He was also a chief of staff to Janet Napolitano when she was governor of Arizona. Napolitano is now homeland security secretary.
"My long tenure in public service has been intensely gratifying. It has also been intensely demanding. For me, it is the right time to move on to pursue other aspects of my career and my life and allow the office to move ahead," Burke said Tuesday in a memo to his staff.
In a related change, the line prosecutor in the U.S. Attorney's Office in Phoenix who worked on the Fast and Furious investigation, Emory Hurley, was reassigned from criminal cases to civil case work, according to an administration official.
At ATF, Melson will be replaced by Todd Jones, the U.S. Attorney from Minnesota, who will now do both jobs — continuing as U.S. attorney while running ATF. The Bush administration did something similar, appointing the U.S. Attorney from Boston to run ATF and continue as a prosecutor.
"Fast and Furious," has spawned congressional and internal Justice Department probes and put the Obama administration on the defensive about whether dangerous weapons were knowingly allowed to cross the border.
Vanishing armsRepublicans in Congress have been demanding the Obama administration explain who knew what and when about the ATF program, which was conceived of and run out of the agency's Phoenix division.
Authorities had hoped they would be able to follow the guns to cartel leaders, but ATF agents did not track the weapons after they were transferred from the initial buyer to others. Some agents have said they were not allowed to continue the pursuit.

Instead, numerous weapons from the operation, which began in late 2009 and ran through 2010, have shown up at crime scenes in Mexico and the United States.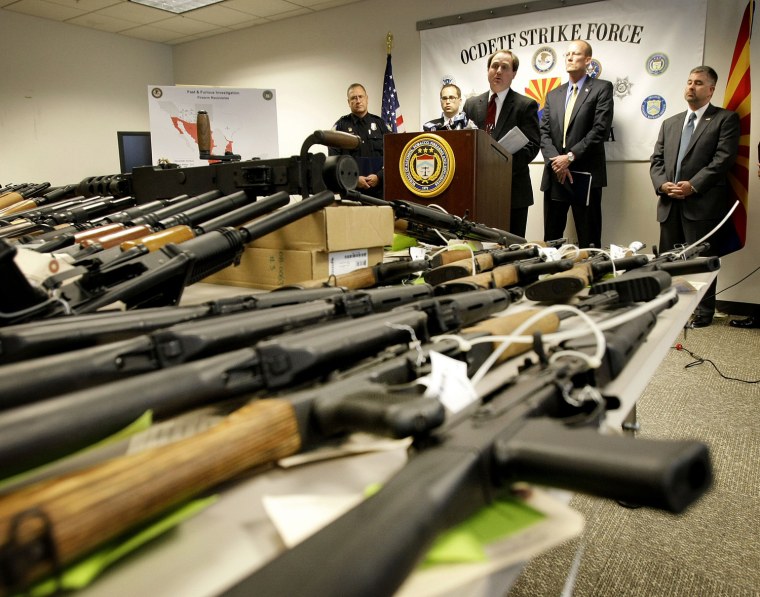 ATF intelligence analyst Lorren Leadmon testified before Congress that of more than 2,000 weapons linked to the operation, some 1,400 have not been recovered.
U.S. Border Patrol agent Brian Terry died in a December 2010 shootout on the American side of the border and two guns found there have been traced to the sting. It is not yet known if those guns were used to fire the fatal shots.
Terry's slaying effectively ended the operation.

Mexican authorities have complained bitterly about the thousands of guns that cross the border from the United States each year and want Washington to do more to stem the flow.
Melson took the unusual step of being interviewed on the July 4 holiday by congressional investigators. During those discussions he acknowledged mistakes had been made and other law enforcement agencies had had critical information that they did not share about their targets.
House Oversight and Government Reform Committee Chairman Darrell Issa, R-Calif., said the personnel changes announced Tuesday were warranted.
"While the reckless disregard for safety that took place in Operation Fast and Furious certainly merits changes within the Department of Justice, the Oversight and Government Reform Committee will continue its investigation to ensure that blame isn't offloaded on just a few individuals for a matter that involved much higher levels of the Justice Department," Issa said in a statement.
"There are still many questions to be answered about what happened in Operation Fast and Furious and who else bears responsibility, but these changes are warranted and offer an opportunity for the Justice Department to explain the role other officials and offices played in the infamous efforts to allow weapons to flow to Mexican drug cartels."
Sen. Charles Grassley, R-Iowa, whose investigation brought problems with Operation Fast and Furious to light, called for a full accounting from the Justice Department as to "who knew what and when, so we can be sure that this ill-advised strategy never happens again."
Jones will continue to serve as U.S. attorney when he assumes the top ATF spot on Wednesday.
In an interview, Jones said that ATF personnel "have been hugely distracted in some parts of the country with other things" and that he plans to listen to people within the agency, then "we'll get everybody refocused, to the extent they are not focused."