/ Source: NBC, msnbc.com and news services
Australian police on Tuesday rescued a girl from her father who held her captive with a suspected backpack bomb for almost 12 hours, police and local media said.
Riot police were seen escorting the man in handcuffs from the legal office where the standoff occurred.
that the girl, believed to be in her early teens, was heard screaming as riot police removed her from the building.
"Where's my dad, where's my dad?" the girl reportedly yelled as she was led from the building. 
She was loaded onto a stretcher and taken away in an ambulance, the Daily Telegraph reported.
"While distressed she is otherwise believed to be uninjured," New South Wales Police said in a statement, according to the Daily Telegraph.
Authorities had cordoned off the building and spent hours trying to negotiate with the man, who claimed to have explosives in his backpack, Police Assistant Commissioner Denis Clifford said. Their identities were not immediately disclosed.
Police did not immediately say whether explosives had been found in the man's backpack.
"Towards the latter part of the time we've been here, those negotiations have started to break down and then deteriorate to a stage where police have taken action to break into the premises and take a 52-year-old man into custody," Police Assistant Commissioner Denis Clifford said. "He's currently assisting police with their ongoing inquires."
Demands issued
Police said the man issued several demands but declined to reveal details, and said they had not yet established his motive.
They evacuated the building in the Sydney suburb of Parramatta, kept onlookers 100 yards away and were seen entering with at least one automatic weapon. Witnesses said other buildings also were evacuated.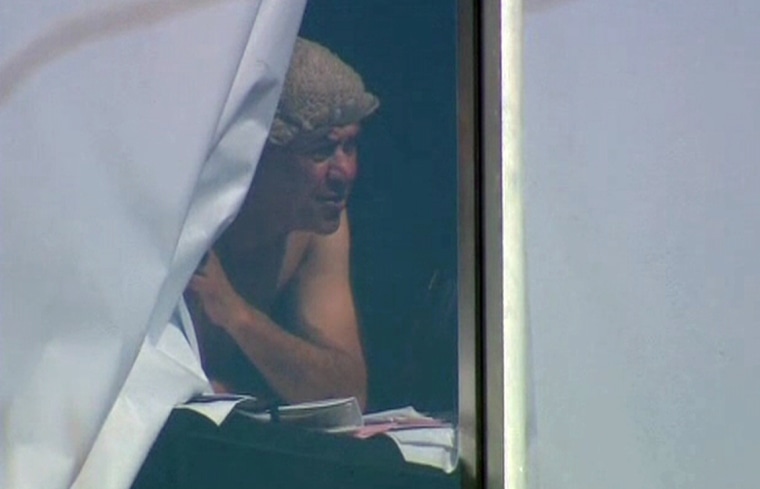 Australian broadcasters showed footage of the man looking from a second-floor window shirtless and wearing the kind of wig worn by judges and lawyers in Australian courts. At one point he spat on the wig.
He later swung a glass bottle like a hammer to smash a plate-sized hole in the office window. He yelled through the hole and threw the bottle, then a telephone handset, which was left dangling by its cord.
Jeremy Buckingham, a lawmaker from the Greens opposition party, said the man spoke to him Monday at state parliament about legal issues.
"He said he had information he wanted to show the attorney-general. He did not clearly articulate his issues," Buckingham told parliament Tuesday.
Earlier, a woman calling herself Betty Hor told journalists she was working at the reception desk at the lawyers' offices when the man approached Tuesday morning and asked to see someone whom Hor had never heard of.
The man went upstairs briefly then returned to the reception desk and repeated his request. She repeated that she had never heard of the man he was looking for.
'Tell them I've got a bomb'
Hor, who spoke to reporters after evacuating the building, said that the man threw a book on her desk and told her to call the unknown man and the state attorney-general's department and "tell them I've got a bomb in my backpack."
Hor called police as the man walked upstairs to a lawyer's office with the girl.
Hor said he seemed frustrated and angry. She said she had never seen him before.
Robert Hoffman, who works in a neighboring office block, said police had evacuated his and other buildings in the vicinity. Police moved people at least 100 yards from the building where the man was holed up, Hoffman said.
Five ambulances and two fire trucks were standing by at the scene.
Clifford said he did not believe that the standoff had anything to do with the family court that adjoins the building.
Bitter family court cases have triggered some high-profile crimes recently in Australia, including the murder of a 4-year-old girl whose father threw her more than 260 feet from a bridge in the southern city of Melbourne in 2009.
The father, Arthur Freeman, 37, was sentenced in April to life in prison after a jury rejected his plea of innocence due to mental illness.
Tuesday's standoff came a month after an extortionist broke into a Sydney home and fastened a fake bomb around the neck of a millionaire's teenage daughter.
She spent 10 terrifying hours with the device strapped to her before police determined it was harmless and freed her.
A man has been arrested in the United States in connection with the incident and is awaiting extradition.