/ Source: NBC News and news services
A forensic police expert who conducted the original investigation in the Amanda Knox case insists there was no contamination on crucial pieces of evidence linking the American student and her co-defendant to the murder of her British roommate.
Patrizia Stefanoni examined DNA traces in the aftermath of the 2007 killing of Meredith Kercher. But her work was criticized by court-appointed experts who have alleged glaring errors in evidence gathering and possible contamination, including on a knife considered to be the murder weapon.
Stefanoni told an appeals court Tuesday that she could rule out contamination on the knife, which she insists contained Kercher's genetic profile.
An independent review of DNA traces in the case found that much of the evidence collected in the original investigation fell below international standards and may have led to contamination of the samples. The review especially focused on some traces of DNA linking the defendants to the crime, and concluded that due to the risk of contamination and the low amounts of DNA used for the testing it was impossible to extract a genetic profile with any certainty.
In the first trial, prosecutors maintained that Knox's DNA was found on the knife's handle and Kercher's DNA was found on the blade. They also say Sollecito's DNA was found on the clasp of Kercher's bra, mixed with the victim's.
Stefanoni also said the international standards in evidence collection protocols have changed since the case began, NBC News reported.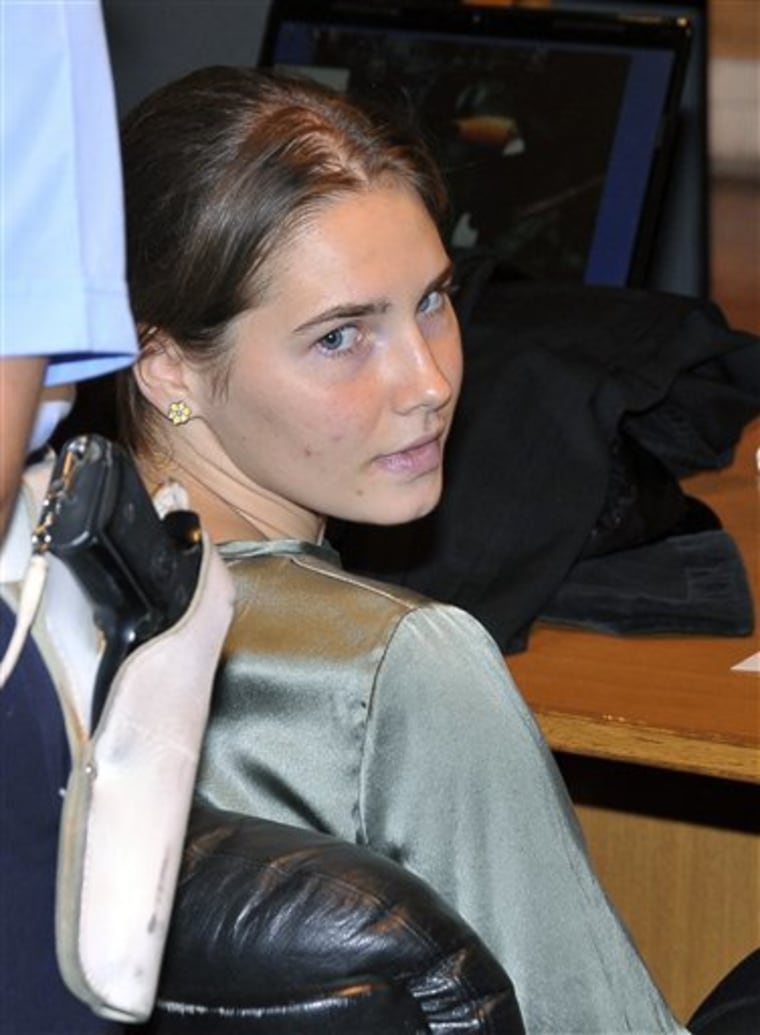 But Carla Vecchiotti, one of the court-appointed expert questioned Monday over the extraction of DNA profiles from the bra clasp, said the data was so mixed that a very high number of genetic profiles could be extracted, depending how one combined the data.
"I could find yours, too," Vecchiotti told the presiding judge. "I'm there, too," she said, adding that some data was compatible with her own DNA. She said Kercher's profile was the only certain one.
The findings have boosted the defendants' efforts to be cleared and gain freedom after almost four years in prison.
"I think we're feeling more hopeful," Knox's father Curt Knox told NBC's Lester Holt on Tuesday.
Knox and her co-defendant and one-time boyfriend, Raffaele Sollecito, were convicted of sexually assaulting and killing Meredith Kercher in the apartment that Knox and the 21-year-old Briton shared while studying in Perugia. Knox was sentenced to 26 years in prison; Sollecito to 25. Both deny wrongdoing and have appealed the Dec. 29 verdict.
A third person, Rudy Hermann Guede of the Ivory Coast, also has been convicted of Kercher's murder in a separate proceeding. Italy's highest criminal court has upheld Guede's conviction and his 16-year-prison sentence. Guede denies wrongdoing.