/ Source: msnbc.com news services
Tropical Storm Lee's leftovers brought welcome wet weather to farmers in the Southeast and flood worries to an already soaked Northeast on Wednesday as three more tropical cyclones spun in the Atlantic.
Tropical Storm Maria, the 13th named storm of this year's season, formed in the Atlantic; Tropical Storm Nate sprang to life in the western Gulf of Mexico; and Hurricane Katia continued to churn up surf along Bermuda and the East Coast.
Lee remnants spawn flood worries
Drenched and dispirited, East Coast residents recovering from Hurricane Irene were stuck under the chugging remnants of Lee Wednesday, some grudgingly preparing to move to higher ground yet again as rivers rose.
From Maryland to New England, heavy rains swelled waterways, flooded highways and stretched emergency responders already dealing with cleanup from last week's punishing blow from Irene. Sodden ground gave rain nowhere to go but directly into streams, creeks and rivers that rushed a turbid red-brown past rural communities.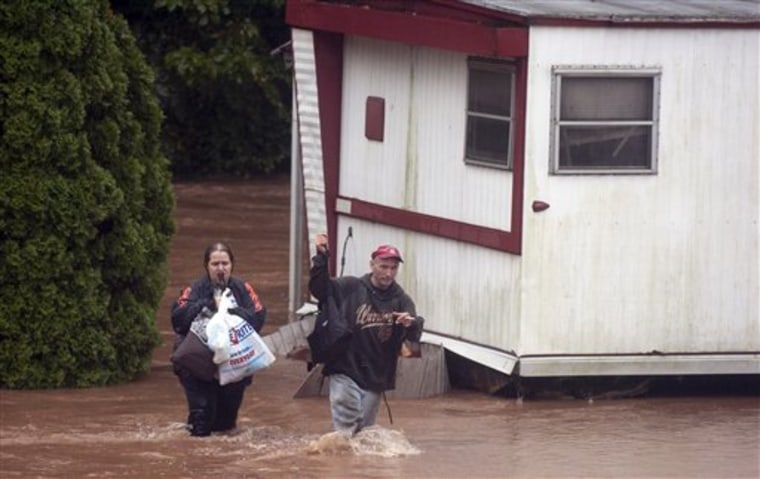 "Now it's getting on my last nerves," said Carol Slater, 53, of Huntersfield, N.Y., on the northern edge of New York's Catskill Mountains and just outside of hard-hit Prattsville.
The National Weather Service predicted heavy rain would continue across the mid-Atlantic and Northeastern states through Thursday with anywhere from 4 to 7 more inches falling and up to 10 in isolated pockets. Flood watches and warnings were up throughout the region.
New York positioned rescue workers, swift-water boats and helicopters with hoists to respond quickly in the event of flash flooding. Teams stood by in Vermont, which bore the brunt of Irene's remnants last week, and hundreds of Pennsylvania residents were told to flee a rising creek.
By noon Wednesday, Prattsville was cut off, its main roads covered with water as public works crews tried to dredge the creeks to alleviate the flooding. Trash bins stood in the mud-caked streets to collect debris left by Irene and the wreckage of houses destroyed by the earlier storm still dotted the area.
Heavy rain fell and residents were ready to evacuate as the Schoharie Creek escaped its banks and smaller streams showed significant flooding.
"Businesses and residential areas were devastated before," Wayne Speenburgh, chairman of the Greene County Legislature, said of Prattsville. "Downtown, there's nobody living because there's no homes to live in."
In nearby Middleburgh, dozens of residents were evacuated from temporary shelters set up in schools, many for the third time since Irene hit. Many businesses remained empty but were adorned with hopeful signs — like the one at Hubie's Pizzeria — that they would reopen.
"It's encouraging," said James Kelley, 51, of Middleburgh. "A lot of people had given up last week, but with all the volunteers and help, it helps people re-energize."
Flooding also led to voluntary evacuations in the Catskills town of Shandaken, Rotterdam Junction near Albany, and a section of Schenectady along the Mohawk River. Some schools in the Hudson Valley north of New York City closed or delayed start times.
Along the road in Windham were several soggy, cardboard signs from last week's storm that said "Thank you for your help."
Patrick Darling said he and wife Dawn are trying to keep their sense of humor while dealing with a second week of flooding.
"We have stress, lots of stress," he said after using shovels to clear mud and debris from his neighbors' homes. "We've been shoveling our stress out."
Lee formed just off the Louisiana coast late last week and gained strength as it lingered in the Gulf for a couple of days. It dumped more than a foot of rain in New Orleans and trudged across Mississippi and Alabama.
Tornadoes spawned by Lee damaged hundreds of homes, and flooding knocked out power to hundreds of thousands of people. Trees were uprooted and roads were flooded. Winds fanned wildfires in Louisiana and Texas, and the storm even kicked up tar balls on the Gulf Coast.
At least four people died; no deaths were reported Wednesday. Irene was blamed for at least 46 deaths and billions of dollars in damage.
In Maryland, firefighters were among those who had to be rescued Wednesday as storms flooded roads, stranding drivers who had to be pulled from rushing water and pushing residents from their homes.
A swift-water rescue boat capsized in the Patapsco River near Catonsville as firefighters responded to rescue calls near the Howard County line, Baltimore County spokeswoman Elise Armacost said, adding that all firefighters were later accounted for.
In New York, several residents said even if the call for mandatory evacuation comes, they won't go.
"We stayed here through Irene, we'll stay through this," said Doris Pasternak, 59, owner of the historic Prattsville Hotel and Tavern, where water rose up to 5 feet into the lower floor after Irene. "I have a hatch on the roof. I'm not moving. I'm just too old to pick up and go."
A flood watch was in effect through Thursday afternoon in soggy Vermont. Parts of the state are still recovering from flooding from the remnants of Irene, which was a tropical storm by the time it swept over the area.
Swift water rescue teams are on call, and residents should be ready to evacuate if rivers rise fast, said Vermont Emergency Management spokesman Mark Bosma.
Irene hit upstate New York and Vermont particularly hard, with at least 12 deaths in those areas and dozens of highways damaged or washed out. Several communities in Vermont were cut off entirely and required National Guard airdrops to get supplies.
Flood watches or warnings were in place through Thursday night for much of Pennsylvania. About 3,000 residents along the Solomon Creek in Wilkes-Barre were ordered to evacuate due to quickly rising waters, but the creek crested about 4 feet below flood stage and the order was lifted Wednesday afternoon. Rain from Irene also led to evacuations there last week.
Flash flooding shut down dozens of Pennsylvania highways Wednesday and forced the evacuation of some riverfront trailer parks and campgrounds, while state officials braced for potentially worse problems along the swollen Susquehanna River.
In New Jersey, where many residents were still cleaning up after Irene, the remnants of Lee were expected to drop anywhere from 2 to 5 inches of rain. There was some flooding along rivers including the Passaic, which breached its banks during Irene and caused serious damage. Heavier flooding is expected Thursday.
Tarballs in Alabama
BP workers used fishing nets to scoop tar balls off Alabama's Gulf Coast beaches Wednesday after the white sands were fouled by gooey, dark gobs churned up by heavy surf from Lee.
Both the company and area officials said it would be days before tests confirmed whether the tar balls were from last year's massive oil spill in the Gulf of Mexico, but BP contractors were removing the pollution anyway.
Grant Brown, a spokesman for the city of Gulf Shores, said residents have feared more oil remains on the Gulf's sandy floor despite months of cleaning, and the appearance of tar balls after Lee only reinforced those concerns.
"It's more proof that there still are offshore tar mats and it's washing ashore ... and it's going to continue, it looks like, coming to shore ," said Brown.
With the summer tourist season over, relatively few tourists were on the beaches as the cleanup began. Crews walked the beaches using nets to pick up hundreds of tar balls, which were dumped into large plastic bags and hauled off the beach for disposal.
Maria heads toward Puerto Rico
Maria could threaten Puerto Rico and the Leeward Islands of the northeast Caribbean during the weekend, forecasters said.
It was about 1,205 miles east of the Leeward Islands and racing westward. Maria had top winds of 50 miles per hour and was expected to strengthen only slightly in the next two days, forecasters at the hurricane center in Miami said.
Maria was expected to turn more to the north during the weekend but it was too early to know whether it would then curve away from the United States as Katia is forecast to do.
Nate aims at Mexico

Nate formed in Mexico's Bay of Campeche, prompting the Mexican government to issued storm warnings for its coast from Chilitepec to Celestun.
Nate was about 125 miles west of Campeche and had sustained winds of 45 miles per hour Wednesday evening. It was forecast to strengthen into a hurricane by Friday and move slowly north and then northwest toward the Mexican coast, the U.S. forecasters said.
Coastal residents in the warning area could start feeling its gusts and rain by Wednesday night, they said.
"Data from the Pemex oil rigs in the Bay of Campeche measured sustained winds of 43 mph, gusting to 50 mph ," the U.S. forecasters said.
Katia still churning
A weakened Katia continued to blow as a Category 1 storm in the Atlantic and was not expected to hit land.
Katia was centered about 335 miles west-southwest of the island of Bermuda and was expected to pass between the eastern U.S. coast and Bermuda by Thursday.
Forecasters said the core of the storm would stay out to sea but Katia was wide enough that its outer squalls could reach the shores of Bermuda, a British territory and global reinsurance hub whose 70,000 residents were under a tropical storm watch.
Katia generated large swells that kicked up the surf and caused dangerous rip currents along the beaches of the Eastern United States, Bermuda and parts of the Bahamas, the forecasters said.
Once past Bermuda, Katia was forecast to curve eastward over open seas where it would pose no further threat until it nears Scotland Monday. By then it will no longer be a tropical system, but could spread out into a larger storm.
"It'll likely be a very big, significant weather system," Cangialosi said. "It will evolve into a classic wintertime storm by the time it gets there."