/ Source: Christian Science Monitor
Gunmen stormed a high-rise building under construction in the Afghan capital Tuesday afternoon, raining rockets and small-arms fire on the nearby US embassy and homes of the elite. Other fighters raided an Afghan Border Police base across town.
Fighting continues several hours later, but initial reports indicate no embassy or NATO staff have been wounded, while six Afghans have been killed and 15 more injured.
Insurgents have targeted Kabul landmarks before, but this attack's proximity to the city's most secure zone further undermines confidence in the government's ability to take over security from withdrawing international forces. In particular, the attack raises questions about Taliban infiltration into the ranks of even the most sensitive forces.
"We've suspected for quite awhile that the Taliban have deeply penetrated the Afghan security forces … but to be able to do this in this secure zone shows a great deal of penetration," says Kamran Bokhari, an analyst with Stratfor, a Texas-based intelligence analysis firm.
He says the intent of an attack like this is to sow seeds of mistrust. "It becomes more and more difficult for international forces to trust their Afghan counterparts."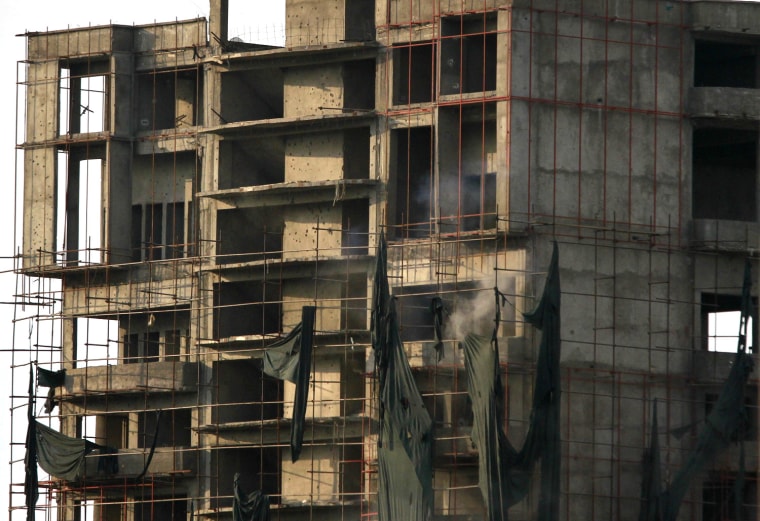 The attack began in the early afternoon with an unknown number of fighters taking over a partially constructed high-rise building about 300 meters from the US embassy. Intended to be a shopping mall, the roughly 14-story building is mostly just cement without windows or doors.
A small school bus parked along a nearby road appeared heavily damaged, with children's book bags still in the backseats. Nearby, shopkeeper Abdul Wasi says the school minivan was fleeing the fighting in the area packed with kids. He heard a blast followed by the shattering of glass, but when he reached the bus he didn't see any children injured.
"All the time we feel in danger," says Mr. Wasi. "How come the Taliban can get into a building during the day when everyone can see them bringing their weapons? The security forces are sleeping and are not putting attention to this bad situation in Kabul."
Other Afghans echo his frustration. Fouzia Jahani, a woman who works in a nearby government ministry, spoke hurriedly as she rushed home to soothe her worried family.
"We are fed up with this kind of situation in Kabul. In all my life I've seen this kind of situation in Kabul. May Allah help us to get rid of this," she says.
In the premier neighborhood of Wazir Akbar Khan, which abuts the US embassy, wealthy families crammed into cars and fled. Security forces shut many of the roads around the capital, however, forcing large numbers of people to evacuate offices and homes on foot.
"For me, I've grown up in such situations, but it was really bad for my kids," says Shukria Barakzai, a leading member of Parliament whose house came under fire. "Still they are under shock, they can't believe such a thing has happened."
The Taliban claimed responsibility for the attack. Taliban spokesman Zabihullah Mujahid says the targets were the headquarters of the international military forces, the Afghanistan spy agency, and the American embassy.
"Mujahideens are targeting only military bases and residential areas of the enemy. Civilians are not allowed to live or roam free in that area," he says.
This article, "Taliban attacks near US embassy in Kabul raise questions of infiltration," first appeared on CSMonitor.com.