Pakistani soldiers in inflatable rescue boats peered across kilometers of flooded farmland and spotted a man wading through waist-deep water desperate to move his goat to high ground.
For the past two weeks, Kaywall has spent 12 hours a day moving his family's livestock from his inundated village to the small town of Pingrio in Sindh province in the south.
The goats are the only thing he has managed to save from raging waters which swept away his house and belongings.
Like many other flood victims, he awaits help from Pakistan's cash-strapped government.
"My house was completely destroyed," said the construction worker, whose family is stranded. "The government has not done anything for us. They are not around."
The scene, being played out in many parts of Sindh, was a troubling reminder of floods that ravaged much of Pakistan in late July and August last year.
Pakistan's civilian leaders were slow to respond, leaving the far more decisive military to take charge of rescue and relief efforts, along with international aid agencies.
This year, floods have destroyed or damaged 1.2 million houses and flooded 4.5 million acres since late last month, officials and Western aid groups say.
More than 300,000 people were made homeless. And an outbreak of dengue fever in central Punjab province has killed at least eight people and forced a provincial government to close schools for 10 days.
Frustrations with the government are running high. On Wednesday, 80 men blocked the main road to Hyderabad, the biggest city near the flooded areas. They are demanding help from the authorities.
Threat of diseases
Victims of Pakistan's flood are at growing risk of potentially fatal diseases, aid groups warned.
Around 4,400 cases of mosquito-borne dengue fever have been reported in Punjab over the past two months, forcing the provincial government on Tuesday to close down schools for 10 days.
Most of the cases have been reported in Lahore, the provincial capital, where about 2,950 people tested positive.
"So far, eight people have died of dengue. We are trying our best to control this epidemic," Jehanzeb Khan, secretary of the provincial health department, told Reuters.
Health experts say the illness is spreading across the Punjab because of poor hygiene conditions, and heavy monsoon rain provides ideal conditions for dengue-carrying mosquitoes to thrive in stagnant waters.
The first case of dengue was reported in Pakistan in 1994.
Those who died included Ataullah Siddiqui, head of the provincial department of minerals and natural resources.
Khan said the government had launched a fumigation drive to kill mosquitoes.
Sri Lanka is sending a team of experts to Pakistan to help fight the disease, the Sri Lankan High Commission said in a statement.
Government criticized
Pakistan's weak civilian government has been criticized by the media for dragging its feet on the dengue issue.
"The response to dengue has been adhoc, ex post, and therefore reactionary at best," The News daily said in its editorial.
The disease is a threat to nearly half of the world's population. Of the estimated 220 million people infected each year, two million — mostly children in Latin America and Asia — develop a severe form called dengue hemorrhagic fever.
There is currently no cure or vaccine for dengue fever.
The director-general of the Sindh Health Department, Hafeez Memon, said there were also 2,000 confirmed cases of malaria and the number was likely to rise.
A 70-year-old woman lying on the side of a road with plastic bags containing her meager belongings and her two family buffaloes tied to pegs said she felt helpless.
"No one has come to help, no doctor has come to see me. I don't think I am going to live much longer," said Allah Bachai, who said she had heart disease and was breathing heavily.
The government, heavily reliant on foreign aid and an $11 billion International Monetary Fund loan to keep the economy afloat, is already stretched dealing with other critical issues like a Taliban insurgency and power cuts.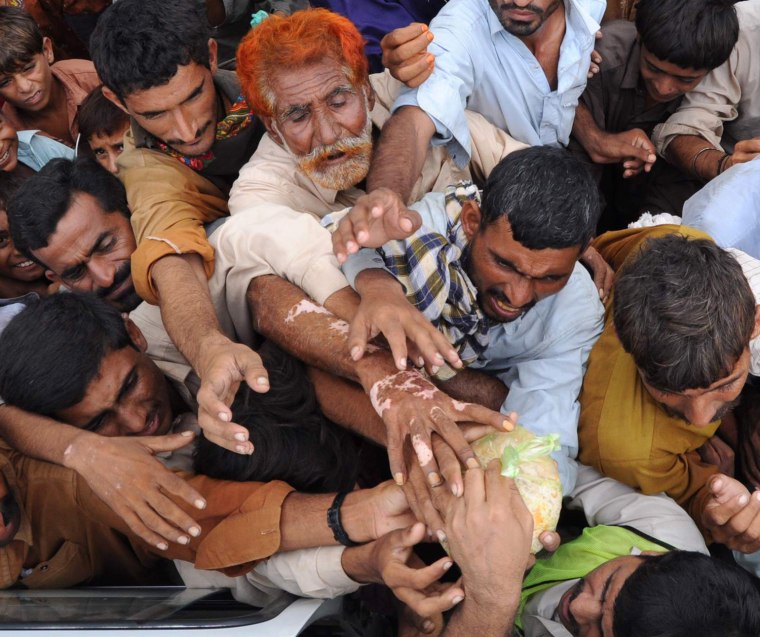 'Our crops are destroyed'
Entire villages are submerged. Only roofs of houses or the tops of trees are visible. Some people who thought they had found shelter were suddenly uprooted by raging waters again.
In a vast expanse of water that swallowed up houses and farmland in one area, only part of a blue and white tent was visible.
Many wondered how they would survive.
"We are rice farmers and our crops are destroyed. We had animals but they died. We have nothing left, no income," said a 25-year-old woman named Amna.
Some people were able to reach the one road that leads to Pingrio, which is flooded in some sections and is surrounded by water on several sides.
Islamic charities step in
Some 900 people have taken shelter there in tents run by an Islamic charity that also provided relief in last year's floods.
Analysts say the government will lose even more credibility if charities tied to Islamist groups are seen as more helpful than the state.
"We have enough food for people here but if more are coming in then we won't be able to feed them," said Abdul Karim, who runs the Islamic charity camp.
The 2010 floods killed about 2,000 people and made 11 million homeless in one of Pakistan's worst natural disasters.
About 800,000 families remain without permanent shelter.
Victims of the new floods face uncertainty as they struggle to come to terms with what has happened.
"The flood was over my head," said Alam, a 31-year-old tenant farmer with four children. "It came suddenly in the middle of the night while we were sleeping."