Against the backdrop of a day that saw plunging stock and commodity markets, a spreading European sovereign debt crisis, dire warnings of an impending recession and Washington seemingly ground to a stop through partisan gridlock, nine Republicans gathered in Florida to make their claim to be the next president of the United States. 
Most of the contenders — with the exception of former Utah Gov. Jon Huntsman — spent their time debunking the idea of a presidency that would spur the economy with federal spending and new programs.
The debate began with a stirring call for a radical shrinkage of the government from Rep. Ron Paul, R-Texas, which won wild applause. And it was only the beginning of a night of denunciations of the federal government from all the contenders on stage.
The GOP hopefuls seemed united in their faith that changes to the tax code — along with a lighter regulatory hand — would be the magic elixir to get the economy growing again.
But can any of them convince voters they're up to the job of dealing with an economic crisis that is likely to persist, if not worsen, next year?
Apart from the increasingly ominous world economic picture, the intra-party backdrop for Thursday's debate was the contest between Romney and Texas Gov. Rick Perry.
Perry has tried in recent days to define the contest as "Who's least like Barack Obama?"
He said this mostly crisply and memorably not during the actual debate, but in an earlier interview with Sean Hannity of FOX News: "We don't need to nominate Obama-lite. We don't need to nominate someone who's going to blur the lines between President Obama and our nominee."
Perry seemed to struggle to remember rehearsed lines when he labored his way through an attack on Romney late in the debate.
But notably for first time, Perry introduced the issue of Romney's 2005 reversal on abortion ("He was for standing up for Roe vs. Wade before he was against") which indicated he is going to use every weapon in the stockpile against Romney.
Earlier in the debate Romney neatly turned the tables on Perry by linking him to a liberal policy on immigration.
Hard numbers
It seemed Romney's most effective moment so far in his three debate face-offs with Perry and it was because he was specific, using hard numbers: a four-year $100,000 discount for illegal immigrant students at the University of Texas, compared with out-of-state U.S. citizen students.
"That doesn't make sense to me," Romney said, getting an assist from former Sen. Rick Santorum who said more heatedly than Romney had that Perry was giving illegal immigrants "preferential treatment."
Perry's response was that young illegal immigrant students had been brought to this country "through no fault of their own" as infants or young children.
But he risked sounding like the old cliché of the "bleeding heart liberal" when he said to Romney: "I don't think you have a heart." The crowd in Orlando booed him for this.
Romney deftly used sarcasm in his criticism of Perry's statements on Social Security, claiming that the Texan was trying to retreat from statements he had made in his book: "There is a Rick Perry out there saying that ... the federal government shouldn't be in the pension business ... So you better find that Rick Perry and get him to stop saying that."
When Perry calls Romney "Obama-lite" it brings back memories of 2004 Democratic presidential contender Howard Dean — at his feistiest, and riding high in the polls — deriding his rival Sen. John Kerry as "Bush-lite" for supporting the Iraq war.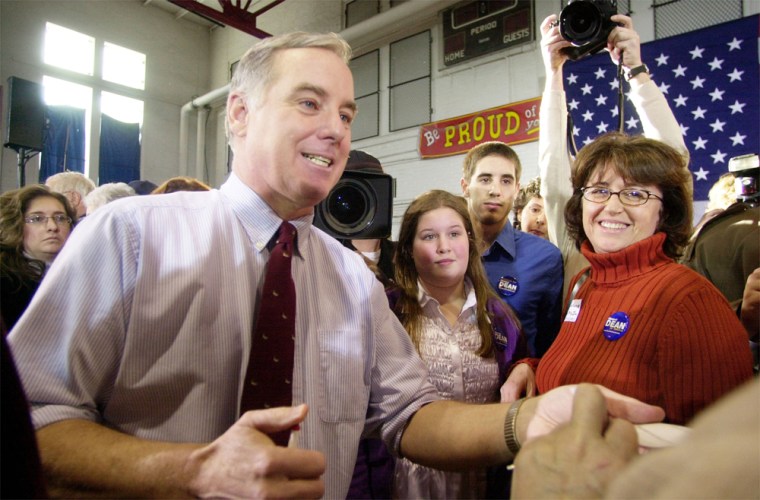 Democratic crowds in New Hampshire and Iowa ate up Dean's rhetoric in the fall of 2003, but eventually the party went with the perceived "safer" choice, Kerry.
Could history repeat itself on the GOP-side this year?
For Romney the defining question is: Who won't scare away centrist voters in November 2012?
In effect, Romney is asking GOP primary voters: Why risk squandering the glittering opportunity to defeat a weakened Obama by nominating Perry who calls Social Security "a failure"?
It's essentially the same argument Kerry backers used against Dean in 2004: The Democrats couldn't beat President George W. Bush if "the electorate sees a frothing-at-the-mouth Democratic Party," said Kerry supporter Rep. Adam Smith, D-Wash, referring to Dean's incendiary style.
'Old tactic'
In a similar way the 2008 Democratic presidential contest between Obama and Hillary Clinton was a battle over "electability."
Yes, Obama could attract fervent Democratic primary voters, but in the November election, would most Americans really vote for an untested African-American with a foreign-sounding name who'd only served for three years in the Senate?
That was the point of Clinton's famous "3 a.m. phone call" television ad that ran during the primaries. "Your vote will decide who answers that call," the narrator said, "whether it's someone who already knows the world's leaders, knows the military, someone tested and ready to lead in a dangerous world." Obama accused Clinton of trying to "play on peoples' fears to scare up votes."
So too Perry — not in Thursday night's debate but a night earlier on Hannity's program — complained that Romney's criticism of his statements on Social Security was merely "the old tactic that the Democrats used back through the years to try to scare the senior citizens."
With no sign yet of either man gaining an upper hand, the Perry-Romney battle to define each other will no doubt continue in future debates.