/ Source: The Associated Press
For disaster victims rebuilding their homes, towns and lives, the anxiety is matched only by anger at Congress for entangling their future in a political battle over government spending.

A sharply divided Congress had repeatedly rejected a deal that included funding federal disaster assistance, raising fears that there would be no plan to continue aid for victims of disaster like storms Irene and Lee or the tornado in Joplin, Mo.

On Monday, Congress advanced legislation to assure there would be no interruption in assistance through the new budget year, which begins Saturday. But that didn't do much to appease those who would have paid perhaps the highest price for politics.

They're spreading the blame both among Republicans, who want cuts in other government spending, and Democrats, who are accused of using the GOP opposition to win political points.
"They aren't looking so much at what is actually needed as what's good for their party, and that to me is wrong, wrong, wrong," said Lawrence Sayah, a Waterbury resident whose home, ravaged by the floods wrought by the remnants of Hurricane Irene, is still stripped to the studs inside.
Sayah already received $18,000 from the Federal Emergency Management Agency, although he and his wife are appealing for more for repairs that will run more than three times that. He worries the impasse could affect his appeal.
Congressional members trying to appropriate money to keep the government running are bickering over federal dollars to help victims of floods, hurricanes, tornadoes and other natural disasters.
Some Republicans have been pushing for expenses to be offset by cuts elsewhere. Democrats, like Sen. Patrick Leahy, who represents flood-stricken Vermont, counter that the same budgeting standards are not enforced when it comes to Afghanistan and Iraq.
"Here you have Americans, and you say you can't help Americans in America with American dollars," Leahy told The Associated Press. "It's 'Alice in Wonderland.'"
As of Monday, FEMA had $114 million left in its disaster relief fund and expected it to last until Thursday or Friday, agency spokeswoman Rachel Racusen said.
Feelings were especially raw around the Northeast, where the double whammy of Irene and Lee in recent weeks ripped up roads, flooded towns and shuttered businesses.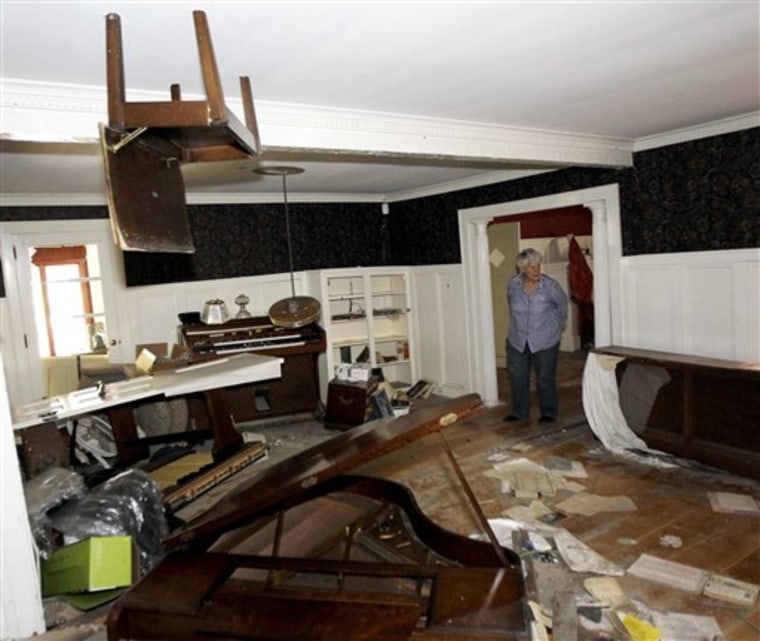 "Talk about heartless; it seems heartless when you think how we're suffering, throughout our country right now, being inundated with disasters everywhere you go," said Martha Gordon, who was still mucking out her home in the New York suburb of Wayne, N.J., on Monday, weeks after flooding destroyed the three-story white shingled place she had lived in for 50 of her 78 years.
In Philadelphia, a steady stream of flooding victims headed into a FEMA disaster aid center downtown Monday, where people arrived looking for help and left with yellow forms to apply for assistance.
"If the funding is held back, I may have no other choice but to leave my house because of the mold," said 61-year-old Barbara Lewis, of Philadelphia, whose home was damaged by the remnants of Lee. "Politicians will play politics because it's not their lives."
Lewis, who is allergic to mold and recently lost her job, said she was worried that a serious problem could develop if she can't get money to fix the problem now. If that happens, she said, she would likely have to move out of the home she has lived in for 31 years.
"We're just waiting out Washington to make the move. It's our survival in this little town," said Bill Briggs, whose factory making baseball bat blanks in upstate New York's Prattsville was destroyed by flooding wreaked by Irene. He was meeting Monday with his insurance man and a structural engineer to decide whether he could rebuild.
"There is an expectation — this supports the major reason why we have government. If the expectation is there, it seems like the performance should be there," said Philip Zea, president of western Massachusetts' Historic Deerfield, a center that includes an inn and a class New England village museum.
While flood insurance may cover most of the costs of restoring the inn, Zea said, he hopes to get some federal aid for the loss of business during the months it will be shuttered. He had to lay off 20 employees when it closed.
"You really wonder, what are they doing down there? What are they thinking?" said Skip Flanders, of Waterbury, who already got a $30,200 FEMA grant for his home. "They're certainly never been through it themselves to see what it's like to have your house and living somewhere else and not knowing how you're going to put it back together.
In Joplin, where a tornado killed more than 100 people in May, Mayor Mike Woolston acknowledged the depth of the debate but noted the anxiety the debate in Washington was causing.
"We can appreciate the efforts to get our national economy in better order, but we're concerned about how that's going to affect us," Woolston said. "If some sort of budgetary measure is not passed soon, I'm worried about what that will mean for us."
Even some of the politicians involved in the debate appeared exasperated. On Monday, Leahy and his Vermont colleague, Sen. Bernie Sanders, denounced the impasse as they boarded a flight back to Washington. Gov. Peter Shumlin, who estimated damage from Irene could cost Vermont $1 billion, sounded a similar note.
"I never could have predicted that disaster relief to states would be held up by partisan bickering in Washington," he said.
The Senate Republican leader, Kentucky's Mitch McConnell, took exception with Democratic complaints last week that Republicans were asking for a government shutdown.
"If there's any lesson we can draw from the debates we've been having here over the last six months, it's that the American people won't accept that excuse anymore," he said last week. "The whole 'That's the way we've always done it' argument is the reason we've got a $14 trillion dollar debt right now."