/ Source: msnbc.com news services
Back-to-back typhoons left at least 55 people dead and rescuers scrambling on Sunday to deliver food and water to hundreds of villagers stuck on rooftops for four days because of flooding in the northern Philippines.
Typhoon Nalgae slammed ashore in northeastern Isabela province Saturday then barreled across the main Luzon Island's mountainous north and agricultural plains that were still sodden from fierce rain and wind unleashed by a howler just days earlier. Nalgae left at least three people dead Saturday while Typhoon Nesat killed 52 others in the same region before blowing out Friday.
Nalgae was whirling 124 miles over the South China Sea from the country's northeast toward southern China early Sunday with sustained winds of 81 miles per hour and gusts of 99 mph, according to the government weather agency.
Its ferocious wind set off a rockslide in northern Bontoc province Saturday, causing boulders to roll down a mountainside and smash on a passing van, where a passenger was pinned to death and another was injured, police said.
In northern Tarlac province's Camiling town, an uncle sought safety with his two young nephews as flooding rose in their village Saturday. But one of the children was swept away by rampaging waters and drowned while his uncle and brother remained missing. A drunk man drowned in flooding in a nearby village, provincial disaster officer Marvin Guiang said.
Nalgae roared through a similar path across areas on Luzon saturated by Typhoon Nesat, which trapped thousands on rooftops and sent huge waves that breached a seawall in Manila Bay. Nesat also pummeled southern China and was downgraded to a tropical storm just before churning into northern Vietnam on Friday afternoon, where flood warnings were issued and 20,000 people evacuated.
In the rice-growing province of Bulacan north of Manila, hundreds of residents in flooded Calumpit town remained trapped on rooftops in four villages for the fourth day, many of them desperately waving for help. Rescuers aboard rubber boats could not reach them because of narrow alleyways. Two air force helicopters would be deployed Sunday to drop water and food packs to the marooned villagers, officials said.
Calumpit Mayor James de Jesus pleaded for more help from the national government.
"The ones waving for help are the ones who need to be rescued first because they have elderly people and children with them," de Jesus told ABS-CBN TV network. "We have a very big problem here ... we're facing a long flooding."
Benito Ramos, a retired army general who heads the Office Civil Defense, said floodwater was receding in many areas but freshly-dumped rains by Nalgae may flow down from the mountainous north to the central Luzon provinces of Bulacan and Pampanga, which act like a catch basin. Some officials said water released from nearby dams have exacerbated the flood.
Ramos said he and many rescuers have not slept for days but were elated to see help from many private groups and provinces unaffected by the typhoons.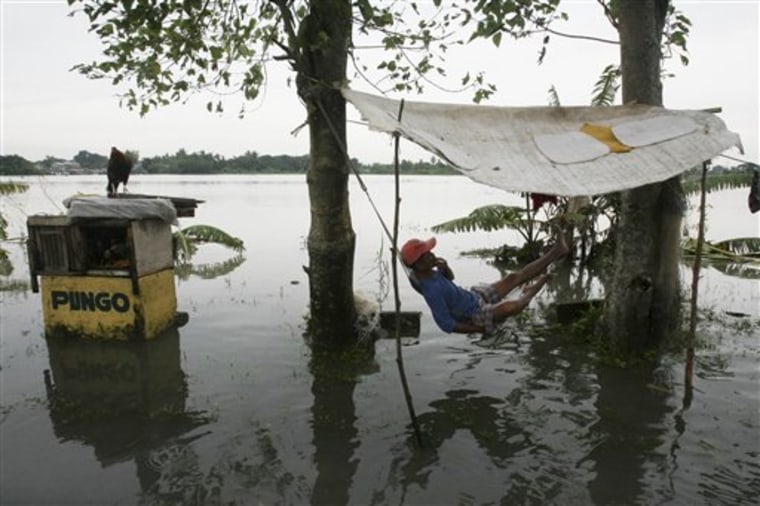 "Their resiliency is being tested but many people are still smiling and waving," Ramos told The Associated Press by telephone from Calumpit, where he was overseeing rescue work. "It's grace under pressure."
In the last four months, prolonged monsoon flooding, typhoons and storms across Southeast Asia, China, Japan and South Asia has left more than 600 people dead or missing.
In India alone, the damage is estimated to be worth $1 billion, with the worst-hit state of Orissa accounting for $726 million.
Several studies suggest an intensification of the Asian summer monsoon rainfall with increased atmospheric carbon dioxide concentrations, the state-run Indian Institute of Tropical Meteorology said. Still, it is not clear that this is entirely because of climate change, it said.
The damage from the earlier typhoon in the Philippines was estimated at $91 million.
Nalgae was the 17th weather disturbance this year to batter the disaster-prone Philippines, which is lashed by about 20 storms and typhoons annually. A low pressure area has been monitored 435 miles (700 kilometers) off the archipelago and could either dissipate or strengthen into another storm in the next few days, forecaster Gener Quitlong said.
Mekong Delta deaths
The typhoons come on top of seasonal flooding in Vietnam's southern Mekong Delta, where eight people were killed in four provinces this week. In addition, a woman and her grandchild were killed Thursday when their home was buried by a landslide in the northern province of Yen Bai.
In Cambodia, 141 people have died since Aug. 13 due to Mekong flooding and flash floods, the worst since 2000, the Cambodian National Disaster Management Committee said.

Some 150,000 families had been affected by the flooding in Cambodia this year and another 15,000 evacuated to higher ground, said Men Neary Sopheak, deputy secretary general of Cambodia's Red Cross.
Other parts of Asia have not been spared either.
Two typhoons hit Japan this month, leaving at least 106 people dead or missing.
In Thailand, the disaster department said 188 people have been killed and three others remain missing after a series of tropical storms since late July. Nearly 2 million people have been affected by floods and mudslides, and 122 roads are impassable.
Heavy rains in Chiang Mai, Thailand's second-biggest city, caused the Ping River to burst its banks and flooded the railway station, forcing a temporary shutdown in train service to northern Thailand. Meanwhile, 122 highways and roads nationwide are impassable.
In the Indian state of Orissa, monsoon flooding following severe drought earlier this year has killed at least 81 people since August, forcing hundreds of thousands to flee their homes. The state is asking for about $726 million in federal funds to help cope with the destruction.
The government says 18 million people were affected by the floods in the northern Uttar Pradesh state, where 168 people have been killed since June and the damage is estimated to be worth $285 million. Flooding has also hit the eastern states of Bihar and West Bengal, and Assam in the northeast.
In Pakistan, monsoon rains since early August have flooded large parts of the southern Sindh province, which is still recovering from extreme flooding from a year ago. The government says 7 million people have been affected.