/ Source: msnbc.com staff and news service reports
Amanda Knox headed home to the United States a free woman Tuesday, after an Italian appeals court dramatically overturned the American student's conviction of sexually assaulting and brutally slaying her British roommate.
The prosecutor said he would appeal the decision releasing Knox and Italian Raffaele Sollecito, her co-defendant and one-time boyfriend. The appeals court overturned the conviction on Monday.
"We will appeal," prosecutor Giuliano Mignini told Reuters. "The (higher) court will decide whether to confirm the first sentence or the second sentence."
According to Italian judicial process, the prosecution cannot file its appeal until the court publishes a formal explanation of its decision, expected in a few months.
Meanwhile, the family of 21-year-old British victim Meredith Kercher appeared overwhelmed at the ruling, saying they were bewildered by the reversal of the 2009 decision.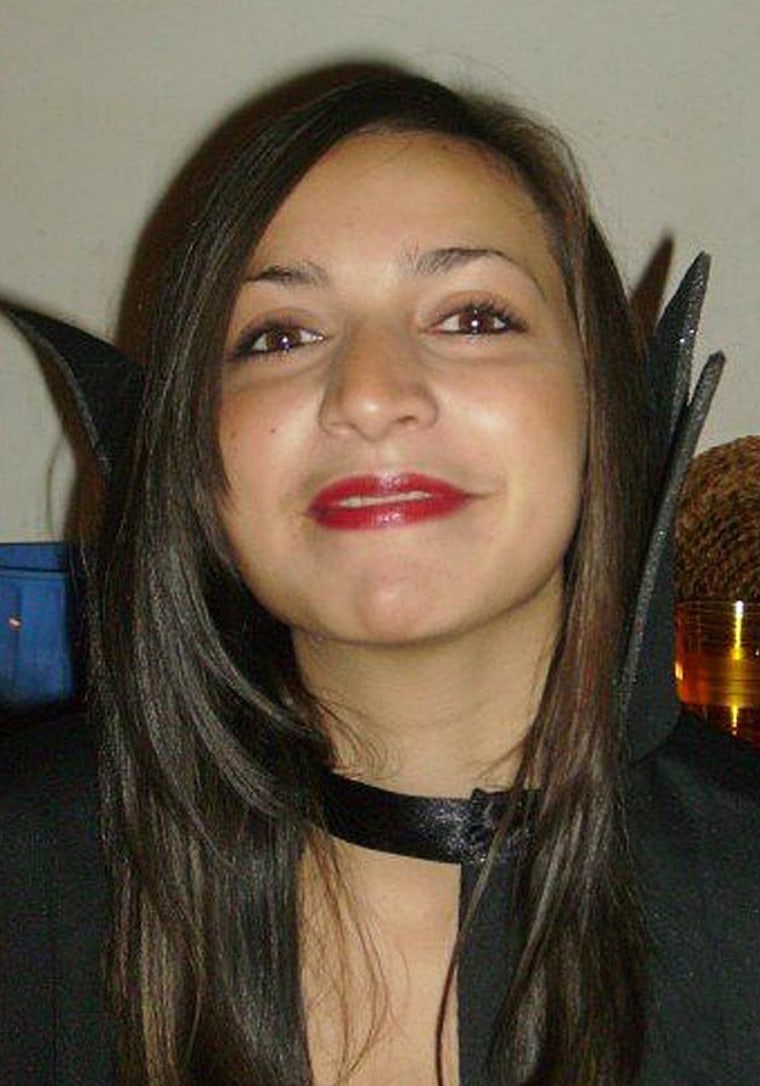 The case has been a cause celebre in the U.S., and a staple of British tabloids, which took to calling her "Foxy Knoxy." Throughout the four-year case, Knox was portrayed either as a femme fatale with an angel face or a naive young woman caught up in a judicial nightmare.
Controversial
The verdict was controversial. Hundreds of mostly university-age young people gathered in the piazza outside the courtroom in Perugia, jeering and yelling, while Knox's supporters in her home town of Seattle hugged and shouted in joy.
British tabloids played up the drama of Knox's release — and the Kerchers' pain. The Daily Mail headline read, "Weeping Foxy is Freed to Make a Fortune," referring to reports that Knox could earn a hefty paycheck in the U.S. for an exclusive interview.
The 24-year-old Knox arrived at the Rome airport in a Mercedes with darkened windows and boarded a plane for London, where she caught a connecting flight to the United States. She was expected to arrive in the U.S. shortly after 2 p.m. ET.
Speaking to a crowd outside the courtroom on Monday, Knox's sister Deanna thanked her legal team and supporters.
"We're thankful that Amanda's nightmare is over. She suffered for four years for a crime she did not commit," she said. "We are also thankful to the court for having the courage to look for the truth and to overturn the conviction."
'We will see who was right'
Prosecutor Giuliano Mignini expressed disbelief in the verdict, and vowed an appeal to Italy's highest criminal court.
"Let's wait and we will see who was right. The first court or the appeal court," Mignini told The Associated Press on Tuesday.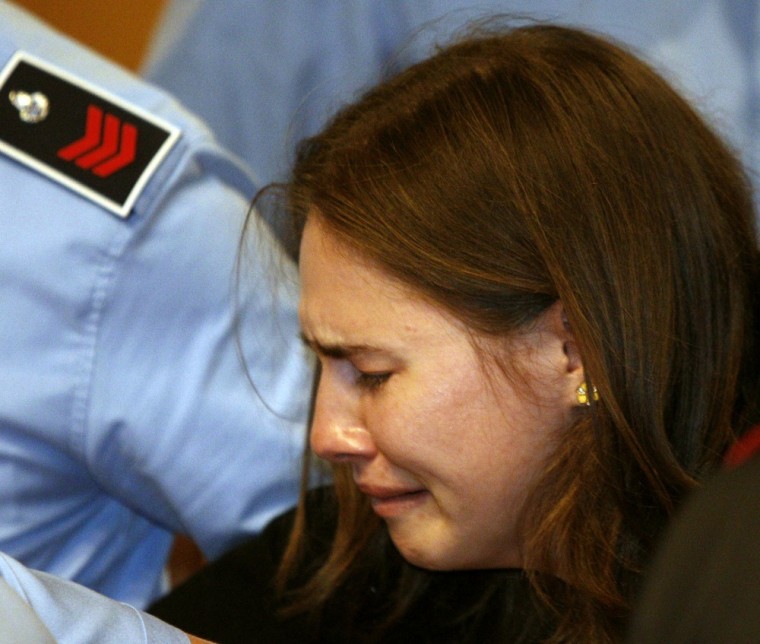 "This trial was done under unacceptable media pressure. The decision was almost already announced; this is not normal," he said.
If the highest court overturns the acquittal, prosecutors would be free to request Knox's extradition to Italy to finish whatever remained of a sentence. It is up to the government to decide whether such a request is made.
Knox and Sollecito were convicted of sexually assaulting and murdering Kercher, who shared an apartment with Knox in Perugia. Knox was sentenced to 26 years, Sollecito to 25. Both had been in prison since Nov. 6, 2007, four days after Kercher's body had been found at the apartment.
But, the prosecution's case was blown apart by a court-ordered DNA review that discredited crucial genetic evidence.
The jury upheld Knox's conviction on a charge of slander for accusing bar owner Diya "Patrick" Lumumba of carrying out the killing. The judge set the sentence at three years, less than the time Knox had spent in prison.
Knox dissolved into tears as the verdict was read in a packed courtroom after 11 hours of deliberations, and she needed to be propped up by her lawyers on either side. Two hours later, she was in a dark limousine that took her out of the Capanne prison just outside Perugia, where she had spent the past four years, and headed to Rome.
"During the trip from Perugia to Rome, Amanda was serene," said Corrado Maria Daclon, the secretary general of the Italy-US Foundation, a group backing Knox, who was with her in the car. "She confirmed to me that in the future she intends to come back to our country."
'I love you'
On Tuesday, Knox thanked those Italians "who shared my suffering and helped me survive with hope," in a letter to the foundation.
"Those who wrote, those who defended me, those who were close, those who prayed for me," Knox wrote. "I love you, Amanda."
Sollecito, meanwhile, arrived back home near the southern Italian city of Bari before dawn on Tuesday. He was quoted by Italian news agencies as saying he was looking forward to seeing the sea, but he declined to make any appearances after reaching home.
Sollecito's father Francesco said his son remained stunned by the events.
"He is trying to recover himself," Sollecito's father told reporters. "He is going around touching things as if he is a child who needs to take back the things of his life, to acquire forgotten elements."


While waves of relief swept through the defendants' benches in the courtroom, members of the Kercher family, who flew in for the verdict, appeared dazed and perplexed. Her sister Stephanie shed a tear, while her mother Arline looked straight ahead.
"It was a bit of a shock," Stephanie Kercher, the victim's sister, told reporters in Perugia on Tuesday. "It's very upsetting ... We still have no answers."
Lyle Kercher, a brother, said the family is still trying to understand how a decision that "was so certain two years ago has been so dramatically overturned."
A third man was convicted in the slaying, however his trial concluded that he did not act alone. Monday's verdict "raises further questions," Lyle Kercher said.
"If the two released yesterday were not the guilty parties, we are obviously left to wonder who is the other guilty person or people," he added. "For us, it feels very much like back to square one," he said. "It's hard enough that somebody so young died in such brutal circumstances. To have that prolonged ... does make it very difficult."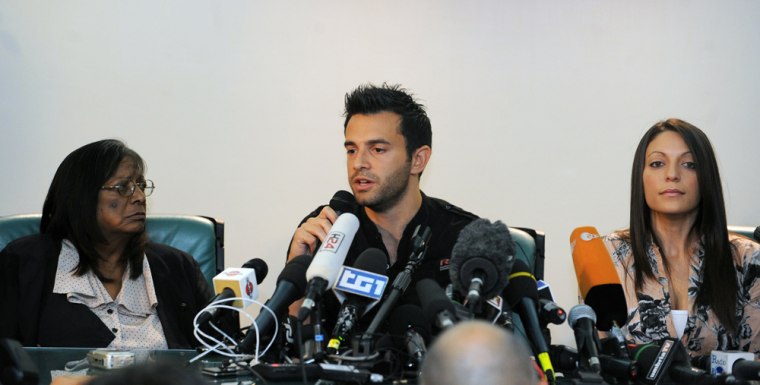 However, the victim's brother said that the family "accepts the decision that was handed down and respects the court and the Italian justice system."
Stephanie Kercher added the family would not be able to forgive anyone until the truth came out.
"We didn't want people put away for a crime they didn't commit," she said. "It may be a case of waiting another year now to get the truth. We have to leave that to the police ... and the courts."
Lyle Kercher added: "You can't forgive somebody if they haven't admitted something. Who would we be forgiving?"
Slander The court upheld a conviction against Knox for slander, after she had falsely accused barman Patrick Lumumba of the murders. It sentenced her to three years in prison, a sentence which she has now already served.
The appeal trial gripped attention on both sides of the Atlantic, with an outpouring of sympathy and outrage from many in the United States who saw the American as an innocent girl trapped abroad in the clutches of a medieval justice system.
Supporters celebrated in Knox's home town of Seattle, shouting in triumph as the verdict was carried live on television.
"I'm hugely relieved," said John Lange, who taught Knox's high school drama class at Seattle Preparatory School.
"When I knew her she was kind, hard-working and a team player. There was not a mean bone in her body," he said, wiping away tears with a tissue.