/ Source: msnbc.com news services
A blinding dust storm rolled across the Arizona desert Tuesday, causing three pileups involving dozens of vehicles on a major interstate. One man was killed and at least 15 other people were injured, authorities said.
The first two crashes occurred just after noon as a dust storm suddenly covered Interstate 10 near Picacho, about midway between Phoenix and Tucson. Those collisions involved 16 vehicles and led to the fatality.
News footage showed dust roiling over dozens of cars, tractor-trailers and ambulances pulled over or strewn about the highway. Authorities were unable to transport injured motorists by helicopter because of the heavy dust.
"It looked like a war zone," Patrick Calhoun, one of the first rescuers to responder to the scene, told The Associated Press. "This has been one of the worst pileups we've had on the I-10."
Calhoun, with the Avra Valley Fire District, said the man who died was in the passenger seat of a car driven by a woman who appeared to be his wife. Their car had slammed into the back of a semi and was lodged underneath it, killing the man almost instantly and leaving the woman critically injured in a semiconscious state of shock.
Calhoun said it took 45 minutes to hook up winches to the vehicle, pull it out and then cut the woman out of the car to take her to a hospital.
A second vehicle also was lodged under a semi, Calhoun said, and two people were extricated in a similar manner before being taken to a hospital.
'Zero visibility'Blowing dust was a factor in both accidents agnd prevented a rescue helicopter from landing at either scene, Arizona public safety department spokesman Bart Graves told Reuters.
"Deputies reported zero visibility when they arrived at the scene. There's still almost no visibility. The storm is just hovering around out there," he added.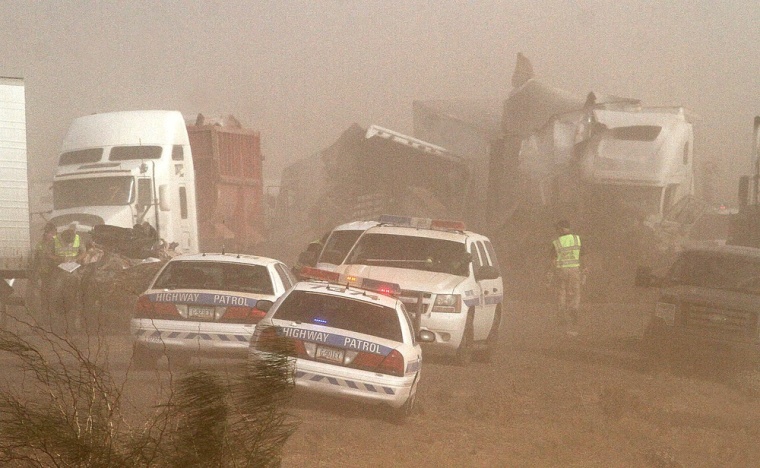 A third pileup occurred almost two hours later on I-10 just north of Casa Grande and involved eight vehicles. No one was killed in that collision; two people had serious but non-life-threatening injuries, Graves said.
Katie Maass, a spokeswoman at University Medical Center in Tucson, said the hospital was treating 12 patients involved in the collisions. Three were listed as critical and the other nine were in serious condition.
Authorities closed the interstate for most of the afternoon. They reopened the eastbound lanes around 5:45 p.m., and Graves said just before 10 p.m. that officials had reopened all westbound lanes but one.
Wind gusts
Dust storms are common across Arizona during dry and windy conditions, and walls of dust more than a mile high can blanket an area in a matter of seconds, sometimes reducing visibility to zero.
Winds from the southwest were gusting at up to 40 mph throughout Arizona on Tuesday, said Jessica Nolte, a meteorologist with the National Weather Service in Phoenix.
"These winds have accumulated so much that when they move through the region they start to pick up the dry top soil," she said. "It can be a very rapid development."
The Phoenix area was enveloped in a beige haze for much of the day, obscuring the view of the mountains that surround the metropolitan area.
The winds should taper off Tuesday evening and into Wednesday, Nolte said. Another weather system was expected to move into Arizona on Thursday, and Nolte said it could generate gusts as strong as Tuesday's.
The storms routinely plague the area near Picacho Peak, a state park in southern Arizona, said National Weather Service meteorologist Craig Shoemaker, who estimated sustained winds in the storm at 20 to 30 miles per hour, gusting up to 50 mph.